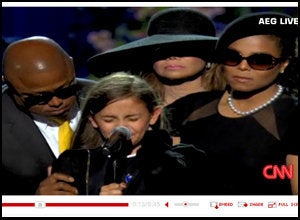 In the midst of all the madness surrounding Michael Jackson's death, one thing is constant: Al Sharpton. In the world of celebrity there is one universal law: if there's a scandal or death, Al Sharpton will be there. From Tawana Brawley to James Brown, he's first in line for a media circus.
Sharpton is part of a long tradition of groupies, sycophants, and hangers-on who build their lives on the backs, beds, and bank accounts of celebrities. These are the members of real-life entourages who sometimes go on the payroll but always questionably serve their celebrity master. For the worst of them, they arguably lead a celebrity down the path to self-destruction. At best they become Kato Kaelin clones, launching dubious careers powered by the stolen gravity of the star's orbit. Famous only for knowing someone famous.
As the King of Pop's posse heads for the unemployment line, here are a few stories of other groupies and hangers-on. May they serve as inspiration and cautionary tale. The lifespan of a rock entourage member is almost as short as the rock stars to whom they suck up.
Des Barres is the grand old dame of groupies. While still in high school in the '60s, she began hanging in L.A. nightclubs looking to hook up with the rock musicians she idolized. She landed a job as Frank Zappa's babysitter, which led her into the world - and beds - of nearly every star of the era, including Mick Jagger, Jimmy Page, Keith Moon, and Jimi Hendrix's bassist, Noel Redding. Zappa even assembled a group with Des Barres and some other groupies under the name GTO's. They made one album in 1969. Pamela ended up settling down with Power Station singer Michael Des Barres in 1977. In an ironic twist they split over his infidelity. She's now an ordained minister performing "rock & roll weddings." No guarantees on how long the marriages last.
Spungen was a '70s groupie who did time in New York City chasing down punk bands like the Ramones and New York Dolls. She then set her sights on London, where she hooked up with the Sex Pistols. After being rebuffed by singer Johnny Rotten, Spungen settled in with bassist Sid Vicious. The two became the John & Yoko of the junkie punk netherworld until she was found stabbed to death in the bathroom of the room the couple shared at New York's Hotel Chelsea. So ended a drug-addled fairy tale.
Probably the only hanger-on with a Ph.D., Dr. Landy used to promote records to disc jockeys and briefly managed jazz guitarist/singer George Benson before earning a doctorate in psychology. Throughout the '80s, Landy crossed nearly every professional line with his sole client, former Beach Boy Brian Wilson. His "services" included charging $35,000 a month to treat Wilson 24 hours a day, co-writing an album, allegedly naming himself the beneficiary of the troubled artist's will, and allegedly ghostwriting Wilson's autobiography. Landy was ultimately stripped of his medical license and barred from contacting Wilson. He died of lung cancer in 2006.
Elvis Presley's "Memphis Mafia" serves as the blueprint for any celebrity entourage. The "mafia" was a collection of Elvis' childhood friends who were charged with protecting, agreeing with, and enabling the King. Dozens of members were either on the payroll or else given regular gifts of jewelry, cars, and homes. Some of their responsibilities included playing "War" with Elvis - a game that involved hurling fireworks at one another. They also were in charge of directing women to the King's bedroom. Chances are the Memphis Mafia had a hard time finding gainful employment after Presley's '77 death.
Nashville's Big & Rich have gone to great lengths to recreate Elvis' Memphis Mafia with their own "Muzik Mafia." Members of their entourage receive rings complete with lighting-bolt logo that recalls Elvis' "TCB" (Taking Care of Business) '70s catchphrase/branding. At the center of the Muzik Mafia circus is Two-Foot Fred, who is actually 3 feet 2 inches. See Fred meet John Rich in a bar. See Rich put Fred in the band's "Save a Horse (Ride a Cowboy)" video. See Fred's place in the entourage secured. According to the Mafia's official Web site, Two-Foot Fred's job is to "love everybody, and to break down the walls telling you what's right and what's wrong." Nice work if you can get it.
The Velvet Underground's manager, Andy Warhol (who knew a bit about hangers-on), convinced the band to let German fashion model Nico sing lead. She was a member of Warhol's "Superstars," a clique of models, misfits, and wannabes who embodied Warhol's "15 minutes of fame" motto. The fact that she was tone deaf (according to multi-instrumentalist John Cale) didn't faze Warhol. She was in the band, whose '67 debut, "The Velvet Underground & Nico," was largely ignored upon release but has since become one the most influential and revered albums in rock history. It's also the rare case of a groupie going on to achieve critical success on her own merits. Nico maintained an on-again/off-again solo career until her death in 1988.
Bubbles is the only chimpanzee hanger-on in music history. Michael Jackson rescued him from a cancer research clinic in 1985 at the peak of his '80s power. When "Webster's" Emmanuel Lewis wasn't available, Jackson carried Bubbles down the red carpet at premieres and Hollywood parties. At night Bubbles slept in a crib next to Jackson. The icon's companion was ultimately booted from Neverland when he started throwing his feces against the wall and getting aggressive with visitors. Note to all entourage members: Play nice with the boss, and use the bathroom. Bubbles now lives with other primate retirees in Florida.
Perla is another groupie success story. In 1992 she went to a Las Vegas Guns N' Roses show looking for a way to meet Slash. She liked his picture on the cover of Rolling Stone. Perla made it backstage and partied with the top-hatted guitarist. They partied through the Gunners' breakup. They partied through Slash's divorce (yes, he was married). And they partied until they tied the knot. Mrs. Hudson not only got a heavy-metal family (they have two kids), she also got a career. Her Facebook page lists her as "Wife of Rock Legend Slash," and her Twitter account boasts nearly 4,000 followers. Recent tweet: "Slash resting in Norway." Once a groupie, always a groupie.
Calling all HuffPost superfans!
Sign up for membership to become a founding member and help shape HuffPost's next chapter