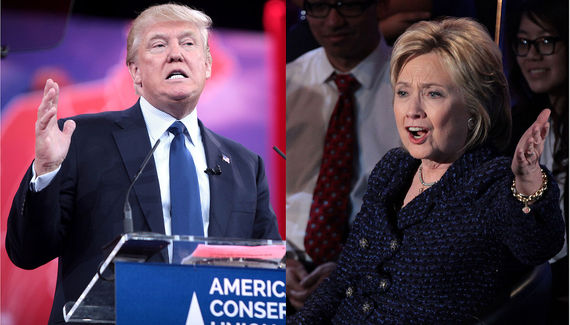 There is much at stake in this year's election for Americans and the global community. We are living in a time where US citizens are feeling particularly vulnerable and have a strong distrust of government. With Donald Trump and Hillary Clinton as the frontrunners many are bracing themselves for the possibility of two very different outcomes.
That said, college women - many who are voting for their first time - will be significantly impacted by the 2016 election. With women's issues continually under attack, female college students are facing a cold shoulder upon graduation. Whereas gendered rights have been political pawns throughout history, in 2016 we are taking steps backwards. Gains made are being eroded; the pay gap, lack of reproductive rights and health care, and no paid parental leave are among the many issues that threaten college women as they prepare to enter the workforce.
This semester I had the privilege of teaching a gender studies class at Ursuline College, a Catholic women's focused institution. Although none of the students in the class attended a woman's focused college because they were seeking a particular type of education, all accredited such an education as having a strong impact on their understandings of the intersection of gender, race, and class. As a result, they have given serious consideration to the roles gender and intersectionality play in politics and their futures. Our conversations were powerful and brought to light the many fears they are facing at the end of their college careers.
When examining the issues, all students placed gendered issues in their top five concerns with the pay gap, violence against women - sexual assault in particular, and reproductive justice ranking high for each. According to Jamie Walmer, "When I graduate from college I am going to have to worry about my health and safety because a panel of white men took my rights away." Jessica Solomonova explained, "We are already spending so much time and money to get an education and it is scary that once I am out of college employers might not value the fact that I worked hard to get a degree just because I am a woman." Lauretta Amanor highlighted the intersectional nature of these issues stating, "Even though I might get a job I wont be able to move up in an organization the way that I want to because I am female and black."
These young women had great concerns about sexual violence, particularly on college campuses where we continue to see high rates of rape. John Kasich's comments that college women should avoid parties where there is alcohol was viewed as highly problematic. For college women, it is critical to know that sexual assault on campus is an issue taken seriously by the White House. However, when discussed by some candidates, rape continues to be viewed as the woman's responsibility rather than a structural issue dictated by a patriarchal culture. They questioned, when will we teach men not to rape?
Immigration and marriage equality are also factors that are pressing for these young women, noting that the focus should be on honoring the full humanity of persons rather than attempting to exclude individuals because of bias. Oppression of any kind is not acceptable, and we must address these issues from a social justice perspective rather than intolerance.
Having researched each of the candidates thoroughly, some students stated that it changed the way they would vote and all stated that they would be voting for a democrat believing that republican perspectives on women's issues are troublesome. Allison Sargent explained that she is far more focused on Clinton's candidacy believing she will do the most good for women; "I have really come to understand the ways that women are being impacted in the world when it comes to the pay gap, reproductive justice and so on."
Amanor and Andrea Widmer both shared that they think that the Republican Party overall is problematic for gendered issues. According to Amanor, "The GOP is oppressive to women." Widmer agreed stating that "A GOP candidate would be like going backwards and eliminating all progress made thus far... it will add to the oppression that already exists and create roadblocks for feminist movements."
Students overwhelmingly thought that a Trump presidency would be detrimental to them as women focused on building careers after college. Trump's treatment of women as demonstrated through videos swarming social media as well as Trump's flagrant attacks against immigrants, Muslims, and African Americans strongly influenced their positions.
Cydney Bartlett said that she originally planned to vote for Ted Cruz, supported by her parents. However, after taking a careful look at Cruz's stances and comparing them against other candidates, Bartlett explained that she thought a Cruz presidency would also be damaging for her as a woman citing Cruz's positions on Planned Parenthood and parental leave. While a Cruz presidency is no longer viable, Bartlett has embraced a responsibility for using her vote to combat sexism in politics.
Elizabeth Warner explained that she has come to realize that "women are not as privileged as we think." Sargent added, "Not having a female perspective is a worldwide epidemic." While we must recognize the intersectional nature of politics and gendered issues, an examination of the ongoing patriarchal culture demonstrates that women continue to be at risk in the US and around the globe. As these young women prepare to graduate, they are taking seriously the ways our next president will impact their futures - their ability to find employment, earn equal pay for equal work, have appropriate health care, parental leave options, and to feel safe in a world where women are under attack because of their gender.
Quality of life and just opportunities are at stake for these young women and the outcome in November will determine much of what they have to look forward to post-college. As Sarah Kiefer affirmed, "Courage is an attribute both women and men can cultivate. I want to be part of a society that celebrates and recognizes humanity, not one that encourages hate and disrespect."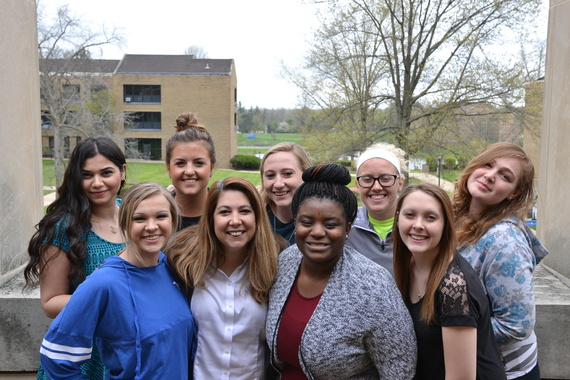 This article was co-written by Lauretta Amanor, Cydney Bartlett, Sarah Kiefer, Gina Messina, Allison Sargent, Jessica Solomonova, Elizabeth Warner, Jamie Walmer, and Andrea Widmer; the Gender Studies Class at Ursuline College in Cleveland, Ohio.
REAL LIFE. REAL NEWS. REAL VOICES.
Help us tell more of the stories that matter from voices that too often remain unheard.