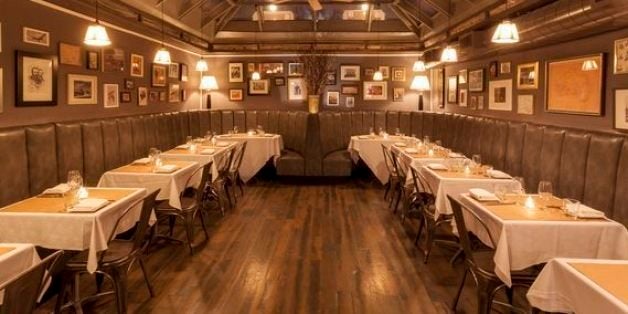 BURKE & WILLS
226 West 79th Street
646-823-9251
The cuisine of Australia has not exactly captivated the rest of the world, but then, it's not an easy cuisine to pin down. According to Alan Davidson's Oxford Companion to Food, Australia is rich in flora, with 25,000 plant species more than Europe, though it only has only two percent of the world's freshwater fish species.
Its aboriginal people's diet was very basic, so, with colonization by the British, the continent's gastronomy developed along British culinary traditions--shepherd's pie, steamed puddings, and the like. But over the last twenty years Australia's urban chefs have shown as much imagination and culinary talent as any on earth. Most revel in their indigenous provender, while readily absorbing the cuisines of the Pacific Rim into their kitchens.
Australian cuisine, not unlike American, is then an amalgam of immigrant cuisine, and, while NYC has had few restaurants open under the Australian banner, the year-old Burke & Willis on the Upper West Side makes a fine showing.
Named for the pioneering adventurers who made an expedition across Australia in 1860, Burke & Wills is Tim Harris and Matilda Boland's homage to the land Down Under. Harris grew up in the restaurant business in Australia, and previously worked at another Aussie restaurant (now closed) named Bondi Road. Now, with Executive Chef Rodrigo Nogueira (previously at Montmartre and the Monkey Bar) he has created a menu that offers a savory introduction to the kind of modern-day cuisine being served in Sydney, Melbourne, and other cities, with an emphasis on the rotisserie. Harris is also your ebullient guide through a wine list heavily stocked with some of the best Aussie and New Zealand bottlings available in NYC.
Up front is a long, polished bar offering raw shellfish and small plates menu of items like beef tartare with smoked egg and capers, and a crispy crab beignet with Japanese mayo and bonito flakes.
The very cozy dining room to the rear, with an angled skylight ceiling, is done in handsome shades of slate gray banquettes, white tablecloths and distressed stained wood, with antique Australian photos and maps on the walls. Our amiable waitress was herself appropriately an Aussie and was very helpful in explaining the menu and anything else I asked her about the cooking and Australia in general.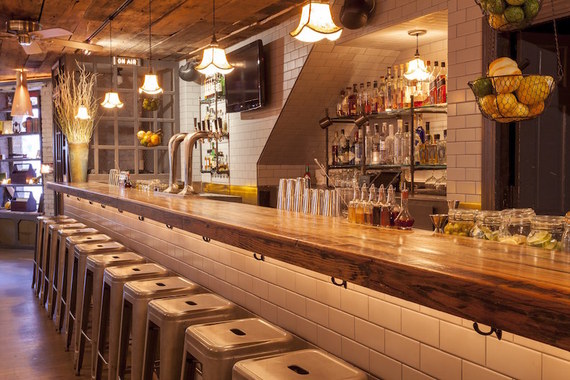 The menu is of a sensible size (the kitchen is cramped), with eight first courses, six mains, one or two specials, and five desserts. Our table began with fine tuna sashimi with a lush lemon custard and contrasting smoked hon shimeji mushrooms ($16). Foie gras torchon ($17) was made less predictable with the addition of a sea scallop, a confit of apple, a drizzle of honey and brioche bread. Sweet bay scallops were a special that evening, gently sautéed and subtly seasoned, tender and juicy, in a ginger broth. Best of all the starters was a highly flavorful, very juicy crêpinette of lamb with roasted cauliflower, capers and a lamb jus ($15).
B&W's "large plates" live up to their boast: portions are very generous here and prices are, too, $17-$29. Even if unexpected in an Aussie bistro, potato gnocchi with roasted mushrooms, pecorino and grilled scallions were very welcome at our table, as was roasted chicken with roasted baby patty pan squash and a rich brown butter sauce. The fish that night was barramundi, which was pan seared and quite succulent, and the accompanying fennel barigoule and pickled fennel gave it tart spiking. (For the ichthyologists out there, this barramundi is a sea bass species raised in Vietnam, not the barramundi cod that swims in Australian waters.)
Of course, what's an Australian menu without kangaroo? At B&W the marsupial shows up as an appetizer of loin with onion soubise, roasted mushrooms and fingerling potatoes, and as a "'roo burger," which is big and hearty, on a good roll, with tomato jam, shaved onions and fat, triple-fried potatoes (which they call "chips"). It's a good dish, not very fatty, though more a curiosity when compared to a more flavorful beef burger. Oddly, the dish lacked a fried egg, traditional to Australian burgers.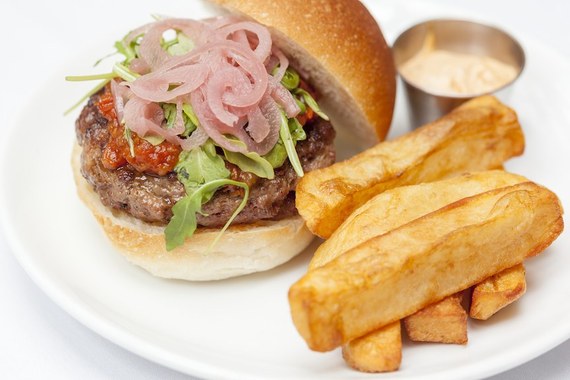 Best of the main courses was a spiced duck breast, meaty, well-fatted, served with farrotto, roasted turnips, and honey turnip puree.
You shouldn't skip dessert here (all $8). At least share the warm chocolate cake with orange syrup, and amaretto crunch gelato, or the Pavlova--the one Australian dish many people will recognize--named after Russian ballet dancer Anna Pavlova, who did several tours of Australia and New Zealand. It is a meringue torte with passion fruit curd, berries and kiwi fruit and then lavished with whipped cream.
Upstairs at B&W is a wood-paneled cocktail lounge--they call it a "private speakeasy open to the public"--named The Manhattan Cricket Club, arrayed with Australian cricket paraphernalia and photographs of turn-of-the-century players.
In the end, you may not exit B&W with a thorough understanding of Aussie cuisine, but you will have eaten well in a casual but sophisticated ambiance you won't easily find downtown. Anyone who lives on the Upper West Side may well make it his own personal club to frequent.
Burke & Wills is open seven days a week for cocktails, bar snacks, dinner, late night and weekend brunch.
Related