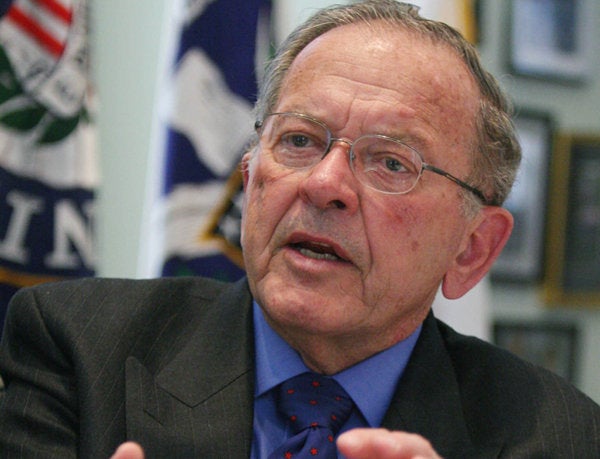 In an article that got buried underneath a holiday news cycle late last week, the AP revealed that Alaska Rep. Don Young has been using campaign donations to pay personal legal fees stemming from an FBI investigation into bribery and corruption. In the last six month period of disclosure, files show, the 18-term Republican has spent more than $35,000 on legal counsel. And while dipping into campaign coffers for such a purpose is kosher when the underlying issue is related to official business, the fact that a candidate is spending nearly as much on lawyers as on polling is always a troubling sign for campaign observers, as well as potential future donors.
But is Alaska's similarly embattled senior senator doing the same as he prepares a reelection campaign? It's a tough question to answer, absent any volunteering of information, since the Senate has excluded itself from the same disclosure rules as the House when it comes to how campaign funds are being spent. However, Republican Ted Stevens -- better known to locals as "Uncle Ted" -- has nevertheless allowed some stray evidence of his legal spending to enter the public record in the period after the FBI and IRS raided his Girdwood, Alaska, home last summer.
In a personal financial disclosure document for 2007, submitted in May of this year, Stevens claimed an outstanding debt of between $15,000 and $50,000 to the high-powered Washington, D.C. firm of Williams & Connelly, LLP. (Click here to download the document (pdf), and see Page 12 under "Liabilities.")
On its website, the firm touts its past service to such high-flying defendants as President Bill Clinton and Oliver North (whose ultimate price tag for legal defense during the Iran-Contra scandal has been pegged at $20 million). Given the firm's history for racking up princely sums, it would seem unlikely that the total figure for legal services rendered to Stevens could fit inside the range of numbers indicated in his personal disclosure form. (For his part, Young has spent over $1 million in total on legal fees.)
And while neither Stevens nor Young has thus far been charged with any wrongdoing, it is clear, at minimum, that the hint of scandal has already rocked the political status quo in a state where Republicans normally win in a walk. The Democratic Senatorial Campaign Committee says it recently conducted a poll that showed Barack Obama ahead of John McCain 45-43. Compared to 2004, when John Kerry lost the state by 25 points to President Bush, Democrats think they have a shot this time. (Obama has pledged to campaign in Alaska before November, and purchased television ads there as part of his first national buy.) While the DSCC is not releasing any details of its internal poll, a source there said it showed Mark Begich, the Democratic mayor of Anchorage, with a slight lead over Stevens, as well. If true, such competitiveness may bode well for overall Democratic hopes for a filibuster-proof Senate majority.
Not all observers are so optimistic about Democrats' chances in Alaska. Pollster Ivan Moore, who has consulted for candidates from both parties in the state, believes that the damage done to Stevens by the corruption probe has reached its bottom, so long as no more developments occur between now and November.
"The trials of the various state legislators are pretty much done," he said. "And there hasn't been any action in the last six months in terms of additional indictments. The gossip and the rumor seems to suggest there aren't going to be any indictments of Ben Stevens [the Senator's son and state legislator] or Ted Stevens and Don Young themselves, since the Department of Justice doesn't want any presidential pardons spoiling the hard work that they've done."
Instead, Moore says the lasting effect of the scandal-plagued Republican caucus will be that statewide races will be competitive for the first time in a long time -- noting that Begich has seized the rare moment of opportunity. "He's a once in a lifetime, credible, hardworking fundraising machine," Moore told the Huffington Post. And though Stevens has raised more than ten times the amount of money as his Democratic rival, he's also spent two thirds of that amount, leaving the incumbent with just over $1 million in the bank.
Ultimately, Moore believes, the race will come down to whether or not Alaskans still view Stevens -- with his legendary pork-barrel prowess -- as a necessity for the state's economy during troubled times.
"Realistically speaking, if Ted wins, it would probably be his last term," Moore says, because of his age. To that end, the strategist advised Begich to argue that Alaska should make the change it needs to build Senate seniority back up starting now, instead of later -- and that it should diversify its Senate caucus to include both parties. "It used to be you couldn't possibly be running a statewide race and be using the D-word," Moore noted. "But I think he probably will. Mark's kind of more politically fearless."
Calling all HuffPost superfans!
Sign up for membership to become a founding member and help shape HuffPost's next chapter