The last week has been something of a rollercoaster of news about the Los Angeles museum world. First, after months -- years, even! -- of financial turmoil, LACMA officially submitted a bid at the end of February offering merge with the troubled L.A. MOCA and help with fundraising. The merger seemed promising for a few days -- until the New York Times announced Tuesday that MOCA is instead considering a partnership with the National Gallery of Art in Washington, D.C. at the behest of art collector and MOCA board member Eli Broad (the L.A. businessman has a storied and troubled history with LACMA, having pledged to give his collection of contemporary art to the museum in the early-aughts, then recinding his offer and announcing that he was building his own museum several years later).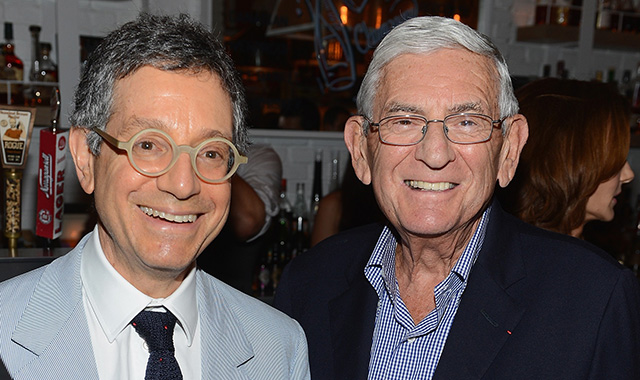 Jeffrey Deitch and Eli Broad / Dimitrios Kambouris/Getty Images for Dom Perignon
Not only is the NGA plan geographically baffling, but the deal would seemingly come without the one thing MOCA needs the most: financial assistance. LACMA is offering its neighbor $100 million. NGA has proposed "to collaborate on programming, research and exhibitions." Really, the only appropriate response to this turn of events is the three-letter internet slang, "WTF?" And that's exactly what most people have been saying.
According to the L.A. Times, the LACMA offer would be a boon for the struggling MOCA:
For its part, LACMA would agree to raise $100 million for the combined museums as a condition for completing the deal, these people said.
Govan declined to discuss any specific terms of the proposal but characterized it as "friendly and cooperative," saying that it came in response to a request from MOCA board members.
This is a really good idea. What MOCA needs more than anything is money. Last time I checked (about six months ago), MOCA's endowment sat at just under $20 million -- down from almost twice that a decade ago. LACMA's was almost $120 million. (For the record, the Walker Art Center has a similar annual budget to MOCA and an endowment of over $150 million.) Now, LACMA is offering to fundraise five times MOCA's current endowment funds -- not to mention five times MOCA's entire annual budget.
It's important to remember that this whole saga started back in 2008, with Broad coming in to rescue the museum, which had almost no endowment left, and New York mega-dealer Jeffrey Deitch being recruited to head up the museum. Thus far, Deitch has not proved to be a very good fundraiser. This could be because Jeffrey Deitch is bad at his job, or it could be because L.A. just doesn't have art patrons with deep enough pockets to support several individual institutions (as artist Catherine Opie, who quit the museum's board in objection to the direction it had taken under Deitch, suggested last week).
LACMA director Michael Govan made the case for the combined museums in a blog post last week:
Uniquely, LACMA/MOCA would become a general museum with a substantial commitment to contemporary art in three or more facilities designed expressly for that purpose. The scale and common purpose of the larger combined institution would provide stability, confidence, and opportunity for donors. Each facility and location could retain individual character and the potential to reach different audiences.
Govan is absolutely on point -- but those pulling the strings at MOCA seem to be against the idea for reasons that make very little economic sense.* Indeed, few of the decisions made by MOCA over the last five years have made economic sense. As ARTINFO's Ben Davis said of the issue after the firing/resigning of curator Paul Schimmel last July, "instead of actually learning the meaningful lessons of the crisis, the powers-that-be have used it to pursue ideological projects that really have nothing to do with it at all." The logic of appointing Deitch was that the museum needed to change its programming, when in fact it faced a fundraising crisis. Now, the museum is considering a programming partnership with the NGA when it still faces a fundraising crisis.
MOCA is a poor museum with a rich history and a fantastic permanent collection. It needs to bolster its finances, not its programming. Its overlords will ignore that fact at their peril.
* I have been soliciting reasons why the LACMA/MOCA merger might not be a good idea for several days on Twitter, with exactly zero responses -- I'm really trying to see the other side of this coin but the internet has come up with nothing for me. Mat Gleason asserts that a LACMA takeover will make MOCA dull, but his argument is much longer than it is convincing, as it largely skips over MOCA's dire financial straits.
More of Today's News from BLOUIN ARTINFO:
REAL LIFE. REAL NEWS. REAL VOICES.
Help us tell more of the stories that matter from voices that too often remain unheard.