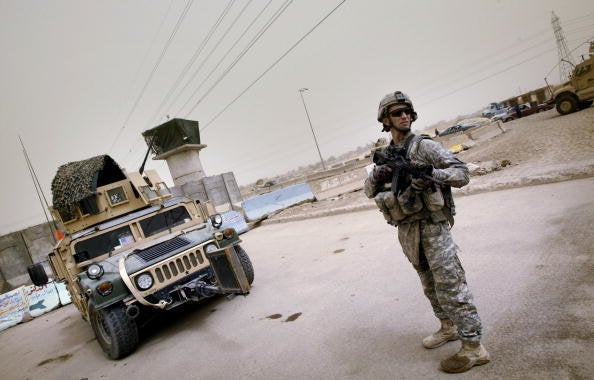 Folks who read my blogs regularly know that one of my pet peeves is the attention the media pays to celebrities, instead of to our troops. Every time the media ignores the Iraq War in favor of stories about wardrobe malfunctions and who's in rehab this week, I blow a fuse. So why am I talking about Kanye West, 50 Cent, Ludacris, Kid Rock, Fall Out Boy, Nelly, and Beyoncé?
Because today, I'm proud to announce that these celebrities have joined Iraq and Afghanistan Veterans of America and MTV's Choose or Lose campaign to produce "A Night for Vets: An MTV Concert for the BRAVE."
This concert will mobilize support for our country's newest generation of heroes, and will coincide with the launch of BRAVE, the Bill of Rights for American Veterans, a petition to call attention to the most urgent issues facing Iraq and Afghanistan veterans. You can check out the petition here. In addition, Anderson Cooper will help shine a light on issues facing young veterans in the CNN Special "Back from the Battle." Featuring interviews with both myself and IAVA veteran spokeswoman Carolyn Schapper, "Back from the Battle" will air Saturday the 25th and Sunday the 26th at 8 PM ET on CNN.
We worked closely with MTV on BRAVE, because there is a tremendous amount at stake for Iraq and Afghanistan veterans in this election. BRAVE includes the following calls to action:
IAVA will be encouraging its thousands of members nationwide to sign the BRAVE petition - and you can sign on as well. Just text BRAVE to 66333 or log on to Choose or Lose. And you can also watch the show, scheduled to air on MTV on Friday, October 24, at 8pm ET/PT.
Sometimes it seems like there are more camera crews outside Britney Spears' house than reporting from Baghdad. But with the help of the incredible line-up of artists and musicians who have signed on to support BRAVE, we hope this campaign with MTV will draw attention back where it belongs -- to the men and women serving in uniform.
UPDATE: We just posted some great photos from behind the scenes last night. Check them out here.
Popular in the Community