In little more than a week, the Afghan capital suffered three brutal terrorist attacks that killed at least 130 people and injured hundreds of others. A combination of domestic instability and foreign pressures are fueling the onslaught of violence pummeling Kabul, experts told HuffPost.
Taliban assailants in army uniforms slaughtered dozens of people in an hours-long raid at Kabul's Inter-Continental Hotel on Jan. 20. One week later, as the city mourned the civilian deaths, the Taliban struck again: Suicide bombers drove a vehicle disguised as an ambulance down a crowded street. The vehicle exploded, killing more than 100 men, women and children. 
On Monday, gunmen launched an assault on Afghan troops near a military academy in Kabul. The self-described Islamic State group claimed the attack, which killed at least 11 soldiers, but Afghan officials suspect the Taliban was responsible yet again.
The uptick in violence follows President Donald Trump's recent decision to freeze the flow of U.S. security aid to Pakistan, a nation he has repeatedly accused of harboring Taliban terrorists who wreak havoc in neighboring Afghanistan. Pakistan has denied it provides a safe haven for the group. 
"There is a lot of speculation in Afghanistan ― and with good justification ― that the increase in violence can be linked to the U.S. confrontational attitude toward Pakistan," Vanda Felbab-Brown, a senior fellow at the Brookings Institution, told HuffPost. 
After the aid suspension was announced on Jan. 4, Felbab-Brown warned of Pakistan's potential retaliation against heightened U.S. pressure, such as increasing support for the Haqqani network, a Taliban affiliate based in the country.
But the short time frame between the U.S. administration's decision and the string of Taliban attacks suggests a lack of correlation, she told HuffPost this week. 
"If you think of the Inter-Continental Hotel attack, that came quite close to the announcement ― an attack like this takes a lot of planning," she said. "And so I think that many of these attacks were probably in preparation for considerably longer than [would be possible for them to be] generated in response, with Pakistan instructing the Haqqanis or the Taliban to conduct such attacks."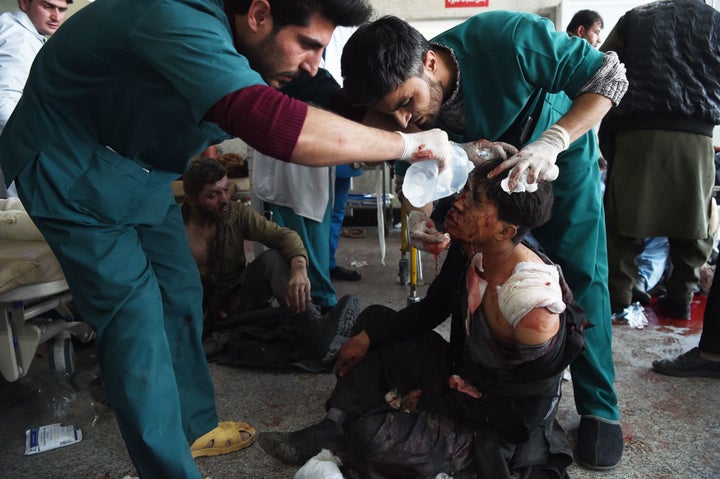 Felbab-Brown added that she believes Pakistan does not have full control over either organization. 
Islamabad did condemn the suicide bombing attack, and called for "concerted efforts and effective cooperation ... to eradicate the scourge of terrorism." Trump also decried the "murderous attack," and said it renewed "our resolve and that of our Afghan partners."
According to Felbab-Brown, there are several reasons for the Taliban to ramp up attacks in Afghanistan that are "completely separate and long preceding the U.S.-Pakistan confrontation."
The main motivation, she said, would be to demonstrate its power and to discredit the Afghan government in the eyes of its citizens: "These three attacks have generated tremendous payoff for the Taliban, [such as] the public disquiet and opposition to the government."
Residents have grown frustrated with state security failures as death tolls mount from one terrorist attack to the next. The country's leaders have been distracted by untimely political infighting and chaos, including President Ashraf Ghani, who is currently ensnared in a bitter dispute with a longtime provincial governor he recently fired. Experts believe the Taliban has strategically capitalized on this enduring state of vulnerability.
"To a large extent, the Taliban's ability to [execute attacks] is hugely assisted by the fact that the current [Afghan] government is not effective in maintaining the rule of law," according to Afzal Ashraf, a visiting fellow at Nottingham University's Centre for Conflict, Security and Terrorism. "[The government] is ineffective at economic policy and in making political changes, and it's still tainted with allegations of corruption and inefficiency."
Ashraf said attacks are becoming more frequent and severe in Kabul because groups like the Taliban and ISIS "want to bring their agenda to the fore" by attracting as much international news coverage as possible.
"In order to do that, they have to go beyond a certain threshold of violence," he told HuffPost. "The primary message that the Taliban is trying to send to the international community is that they're still around, and that the international community's efforts are failing in Afghanistan."
In the wake of one massacre after another, tension in the capital remains palpable, according to Kabul-based researcher Abdullah Fahimi.
"One short trip around the city can tell us how fragile and sensitive the situation is," he said, noting he expects the carnage to continue in the coming weeks.
Clarification: Language in this story has been amended to clarify that the Haqqani network is allied with the Taliban but has separate origins.
REAL LIFE. REAL NEWS. REAL VOICES.
Help us tell more of the stories that matter from voices that too often remain unheard.
BEFORE YOU GO
PHOTO GALLERY
Taliban Attack In Kabul