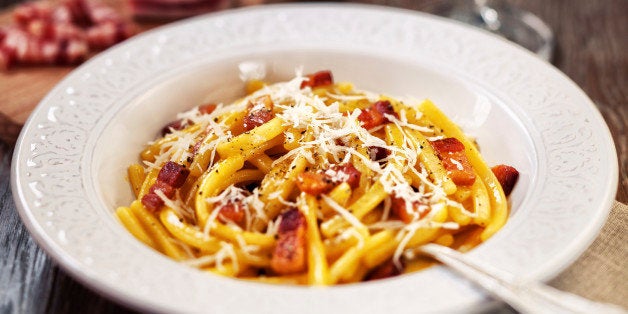 Yes, food is delicious and all but food can also be crazy annoying! I mean the never ending eating/cooking train can get you scrambling at 4pm to decide that irritating thought...What's For Dinner Tonight. As you weed through your dented pinto bean cans and unopened baking soda you come across a few staples and figure let's do takeout.
But with just a few staples you can make a good meal. Here are three foods you can make tonight with the remaining items in your pantry and freezer.
Eggs. Quiche is an excellent choice when you are low on pantry items but want a lot of flavor. If you don't have any flour you can also go crustless making more of a dinner frittata. You can throw in anything you have left in your fridge, a slice or two of ham, leftover cheese, veggies from last night's dinner, and dried or frozen herbs. Just season well and serve it on a nice plate with the last of your boxed wine and you go from starving to master chef in no time.
Pasta. You have to have a box left in your pantry somewhere. No matter the style pasta: elbow to farfalle, pasta is pasta and can be a meal in no time. Cook up your pasta and toss in whatever you have left of any frozen veggies you can find. Peas are usually in the back of my freezer and go great in this menu. Once you have your pasta and veggies cooked up, drain and add in olive oil and some red pepper. I usually steal extra packets from the Pizza Hut to-go station at the mall and store them in my condiment drawer. Adding a pinch of spice to a bland menu adds some flavor and jazzes up a menu when you're in a pinch.
Carbonara. Now, if all you have is eggs and pasta why not make carbonara, an Italian pasta dish from Rome based on eggs, cheese, bacon, and black pepper. If you don't have bacon, no biggie, just replace with some butter or olive oil. Most of us have some grated cheese in our condiment drawer as well. Below is quick recipe for you.
Ingredients
1/2 pound dry pasta spaghetti
2 tablespoons olive oil
1 large egg
1 cup freshly grated cheese
Pinch-Salt
Pinch-Black pepper
Pinch -Dried herbs
Directions
(1) Bring a pot of salted water to a boil, add the pasta and cook for 10 minutes.
(2)Drain the pasta. Keep warm and set aside
(3) Heat the olive oil in a skillet over medium flame.
(4) Add the hot, drained spaghetti to the pan and toss to coat the strands with olive oil.
(5) Beat the grated cheese, egg and pepper together.
(6) Remove the pan from the heat and drizzle the egg, pepper and cheese mixture into the warm pasta, whisking rapidly until the eggs thicken, but do not scramble: this is done off the burner to ensure this does not happen. The heat of the pasta cooks the raw eggs in the sauce.
(7) Plate carbonara into warm serving bowls and garnish with any dried herb you have.
*This menu contains semi-raw egg and should not be consumed by anyone immunocompromised or pregnant women.
Remember that with a little know how and culinary technique you can whip up a decent meal in no time. For future meals, however, schedule in a time to shop for those fresh and nutritious ingredients we need on a regular basis.