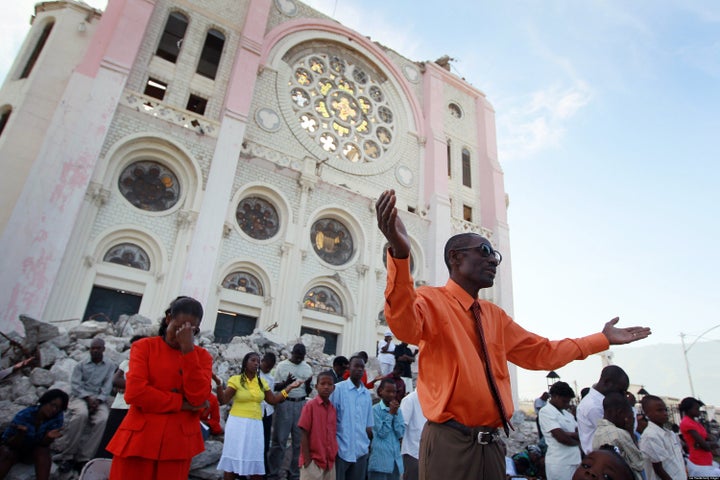 Why bother with Haiti? There has been a lot of exasperation expressed that "nothing has changed in Haiti" since the earthquake a year ago. There is talk of God's punishment for "devil worship," of the bitter fruits of failed socialism, of the inability of former slaves to govern themselves effectively. Money given for Haiti is just "poured down a rat hole." In other words, let's blame the victims for their predicament and leave them in it. They brought it on themselves. What's it got to do with us?
When Hurricane Katrina devastated the Gulf Coast, there was a tremendous response from Americans and people across the globe. Even in the world's richest country, it will still require a long time before that one storm's damage will be completely effaced.
Contrary to media reports, a lot has changed in Haiti. For one thing, the dire predictions in January 2010 of massacres, civil war, massive epidemics, etc., have not materialized because of the efforts of many people, beginning with the Haitians themselves. We should not expect the much greater devastation in Haiti, one of the world's poorest countries, to be rebuilt any faster. At best, it will be many years before Haiti will be back on its feet.
And while the Haitians themselves have often been their own worst enemies, the truth is that France first and then the United States have used military force and trade sanctions against Haiti several times over the past two centuries to promote their own economic interests. Once the world's biggest sugar exporter and a major rice producer, Haiti now has to import these commodities, principally due to American policies. Those who point a finger at the corruption of various Haitian governments have several pointing back at their own nations' involvement in sustaining those evil régimes.
Clearly Haiti has a lot to do with us, since we obviously have felt that way about them, even occupying the country militarily for 19 years. We owe them a great debt of honor. But more immediately, if they are not given the tools to raise themselves up, Haitians will remain the way they are now for the foreseeable future. Lots more will leave the country, mostly the brightest and the best, many of them clamoring to come to America. The whole region, including the Gulf Coast, needs a stable and self-sufficient Haiti.
Even more fundamentally, to leave Haiti to its own devices would be a massive failure of humanity. If there is anything to be learned from social networks, it is that they show us all how interconnected we really are, like it or not. If Haiti prospers, the rest of the world will be a better place for us all. If it continues to agonize, there will be that much more agony for the rest of us to share. So where should we put our efforts?
The government will take more time than initially estimated to organize itself, as the recent election controversies and postponements have shown. We need to find new ways to help Haiti now, and the most practical way to help Haiti right away is through actors on the ground whose effectiveness is already proven: the churches.
Episcopalians know about Haiti because it has the numerically largest diocese of the Episcopal Church. It operates the most schools of any Episcopal diocese anywhere, including trade schools, a music school and a university. It has its country's only philharmonic orchestra and four-year nursing school. It is one of a few dioceses that owns and operates a major modern hospital and is certainly the only one with an art museum! It is fair to say that on the whole, we did not appreciate what we had until we lost it.
The people, clergy and bishop of the diocese have been rising to meet their extraordinary challenges in amazing and inspiring ways. For the past year, volunteers from all over the world have streamed there to help, and money has been collected and wisely spent. Help for all Haitians to recover has come not only through the world's governments, but more importantly through many non-governmental actors like Episcopal Relief & Development and Caritas.
But now the rebuilding needs to start. The Episcopalians of Haiti are starting at their heart in Port-au-Prince, the Sainte-Trinité cathedral complex, so they can gather the strength to rebuild the remaining 80 percent of their physical assets lost in the 2010 earthquake.
Rebuilding the Sainte-Trinité complex will not only give a new spiritual center for Haiti, it will also put the music school with its orchestra, a trade school, a K-12 school and an institute for handicapped children fully back in business. Just this alone will give the entire capital a much-needed shot in the arm. The government of Haiti itself has confidence in our people. Last August, it deeded a parcel of land adjacent to the complex that effectively doubled its size. No one protested, because Haitians know what l'Église Épiscopale d'Haïti has done for all of them over the years.
On the anniversary of the earthquake, Jan. 12, the Episcopal Church is launching its first major capital campaign for the cathedral complex.
There is one challenge that the churches must face together worldwide, and that is to get the many nations who promised financial support to follow through with it. Of the $11 billion promised last year, only a trickle has come into the country. It will take moral suasion, as well as good organization, to turn the trickle into the river that is needed.
What's Haiti got to do with us? Everything.

Calling all HuffPost superfans!
Sign up for membership to become a founding member and help shape HuffPost's next chapter