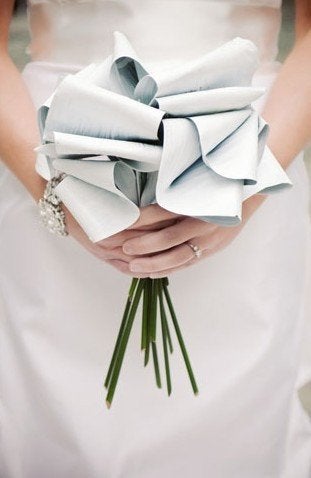 A very Happy New Year! 2012 is going to be filled with tons of love, joy, and prosperity. We saw a lot of trends continue from 2010 into 2011, which included rustic landscapes, lots of pale, soft colors, a love of succulents, and more creativity in design than ever before. Vintage everything continued to rule, along with minimalist décor, and small details incorporated into every aspect of a design. Photo booths with kitschy costumes, signature drinks, and couples holding signs with every type of saying for invites and thank-you's ruled the blogosphere. 2012 promises to bring last year's trends into a new light.
Rustic Goes Modern -- It seems as though brides, event lovers, and anyone who stares at wedding and design blogs all day have revolted in nausea over the sheer volume of rustic weddings that get published. Enter: Modern Rustic. Tightly packed, fully arranged blooms that are lush, and arranged in a more textured, compact way. The way that the flowers are arranged versus the container they are arranged in is what makes the difference. Hold on to those mason jars, but instead of having a few stems idly leaning against the side, they will be arranged in abundance. Parrish Designs creates modern looks by keeping varieties in bunches and angled. Hollywood meets vintage is a matrimony that will surely last.
High Fashion Romance -- Blame it on the runway, but those flowing romantic dresses have us swooning into an ethereal oblivion of fairytale proportions. You will find this year a lot of high-end designer gowns that will inspire oversized blooms, such as single open peonies, and large fabric flowers adorning everything from the cake to wall décor. Flowing fabrics, and drapery, in soft colors made out of taffeta and silk will cover everything from stands to arches.
Metallic -- This palette goes from rock-star to elegance, all in the way it's applied. From lavish cakes decorated with metallic frosting and adorned with tons of wild orchids to paint cans sprayed in gold and silver, this trend is here to stay. It can accent any other color, making softer palettes dreamy and adding pizzazz to jewel tones. Look out for silver and gold spray painted flowers and leaves, mixed with whites for a gorgeous classic look with a twist.
Unusual Bouquets -- Using non-flowers for bouquets found its way into 2011 and will be here to stay. Bouquets made from cotton, wool, air plants, and leaves have taken a rise, challenging floral artists from around the world to top each other. Move over white satin ribbon, brides want more unusual accents on their handles this year. Instead of the full white ribbon, you will find wire, patterned ribbon, and strips of fabric holding these funky bouquets together.
Patterned Everything -- The linens used to be decided after flowers were chosen. Not anymore. Using intricate graphics and patterns on linens, dresses, and everything in between is the hot trend. The flowers will instead accent the linens. Stacey Lynn Design has fallen crazy in love with using clean, structural elements in their designs for the 2012 season. Super modern, clean lines will rule this trend. As seen from Modern Day Floral, when working with patterns, single exotics, such as protea in bud vases and neatly arranged rows of flowers is key when working with eye-catching patterns.
Color Craze -- The soft palette trend of the past two years is coming to a halt. Move over peach, coral is blasting its way through. There are two rising trends in color: vibrant jewel tones and retro neutral shades reminiscent of a day with the Beach Boys.
Cobalt blue, raspberry, coral, and emerald are all the rage. Mixing soft sage greens with these eye-popping colors brings a wow factor. While soft palettes will always be pretty, the striking colors reflect a carefree personality.
The gals from P.S. & Associates are using this year's Pantone color board as their inspiration. The new Pantone colors of taupe, blue, tangerine and yellow are reminiscent of a day on the breezy beach, surrounded by friends, with the whole world ahead of you.
The It Flowers - You may not love roses, but you will fall in love with a garden rose. Voluptuous, fragrant, and graceful, the garden rose is a treasure often overlooked. Other flowers reigning over 2012 are: Sage, Jasmine, Dahlias, Wheat, Sweet Peas, and Queen Anne's Lace.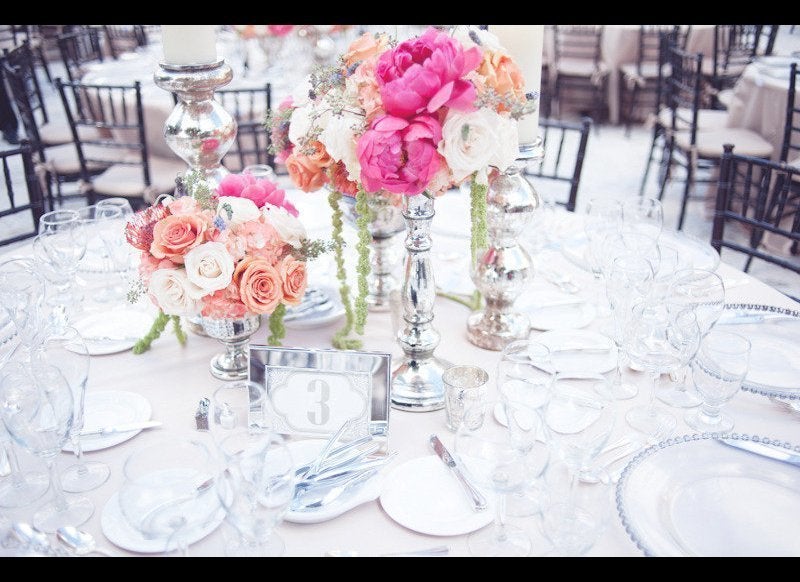 Carly Flowers
Popular in the Community