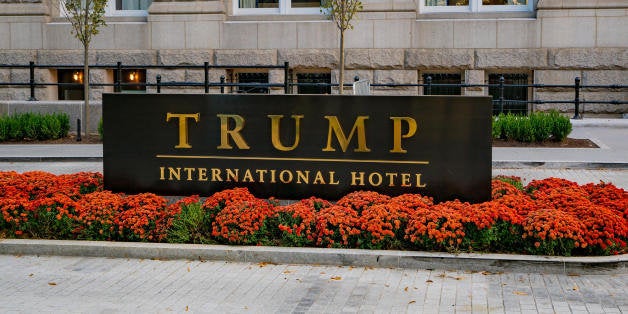 Donald Trump is not just a name; it's a business brand worth a lot of money.
And when that name becomes President Donald Trump, the name and the brand will be worth a whole lot more money.
Trump's business empire was built on turning his name into an income-producing brand that he licenses to hotels, golf clubs and other businesses, and that he also uses as the public signature for the business ventures he owns.
On January 20, 2017, the Trump brand changes from Donald Trump to President Donald Trump.
The word "President" may not appear on the Trump business enterprises all over the world.
But domestic interests, foreign governments, companies, banks and individuals around the world will know that if they are dealing with a Trump enterprise, they are also dealing with President Trump.
That will be the case unless Trump gives up ownership of his business empire and places the assets in a true blind trust managed by an independent trustee.
Trump, to date, has indicated he will not do this. A published report in POLITICO cites a transition source as saying, "Why would he give up the value of his name? It's tied to the president of the United States. It's the leader of the free world."
As long as Trump continues to own his business empire and his name continues to appear on his business ventures, we are facing an unprecedented misuse and abuse of the presidency for personal financial gain. The presidency has never been commercialized and privatized like this in the history of the country.
This fundamental problem, furthermore, cannot be solved by transferring management to his children. As long as Trump continues to own the enterprises, he will be the ultimate beneficiary of the income, profits and benefits that his businesses receive.
The hotels and other business ventures owned or licensed by The Trump Organization will be seen around the world as President Trump's hotels and business ventures. Investors, banks, companies and foreign governments that deal with Trump business enterprises will see that relationship as a means to curry favor and obtain influence with the president.
In November, for example, Bahrain decided to move its "Anniversary Day" celebration to Trump's hotel in Washington D.C. and Kuwait decided to switch its "National Day" celebration to the Trump hotel. They did not make these moves to do business with the Trump hotel; they did it to do business with the next president of the United States.
President-elect Trump has personally guaranteed some of the hundreds of millions of dollars of debt tied to Trump properties, according to a recent Wall Street Journal article. This debt and the Trump guarantees were packaged and sold to investors. "As a result, a broader array of financial institutions now are in a potentially powerful position over the incoming president," the article stated.
Policies adopted by the Trump administration that benefit domestic and foreign interests that put money into President Trump's pocket through his business enterprises will create serious conflicts of interest and appearance of conflicts problems.
Any sweetheart deals provided by foreign governments or private interests to Trump business ventures will be sweetheart deals provided to President Trump. Any problems that arise with Trump business enterprises here or abroad, such as failure to meet debt obligations, bankruptcies, investigations, regulatory violations or lawsuits, will be problems involving the President of the United States.
With President Trump personally profiting from his world-wide business operations, the American people will not be able to tell whether Trump's policy decisions as president their interests, Trump's financial interests or the interests of his benefactors. In these circumstances, the presidency and Trump's business enterprises will be inextricably intertwined.
Our country has never faced a situation like this before and it should not face it now. There is only one way to address the very serious problems that lie ahead for President-elect Trump and the country. President-elect Trump must divest his assets into a true blind trust run by an independent trustee and the Trump brand name must be retired from use in business ventures.
Protecting the integrity and credibility of the presidency and the interests of the American people requires nothing less.
REAL LIFE. REAL NEWS. REAL VOICES.
Help us tell more of the stories that matter from voices that too often remain unheard.