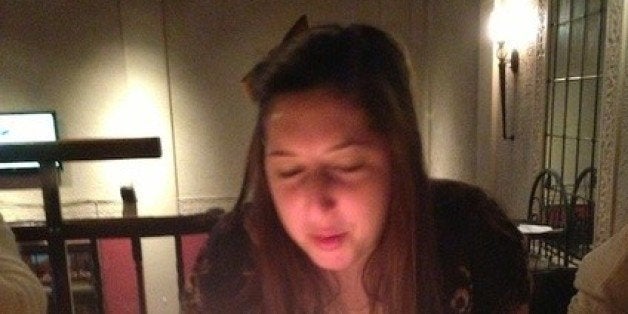 In the midst of wonder. That is her name. Miranda. Our oldest daughter turned 21 last week. Jet-lagged and congested, she eschews celebration, must be cajoled into joining us for the birthday dinner that her sister has arranged. In the dim restaurant, I look across the table at our firstborn -- blue eyes, as startling to me still as they were the day she was born.
After Christmas, she traveled to Israel on her Birthright Trip. At the Newark airport, El Al agents challenged her about her middle name. She is my Jewish daughter with an Irish middle name. I, her Christian mother, feel anxious about her safety. It is as if she is passing in reverse. I worry that my blood is causing trouble.
Born after five babies lost, she is given a name that celebrates the miracle of her being, but is named, too, for Miranda in The Tempest. I had directed the play and loved the fairy tale story, the questions of family loyalty and freedom and enslavement. Her arrival into our lives feels enchanted.
Her middle name, Kearney, is my great-grandmother's -- Annie Kearney, Gilded Age family matriarch. I grew up under her benevolent gaze, gracious and elegant, from an ornate golden frame. Now, her portrait hangs, too large, in our dining room. I feel kinship with this ancestress. I am Ann, not Annie, because my own mother (herself also christened Annie Kearney) found the "-ie" fussy. But I am named for her, and in her mien, I perceive wisdom I want my daughter to possess. I wish I had known her; I hope I would have liked her. And she, me. Perhaps she would be pleased that her name stretches down three generations.
In families like mine, we recycle names. In my husband Seth's family, Jewish tradition honors a relative by choosing a name that starts with the same first initial. My own grandmothers were Myra and Margaret; Seth's were Edith and Helen -- we decide two grandmothers with M are better than none. And so, Seth and I bestow with love on our tiny baby girl, born into our arms after a long, long wait, a name. Miranda Kearney.
When she was a few months old and we lived in Manhattan, Seth and I went to see Schindler's List. Less than a half an hour into the film, seeing the little girl in the pink coat, I fled. Out of the theatre, into a cab, I zoomed up 1st Avenue and raced up four flights of stairs to be certain my daughter was still there. It was one of the most irrational things I have ever done. But I had to see for myself. And there she was -- snuggled in her crib, knees pulled up under her, peacefully asleep. After a bit, my heart stopped hammering and my breath slowed. Seth returned from the movie he stayed to watch. Twenty-one years later, I can still recall the cold air, my panic in the taxi, feeling foolish but unable to stop myself. All those children whose mothers could not keep them safe -- it was too much for me, such a new mother, to absorb.
At 12, Miranda decided to be Jewish -- with an Episcopalian mother and a Jewish father who does not believe in God, she set out on her own journey. We discover a welcoming congregation; she learned Hebrew, became a bat mitzvah, got confirmed, taught Sunday school. Her Judaism is essential to her identity. I am moved by her faith, her commitment and her decision to travel to Israel. Seth's mother, who came to the USA from Berlin in 1939 directly after Kristallnacht, warned Miranda about the propaganda she would encounter. She listened respectfully, her enthusiasm undiminished.
When she calls from the airport to tell me that the El Al agents interrogated her about her name, I bristle: How dare they doubt our girl? I feel indignant -- and as anxious as I once felt in that taxi. Have we put her, somehow, in harm's way? Can we ever keep our children safe? No.
In infancy, we cocoon them in footie-pajamas. We feed them Cheerios one by one to prevent choking. We cut hot dogs and grapes into tiny pieces, conscientiously. We celebrate each success, giddy when they walk and talk, dusting them off carefully when they tumble, restoring their confidence, laughing at our own over-protective impulses. Then, in a moment, they are off to college, and we no longer know the everyday details, only the contours of their lives lived elsewhere.
It is our job is to help them grow and cope. When those agents challenged her, I felt anxious, but she managed. "It's a family name," she offered calmly, "from a number of generations ago. Yes, I am really Jewish." Yes, she is really Jewish with names that are Shakespearean and Irish and German. She adored her time in Israel, returning home suffering only a head cold, laden with Dead Sea skin products and inspired by her visit.
At her birthday dinner, she shyly shows her new license, smiling at the milestone, but pushing away the syrupy pear cocktail after two sips because it doesn't mix with cold medicine. Later, at home, she wishes on candles that flicker in different colors on her gluten-free raspberry torte, and by 9 p.m. she has gone to bed, curled up on her side, knees tucked in. Our miracle. All grown up.