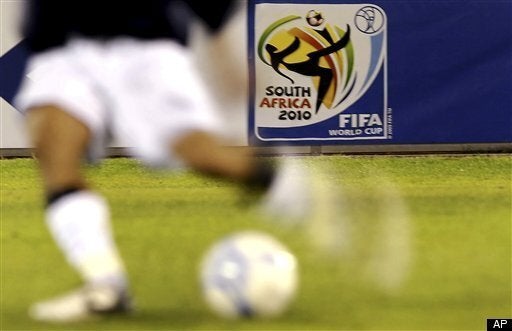 One of the surprises of the last English Premier League season was Tottenham Hotspur. Long a club full of ambition and rich in history, yet in the modern Premier League history things often failed to click for Spurs. That was until last season. Under new veteran manager Harry Redknapp, Spurs finally broke the stranglehold of the big four English clubs -- Manchester United, Liverpool, Arsenal, and Chelsea. With Spurs now on the cusp of Champions League football and with a new stadium in the works, Spurs are seeking to solidify themselves as one of the big clubs, not just in England, but in Europe. They are currently on a pre-season tour in the US in order to increase their visibility in their presence in the increasingly lucrative market, and they will notably be facing off against the New York Red Bulls and old Arsenal nemesis Thierry Henry next weekend.
But with Spurs' visibility growing, many Americans may be scratching their heads asking, what in the world is a Hotspur?
Such a question wouldn't be asked about our own San Antonio Spurs, as their name is a clear ode to the cowboy legacy of Texas. But when we think of North London, few think of marauding warriors on horseback. Yet that is exactly where the name comes from. The founders of Tottenham Hotspur football club in 1882 wanted a name for their club that invoked a fighting, yet flamboyant, spirit. No doubt, being some of the better read football fans of the age, they went to Shakespeare for inspiration -- where the figure of Harry Hotspur drew their attention.
Harry Hotspur -- actually Henry Percy -- was a knight who received the nickname "Hotspur," reflecting his impulsive nature. He also earned a reputation for being a great warrior, as he took on the Scots and the French (the founders of Tottenham no doubt had the foresight to know that archrival Arsenal would eventually become a shadow French national side). In 1403, Henry Hotspur, seriously pissed off about Henry IV's murder of Richard II, decided to do the sensible thing and led a rebellion against the crown (something that should appeal to any American). This predictably ended in catastrophe, but Hotspur is seen as going down fighting courageously and gloriously. Shakespeare later immortalized Henry Hotspur in Henry IV.
Thus, the founders of Tottenham Hotspur -- known as Spurs for short -- also hoped their team would play fighting, yet entertaining and flamboyant football. As a result, Spurs have as a club policy long emphasized playing aggressive, flowing football (sometimes to the detriment of their defense). Their team's motto, plastered along the cozy confines of their stadium on White Hart Lane, reads "to dare, is to do," which no doubt evokes Henry Hotspur's spirit.
In the U.S., we are used to unique team names, varying from the classic Yankees, Red Sox, Buckeyes, Packers, Steelers; yet in a sport filled with Uniteds, FCs, Cities, Reals, Athleticos, Rovers, and even Wanderers, it certainly is refreshing that there is only Hotspur.
Calling all HuffPost superfans!
Sign up for membership to become a founding member and help shape HuffPost's next chapter