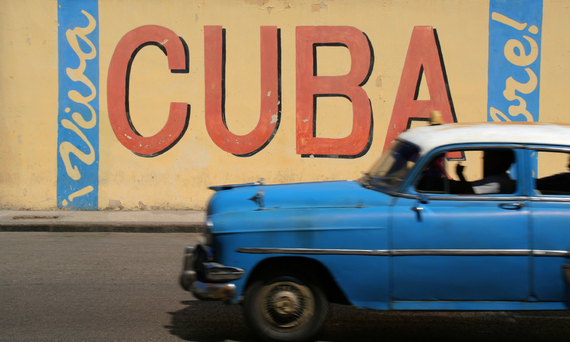 Traveling to Cuba comes with some unique challenges, but as I prepare to board a plane to Havana, I couldn't be more excited to explore this time-capsule of a country. While the U.S. government has taken the first steps towards normalizing relations with Cuba, the U.S. embargos still make traveling to Cuba quite complicated for Americans. One area of concern for travelers lies with the inability to use credit and debit cards, since many Americans have become accustomed to using plastic for every purchase.
In Cuba, cash is king, but nonetheless, here's what's in my wallet as I head to Havana.
1. Citi ThankYou® Premier Card
I recently applied for this credit card after the new updates made it a top competitor in the travel rewards space. Since I needed to spend $3,000 in three months to earn the 50,000 point sign up bonus, booking the flights, accommodations, and excursions for my Cuba trip was the perfect way to get a head start on meeting the minimum spending requirement. The recent changes to the Citi ThankYou® Premier Card meant that I got 3x points on all of these travel expenses, making this card the obvious choice. So, the main reason I'll be carrying this card to Cuba is because I booked all of my travel plans with it before leaving. It will be good to have it on hand in case I need to verify any transactions.
Also, the Cuban government requires everyone visiting the country to have travel insurance. If you don't have travel insurance, you'll have to purchase it at the airport prior to entering the country. Thankfully, the Citi ThankYou® Premier Card has travel insurance built in when you use it to book your trip, so hopefully I'll be covered here. I've printed the Travel Insurance policy from their card benefits page, but it's unclear as to whether the airport authorities will consider this an acceptable policy. Worst case, we'll end up buying the government issued travel insurance in the airport for $3 a day per person, which isn't so bad. Nonetheless, I want to find out if the Citi ThankYou® Premier Card's travel insurance will be accepted.
The final reason that the Citi ThankYou Premier Card is in my wallet for this trip is simply because it is a MasterCard. Back in January, MasterCard announced that they would be lifting the block in Cuba on transactions with U.S. issued cards. The changes went into effect on March 1st, but it will probably still be hard to find places that accept credit cards simply because most of the country's technology is outdated. The Citi ThankYou Premier Card also has no foreign transaction fees, so I won't have to worry about any addition charges for using my card overseas.
2. IHG® Rewards Club Select Credit Card
Back in April, CheapAir.com became the first Online Travel Agency to offer direct flights from the United States to Cuba. There are only a handful of routes available, but the service includes daily flights from Miami, and routes from New York and Tampa a few times a week. Because of the limited access to direct flights, the only option that worked for me was a Miami to Havana flight that departed at 7 a.m. Since I'm located in Charleston, SC, that means I'd have to get to Miami a day early and spend the night.
I never book a hotel or plane ticket without considering how I can maximize my points and miles. So for the layover in Miami, I plan to use my IHG® Rewards Club Select Card to book a one night stay at the Holiday Inn across the street from the airport. By using this card, I will earn 5x IHG Rewards Club points per dollar. I'll also earn 5,000 bonus points for completing my first stay in their "Accelerate" fall promotion. So, having this card in my wallet isn't really necessary for when I'm in Cuba, but it will sure help me rack up some points on the way there!
3. Chase Sapphire Preferred®
Why is the Chase Sapphire Preferred® coming to Cuba with me? Because it's my favorite credit card and I never leave home without it! This card gets 2x points on all travel and dining expenses, so it's always my go-to card when eating out. I'll be using this card in the airport for any travel snacks, meals on the go, or any miscellaneous travel expenses that come up while we're still in the States. Also, since this card is a Visa, I want to bring it to Cuba to see if it will be accepted anywhere, although I'm almost certain that the answer will be no.
4. Bring Cash
This is what my research suggests I will be using most of the time. As a points and miles junky, I normally avoid using cash like the plague. But in Cuba, it's pretty much the only way for Americans to pay for things. Needless to say, it's going to be a strange transition using paper bills. It's recommended that Americans take a liberal amount of cash when visiting Cuba, because with limited access to ATMs, it can be very difficult to withdraw cash while there. Also, there is a $25 exit tax per person for all travelers leaving the country, and you can only pay in cash, so be sure to build that into your budget when deciding how much cash to bring.
In Cuba, there are actually two currencies, but foreigners will deal almost exclusively with the Cuban Convertible Peso (CUC), which is basically equal the USD in value. However, there is a 10% penalty tax on exchanging USD to CUC, plus a 3% exchange fee. This means that $1 USD is equal to about $.87 in CUC. Because of this, I have preemptively withdrawn Euros from my local bank which will hopefully help me avoid the 10% tax.
It's important to point out that in order for Americans to travel to Cuba, you need to be qualified under one of the twelve approved general licenses. For instance, I will be traveling to Cuba under the general license of journalism. It's still technically illegal for Americans to travel to Cuba just for tourism, but if you can qualify yourself under one of the twelve specified categories, then you're good to go!
The bottom line is that Americans planning a trip to Cuba should expect to use cash almost exclusively while in the country. Additionally, travelers should be aware that there is almost no Internet access in the country and your cell phones won't likely work either. At most hotels, you can purchase "Internet cards" that allow you to connect for 1 hour at a time, but most people recommend that you simply "unplug" for your trip and enjoy all that Cuba has to offer.
* Editorial Note: This content is not provided or commissioned by the credit card issuer. Any opinions, analyses, reviews or recommendations expressed in this article are those of the author's alone, and have not been reviewed, approved or otherwise endorsed by the credit card issuer. This site may be compensated through the credit card issuer Affiliate Program.
*The content in this article is accurate at the publishing date, and may be subject to changes per the card issuer.