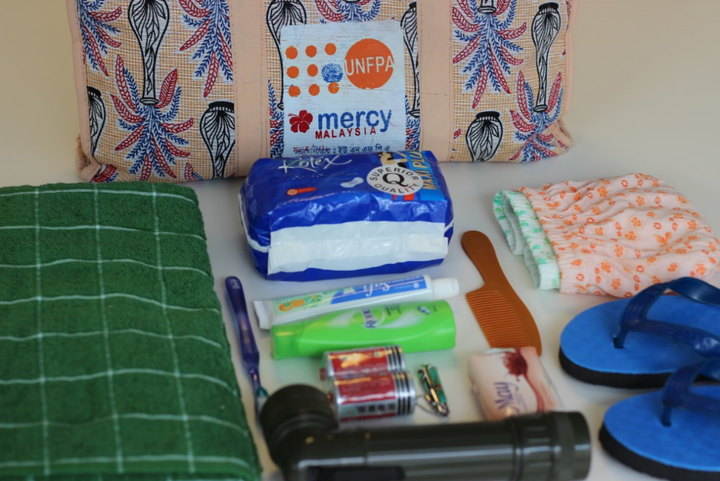 What's in my bag? Today, it's my phone, keys, wallet, tissues, metro card, lipstick, a pen, sunglasses and a "Daniel Tiger" cartoon sticker from my son.
But imagine having to flee your home because of conflict or disaster – what you would need to carry would be much different. And you probably wouldn't be able to carry it all. In crisis settings, ensuring that you have even basic tools like soap, a comb, and underwear or diapers is difficult.
Today, more than 75 percent of people affected by humanitarian crises are women and children. While shelter, food, and water are first priorities, the critical and specific needs of women and girls are often overlooked. Millions of refugee girls and women around the world need the most basic supplies and services to ensure their health, dignity, and rights.
This is where the UN Population Fund (UNFPA) plays an irreplaceable role in protecting vulnerable girls and women. UNFPA is often the first – and sometimes the only – provider of life-saving reproductive health services in humanitarian crises. These services range from ensuring safe births for pregnant refugees, to dispatching mobile health clinics, to establishing safe spaces for women and girls in conflict zones, and much more. In 2017 alone, UNFPA expects its humanitarian work to reach 38 million people in 56 countries, including more than 5.6 million pregnant women.
An important part of this work is the distribution of dignity kits, which include essential supplies to help women maintain their basic hygiene when displaced by a crisis. Kits vary by region and the nature of the crisis, but here, we take a look inside a kit from UNFPA and MERCY Malaysia during their 2014 response to Typhoon Hagupit in the Philippines: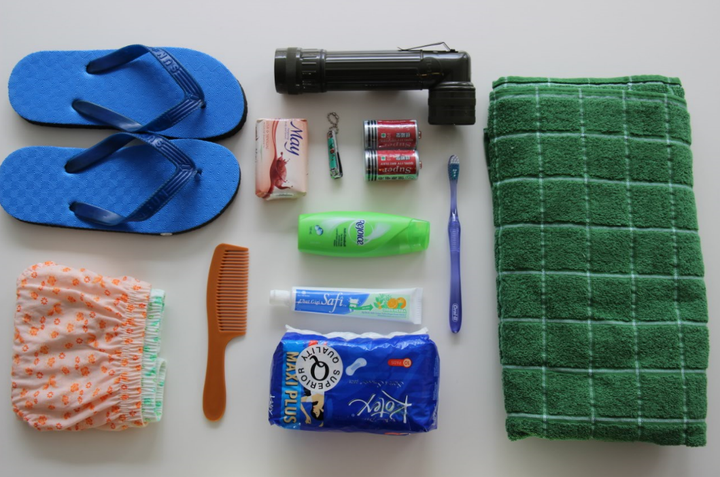 This kit, an example of the 1,000 dignity kits that were distributed in response to the typhoon, shows that even the most basic supplies can have a big impact: Simple toiletries like soap and toothpaste, sanitary supplies to use during menstruation, and clean undergarments provide basic hygiene while a flashlight can enable a woman to more safely travel at night when she is particularly vulnerable to violence. Just $25 provides a woman with hygiene essentials like these for six months.
"I need pads, underclothes, shampoo. This is not luxury. …They are basic needs for every woman," said Ansam, a mother-of-three in her 20s who was forced to flee her home in Bashiqa in Iraq as ISIS approached. Ansam received a dignity kit from UNFPA with these essential supplies.
The stakes are even higher for a pregnant refugee. Pregnancy does not wait for a conflict to end, so UNFPA provides a variety of clean delivery kits to help ensure a safe birth. The most basic kit includes a bar of soap, a razor blade to cut an umbilical cord, a string to tie it, and plastic gloves and sheeting for hygiene. It also includes photo-based instructions for how to safely deliver a baby. Here's a look inside: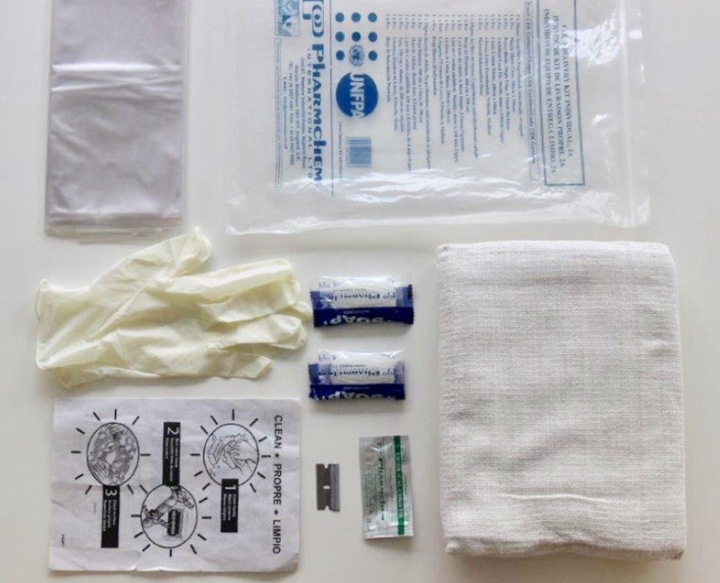 There are large 'kits' too, in the form of a mobile delivery unit. These units, sometimes called "hospitainers," are mobile maternity wards that operate out of a shipping container. In June this year, the first baby was born in the UNFPA-supported mobile delivery unit at the Rukban camp in the berm between Syria and Jordan, considered a "no man's land." An estimated 35,000 to 40,000 people are stranded in this piece of land. Because of UNFPA, a Syrian woman and her family have a ray of hope in the most desolate of circumstances.
With the U.S. eliminating its funding to UNFPA – a major hit since the U.S. was the second-largest funder of UNFPA's crisis response work – even these essential basic reproductive health services for refugee women are at risk.
Access to family planning, a safe delivery, and protection from sexual violence are basic human rights and are especially important when conflict or disaster strikes. In these moments, the UN system responds to ensure that the reproductive health needs – and the basic human rights – of women and girls are integrated into broader emergency responses.
On World Refugee Day, let's support the safety and dignity of girls and women in need by supporting the work of UNFPA.
Popular in the Community