Things are getting stranger on Netflix in October, but you might want to hold off before celebrating.
Yes, Season 2 of "Stranger Things" is coming on Oct. 27, and there will be a new stand-up special from Patton Oswalt and a slew of anticipated originals. A whole slew!
We already know Netflix is eventually losing Disney movies; however, the losses coming in October are almost equally upsetting. "30 Rock" is gone, "Malcolm in the Middle" is gone, "Friday Night Lights" is gone, gone, gone.
Clear eyes, full hearts ― Netflix is going to lose some great TV shows.
Here's what's arriving:
"88 Minutes"
"A Cinderella Story: Once Upon a Song"
"Before Midnight"
"Blood Diamond"
"Boogie Nights"
"Charlie and the Chocolate Factory"
"Cleverman" (Season 2)
"Death Sentence"
"Don't Be a Menace to South Central While Drinking Your Juice in the Hood"
"Eagle vs. Shark"
"Eyes Wide Shut"
"Generation Iron 2"
"Ghost Patrol"
"I Love You, Man"
"Ice Guardians"
"Lockup: Disturbing the Peace: Collection 1"
"Made of Honor"
"Miss Congeniality"
"Miss Congeniality 2: Armed and Fabulous"
"Must Love Dogs"
"Never Let Me Go"
"No Reservations"
"Penelope"
"PJ Masks" (Season 1)
"Set Up"
"The Reaping"
"Tokyo Idols"
"Tommy Boy"
"Vanished"
"Veronica"
"Mr. Dynamite: The Rise of James Brown"
"Sleeping with Other People"
"13 Demons"
"Rodney Carrington: Here Comes The Truth" (Netflix Original)
"Cult of Chucky"
"The Survivalist"
"Bonus Family (Bonusfamiljen)" (Season 1, Netflix Original)
"Schitt's Creek" (Season 3)
"The Fosters" (Season 5)
"ID-0" (Season 1, Netflix Original)
"Skylanders Academy" (Season 2, Netflix Original)
"Suburra" (Season 1, Netflix Original)
"The Death and Life of Marsha P. Johnson" (Netflix Original)
"Word Party" (Season 3, Netflix Original)
"Chris Brown: Welcome To My Life"
"Middle Man"
"Christina P: Mother Inferior" (Netflix Original)
"The Skyjacker's Tale"
"Fe de Etarras" (Netflix Original)
"El Especial de Alex Fernández, el Especial" (Netflix Original)
"Kingdom of Us" (Netflix Original)
"MINDHUNTER" (Season 1, Netflix Original)
"Super Monsters" (Season 1, Netflix Original)
"Talladega Nights: The Ballad of Ricky Bobby"
"The Babysitter" (Netflix Original)
"The Meyerowitz Stories (New and Selected)" (Netflix Original)
"Voltron: Legendary Defender" (Season 4, Netflix Original)
"Belief: The Possession of Janet Moses"
"LEGO: City" (Season 1)
"Money"
"OtherLife"
"She Makes Comics"
"West Coast Customs" (Season 6)
"Patton Oswalt: Annihilation" (Netflix Original)
"Slasher: Guilty Party" (Netflix Original)
"1922" (Netflix Original)
"Haters Back Off" (Season 2)
"One of Us" (Netflix Original)
"Smurfs: The Lost Village"
"The Day I Met El Chapo: The Kate del Castillo Story" (Netflix Original)
"Wheelman" (Netflix Original)
"Meet the Robinsons"
"While We're Young"
"Wanted" (Season 1, Netflix Original)
"Wanted" (Season 2, Netflix Original)
"The Mist" (Season 1)
"The Hateful Eight"
"The Final Master"
"La Querida del Centauro" (Season 2)
"Stranger Things" (Season 2, Netflix Original)
"Joan Didion: The Center Will Not Hold" (Netflix Original)
"Pup Star: Better 2Gether"
"Judah Friedlander: America Is the Greatest Country in the United States" (Netflix Original)
"Zumbo's Just Desserts" (Season 1, Netflix Original)
Here's what's leaving:
"30 Rock" (Seasons 1 - 7)
"A Love in Times of Selfies"
"Across the Universe"
"Barton Fink"
"Bella"
"Big Daddy"
"Carousel"
"Cradle 2 the Grave"
"Crafting a Nation"
"Curious George: A Halloween Boo Fest"
"Daddy's Little Girls"
"Dark Was the Night"
"David Attenborough's Rise of the Animals: Triumph of the Vertebrates" (Season 1)
"Day of the Kamikaze"
"Death Beach"
"Dowry Law"
"Dr. Dolittle: Tail to the Chief"
"Friday Night Lights" (Seasons 1 - 5)
"Happy Feet"
"Heaven Knows, Mr. Allison"
"Hellboy"
"Kagemusha"
"Laura"
"Love Actually"
"Malcolm in the Middle" (Seasons 1 - 7)
"Max Dugan Returns"
"Millennium"
"Million Dollar Baby"
"Mortal Kombat"
"Mr. 3000"
"Mulholland Dr."
"My Father the Hero"
"My Name Is Earl" (Seasons 1 - 4)
"One Tree Hill" (Seasons 1 - 9)
"Patton"
"Picture This"
"Prison Break" (Seasons 1 - 4)
"The Bernie Mac Show" (Seasons 1 - 5)
"The Shining"
"The Wonder Years" (Seasons 1 - 6)
"Titanic"
"The Cleveland Show" (Seasons 1 - 4)
"Lie to Me" (Seasons 2 - 3)
"Louie" (Seasons 1 - 5)
"Hotel Transylvania 2"
"Family Guy" (Seasons 9 - 14)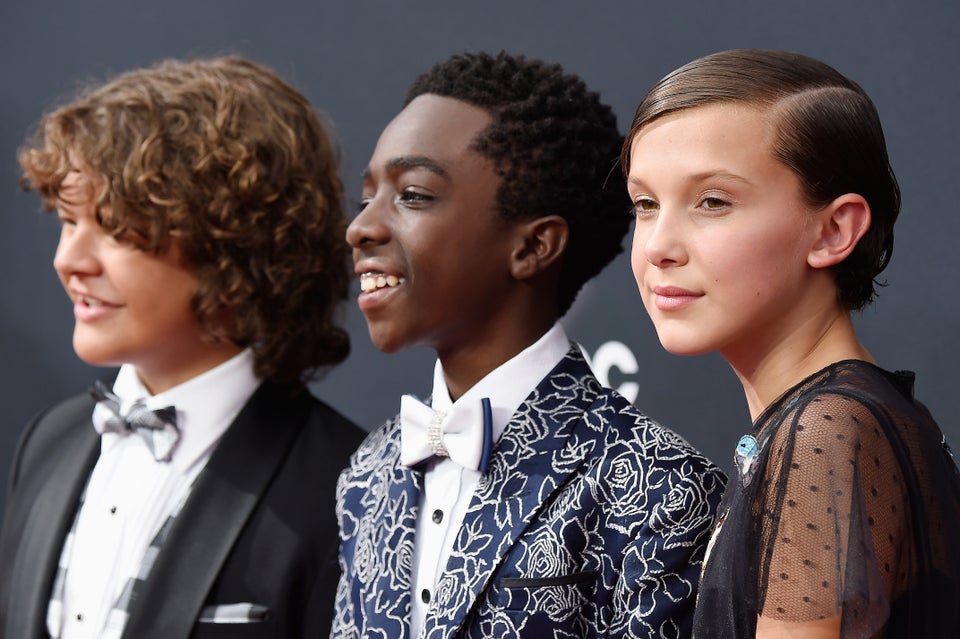 The "Stranger Things" Kids At The Emmys
Popular in the Community