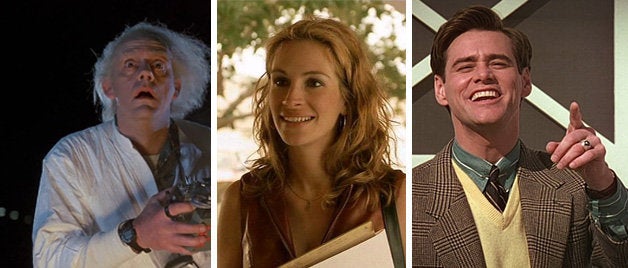 October means Halloween, and that means Netflix is trying to scare the hell out of us with the list of movies and shows that are leaving.
This one is heavy, Doc. It's time to say good evening, good afternoon and good night to "The Truman Show," the "Back to the Future" trilogy and more. Thankfully, movies such as "Titanic" are coming in October. But it's bon voyage to the following:
Oct. 1
"10.0 Earthquake" (2014)
"Back to the Future" (1985)
"Back to the Future Part II" (1989)
"Back to the Future Part III" (1990)
"Beverly Hills Cop II" (1987)
"Congo" (1995)
"Deep Impact" (1998)
"Erin Brockovich" (2000)
"The Exorcist" (1973)
"Heroes" Season 1-­4
"Honey" (2003)
"Honey 2" (2011)
"Insomnia" (2002)
"Jimmy Neutron: Boy Genius" (2001)
"Mr. Deeds" (2002)
"My Girl" (1991)
"Nick of Time" (1995)
"The Phantom" (1996)
"Psych" Season 1-­8
"The Running Man" (1987)
"Saturday Night Live: The 2010s" Season 38
"Timeline" (2003)
"Uncommon Valor" (1983)
"The Warriors" (1979)
Oct. 2
Oct. 15
"Ivan the Incredible" (2013)
Oct. 16
"Devil" (2010)
"Estranged" (2015)
Oct. 20
"Marvel's Avengers Assemble" Season 2
Oct. 21
"The Taking of Deborah Logan" (2014)
Oct. 24
Oct. 25
Oct. 27
"The Many Adventures of Winnie the Pooh" (1977)
Oct. 31
REAL LIFE. REAL NEWS. REAL VOICES.
Help us tell more of the stories that matter from voices that too often remain unheard.
BEFORE YOU GO
PHOTO GALLERY
12 Highest-Rated Movies on Netflix