For many years, romantic comedies have had a double standard. If a man slept around, he was hailed as a charmer, a lover boy, or someone who was just "sowing his wild oats." If a woman slept around, she was instantly branded as a slut.
Following her very public divorce from her husband and former performing partner (Ike Turner), Tina Turner sang about love being "a second hand emotion." Turner ended a song from her 1984 five-time platinum album, Private Dancer, with the following lyric:
"What's love got to do, got to do with it
What's love but a sweet old fashioned notion
What's love got to do, got to do with it
Who needs a heart when a heart can be broken."

This year witnessed the premieres of two films in which strong-willed women determined who they slept with and under what conditions. One was a small independent film that pushed a lot of buttons with traditionalists. The other was a major studio release in which the woman was clearly in charge of when, where, and how the man got what he wanted.
Quentin Lee's rollicking sex farce, The People I've Slept With, is the kind of brazenly realistic romantic comedy that makes a movie like Leap Year seem downright cowardly (the only time anyone in Lee's film is beating around the bush is when they're wearing full leather). All you have to do is watch The Fabulous Miss Wendy's music video (also directed by Quentin Lee) for I Like Boys to get a quick idea of the kind of movie this is.
The film begins with Angela Yang (Karin Anna Cheung) pressing the "Record" button on her video camera and delivering a message to her new baby, Tiny, explaining how he came to be. The setup is simple: Angela is a proud slut, a hypersexual young Asian-American woman who could give most sexually compulsive gay cock hounds some stiff competition.
In short, Angela behaves an awful lot like a gay man. She dutifully takes pictures of each and every one of her sexual conquests, gives him a code name, and records key data (such as his age, occupation, and sexual prowess as well as the length and girth of his penis). The only thing she hasn't done is entered all of her meticulous research into an on-line relational database.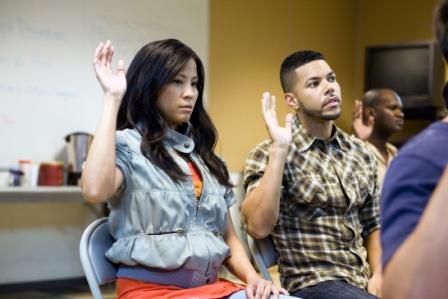 Angela (Karin Anna Cheung) and Gabriel (Wilson Cruz)

Angela's closest friend is a sweet gay man who has trouble falling in love. Despite their vast wealth of sexual experience, when it comes to social skills, emotions, and maturity, both Angela and Gabriel (Wilson Cruz) are hopelessly stuck somewhere in high school -- until Angela discovers that she is pregnant and can't figure out who the father could be.
With a stack of photographs of past tricks that resembles a deck of old-fashioned baseball cards, Angela sets out to collect DNA samples from the most likely candidates and witness how they react to the news that she's pregnant.
"Five-Second Guy" is no longer available.
"Nice But Boring Guy" (Randall Park) is ecstatic to learn that he might be a father, but quickly turns into the dumbest stereotype of a romantic stalker.
Angela's presumed-to-be-gay neighbor down the hall, Mr. Hottie, had sex with her on one very drunken occasion. Although he insists that he's straight, Mr. Hottie would much rather Angela lend him a helping hand with a minor detail.
The man Angela thinks is probably the father, Jefferson Lee, has never told her what he does for a living. Perhaps that's because, although he would secretly like to become a chef, Jefferson (Archie Kao) is the spoiled scion an important Asian-American political dynasty and is currently running for local office. He's hot, humpy, handsome, and healthy. He's also engaged.
Turning to her family for help and guidance is equally dicey.
Angela's ultraconservative sister, Juliet (Lynn Chen), is pushing for Angela to have the baby, marry whomever she thinks the father might be, and settle down to lead a respectable life.
Their father (James Shigeta) is in a new relationship with a sexy Caucasian fitness fanatic named Becky (Stacey Rippy) and getting lots of sexual satisfaction late in life. After a very unhappy marriage to Angela's mother, Charlie Yang doesn't want his little princess to rush into anything that could ruin her life.
Needless to say, Angela's best friend, Gabriel, wants her to stop procrastinating and get an abortion.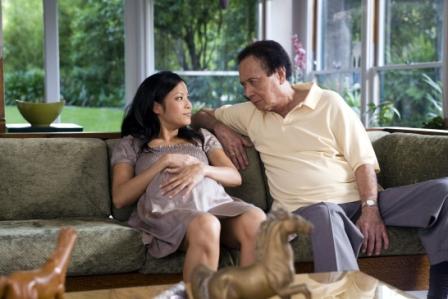 Angela (Karin Anna Cheung) and her father (James Shigeta)

Meanwhile, Gabriel is having romantic problems of his own. For the first time in his life he has fallen in love and, in a moment of panic, sabotaged the relationship. BFF that she is, Angela is rather aggressively trying to persuade Lawrence (Rane Jameson) to "un-dump" Gabriel and give her friend a second chance.
As days turn to months, Angela gets increasingly pregnant and decides to schedule a joint wedding with Gabriel on the premise that if the two "brides" plan the wedding, their grooms will come through at the last minute.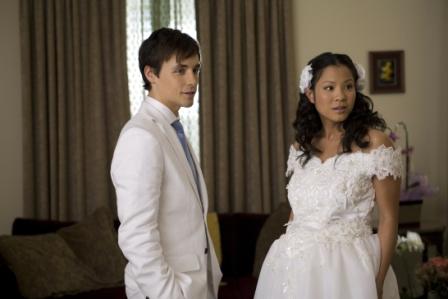 Lawrence (Rane Jameson) and Angela (Karin Anna Cheung)

The joint wedding turns out to be quite a confusing event. Embarrassed by the fact that their son is planning to marry a very pregnant woman, Jefferson's parents (Dana Lee and Elizabeth Sung) refuse to attend the ceremony. When a very pregnant Angela finally waddles up to the altar, in a rare moment of clarity she turns to Jefferson and says, "Look, I'm a slut!" and runs away.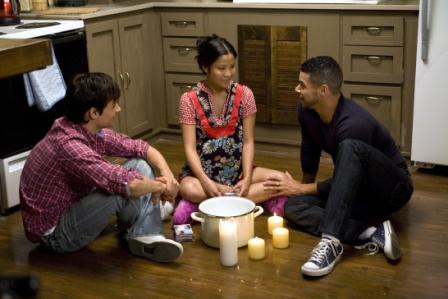 Lawrence (Rane Jameson), Angela (Karin Anna Cheung)
and Gabriel (Wilson Cruz)

How Angela resolves her situation is the crux of this very smart and snappy adult indie film written by Koji Steven Sakai (whose delightful script is a lot more realistic, sophisticated, and in your face than most romantic comedies). There are nice cameos from Sherry Weston as Angela's gynecologist, Dr. Richards, and Tim Chiou as her brother--in-law, Fred.
More than anything, however, it is the wit of the script (which makes Lawrence and Gabriel's same-sex marriage seem a lot more wholesome, honest, and desirable than a hastily-arranged marriage of convenience between two heterosexuals) and the smart direction by Quentin Lee that sets this film head and shoulders above the competition. Surrounded by Hollywood blockbusters that try to force a happy ending, The People I've Slept With is a disarming and hilarious indie film that celebrates the need for brutal honesty in relationships. Here's the trailer:
Lots of romantic comedies have been based on the concept of "loathe at first sight." Precious few have been able to frame their plot as candidly as Love and Other Drugs, the new film by Edward Zwick that recently opened nationwide. There are many reasons to see this film (not the least of which are Jake Gyllenhall's muscular thighs and juicy butt cheeks).
This is an intelligent, carefully-crafted sex dramedy with a plot that doesn't pull any punches. Based on Jamie Reidy's 2005 novel, Hard Sell: The Evolution of a Viagra Salesman, it could just as easily have been titled "The Enlightenment of a Self-Avowed Asshole."
Gyllenhall plays a confident young lothario who knows how to charm the ladies. As a salesman, Jamie Randall (Gyllenhall) knows exactly how to turn it on, when to pull back, and when to wait for a woman to want him. His moves are slick, successful, and lead to plenty of casual sex.
While Jamie has never lived up to his physician father's expectations, his sexual prowess has always made him a hero to his kid brother, Josh (Josh Gad). A clumsy, fat, insecure putz, Josh has made millions in the software business. Both Jamie and Josh know that, despite the younger brother's sudden wealth, Josh will always be a putz.
Josh may be completely lacking in social skills, but he can smell money like a pig can sniff out truffles. After his older brother gets fired from a low-level sales position at an electronics store (for fucking one of his co-workers in the back room while on break), Josh points out that pharmaceutical sales reps are the only people whose entry level jobs start at $100,000 a year.
In no time at all Jamie has entered a training program where he is assigned to a middle-aged mentor named Bruce Winston (Oliver Platt). Bruce may lack Jamie's looks and charm, but they both understand the importance of one word: pussy.
After learning that his top competitor is a former military man named Trey Hannigan (Gabriel Macht), Jamie finds a way to ingratiate himself with Hannigan's prize contact, Dr. Stan Knight (Hank Azaria). Having charmed the good doctor into letting him tag along as an intern, Jamie then gets to watch Dr. Knight examine a beautiful patient named Maggie Murdock (Anne Hathaway) who, worried about a potential lump, unhesitatingly bares her breast in the examination room. As you can see in the following trailer, Jamie and Maggie don't exactly "meet cute":
To make matters worse, Maggie is devilishly smart, a talented artist, and the kind of liberated woman who is capable of beating Jamie at his own game. Just as the handsome young drug rep has perfected the old "Find'em, feel'em, fuck'em, and forget'em" routine, Maggie is only interested in no-strings-attached sex. She wants it hot and heavy, but with no emotional involvement. When, for the first time in his life Jake can't get an erection, Maggie wastes no time taunting the Viagra salesman back to a truly tantalizing state of tumescence and turgidity.
The bad news is that Maggie has recently been diagnosed with stage 1 Parkinson's disease. Lonely, scared, and not wanting to be humped and dumped (like she was by Trey Hannigan as soon as he learned about her illness), Maggie's psychological defenses are up, even if her sexual guard is down.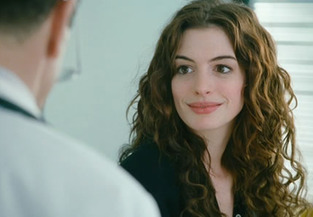 Anne Hathaway as Maggie
(Photo courtesy of 20th Century Fox)

Not only does Love and Other Drugs meticulously plot a growing relationship in which a woman tells the man that she'd prefer it if he were a total shit (and he admits to being fully qualified for the role), it never apologizes for the casual sex that sparks a growing lust between Jamie and Maggie. Along the way, the movie gets in some pretty good digs at how physicians are corrupted by drug reps and how a boner pill gets all the pharmaceutical industry's attention and support while seniors must travel to Canada to get affordable medications.
From its two leads down to minor character roles, this movie has been blessed with great casting by Victoria Thomas. Because Gyllenhall and Hathaway are such strong and fearless actors, the sex scenes never seem gratuitous. In fact, they make the film's subsequent seriousness all the more poignant.
As you watch Love and Other Drugs, don't be surprised if you find yourself thinking that Anne Hathaway (who has always been an extremely intelligent, daring, and talented actor) is now positioned to take over the kinds of roles that once headed directly toward Julia Roberts. Hathaway's onscreen magnetism -- and the sparks that fly between her and Gyllenhall -- also make one wonder if these two might make a great team in subsequent movies.
For those who don't know, Hathaway has a solid singing voice -- as was demonstrated when she starred in the New York City Center's February 2002 Encores production of Carnival (click here to watch her perform "Yes, My Heart" ). In his review in The New York Times, Ben Brantley wrote:
"Give thanks for Anne Hathaway, who just completed her freshman year at Vassar and who somehow makes unspotted purity look like the latest fashion. This is essential, since the appeal of Carnival, a show of strangely polarized sensibilities, lies in the balance of a slightly smirky cynicism and the unquestioned innocence of its leading lady.
Ms. Hathaway, best known for the Cinderella fantasy film, The Princess Diaries, has a flutish, frill-free soprano that is the opposite of show-biz brass and a pretty, open face that looks as if it had never raised an eyebrow. Making her New York debut, she trades on her novice status to create a sense of unblinking wonder."
Since 2002, Hathaway's screen portrayals have grown increasingly complex and ballsy. Considering the classic movie musicals that are already in preproduction for new film versions (Damn Yankees and My Fair Lady in 2012, South Pacific in 2013), I'd love to see her star opposite Gyllenhall in a remake of The Pajama Game. Watch this clip with Doris Day and John Raitt from the 1957 film and see if you don't agree:
Related
Popular in the Community