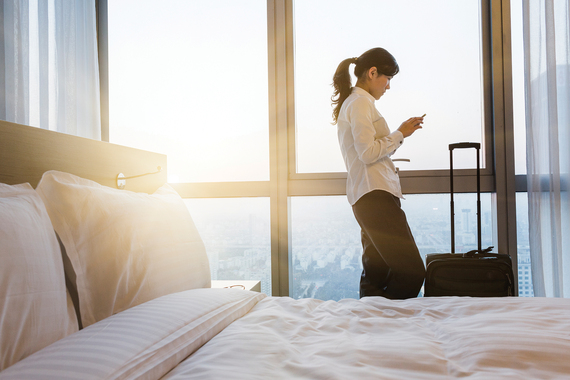 In the hospitality business, truly connecting with today's tech-savvy guest does not mean beating the OTAs at their own game. Rather, hospitality experts must crack the new code of consumer loyalty, as I discovered talking to Larry Cassenti of Marriott International.
When Cassenti began his career with Marriott as a high school student, he worked as a bellman in a Long Island hotel. Today, he is Senior Bench Manager for Marketing and e-Commerce; he covers markets where there is a leave of absence or resource gap. Thanks to his long-term relationship and "bird's eye" view of the Marriott brand, Cassenti has witnessed firsthand technology's impact on the hospitality industry.
Larry Cassenti (LC): I've been with Marriott for 25 years; I was there in the days when Mr. Marriott would personally visit us in the hotel. I was 17 years old, and he would come in to the hotel and would explain these great things, like "if you see a guest walk in and they have a sniffle, ask them if they have a cold and send them a cup of soup." That's how I was trained, and it's a foundation of our culture.
Damian Bazadona (DB): So that was really the company's founding ethos?
LC: Yeah, but now with mobile a lot of those human interactions are coming apart. If someone is able to text a hotel to add extra pillows to the room, or send up a cup of chamomile tea before they check-in, and they don't get that human interaction, we're never going to know if it would be a nice idea to send up a cup of soup. We're losing that human interaction. The foundations of the business were based on hospitality, and the more things are going online and mobile, the less human interaction there is.
DB: Wow, right. So that's a paradox of technology in the hospitality industry. In a way, you're making the guest's life so much easier, while also separating yourself. How else has technology impacted that customer service element?
LC: Like as far as complaining on Twitter or other social media?
DB: That's actually funny. Mobile has made it easier for people to whine. True or false?
LC: (laughs) When this first started happening, you would see the rise of Twitter complaints, and accolades as well, but for example, someone is having a problem with check-in and they're Tweeting it. They're using hashtags that we weren't even tracking at that time -- we didn't know what we were looking for. Now, this has evolved, and we're tracking those things. We have a property person designated for every hotel that can respond to these things directly.
DB: And so the person that's responding, is it a requirement that they understand that particular property?
LC: Yes, ultimately it's up to the general manager. You want a local, immediate voice responding. We have social media training, especially for the general managers, on how to respond to a variety of different requests or complaints. But we also want it spoken from the genuine voice of the person responding. One of the biggest mistakes you can make if someone's complaining on social is not responding. That would be like publicly ignoring a phone call. You have to respond to that stuff and you have to respond quickly, so that people see that you are looking and you do care. We have solid social strategies on property to make sure that we are intercepting those kind of complaints or addressing them publicly in order to build business and, of course, not lose any.
DB: So let's talk about OTAs for a second. The popularity of OTAs are in the on-deck features like price comparison and ability to bundle searches for transportation and accommodation. How do you try to tackle that?
LC: Yeah, so strategies like our "Best Rate Guarantee" make sure you get the best rate directly from Marriott.com or our Marriott app. Plus, you'll be able to earn Marriott Rewards points, which you can't do when you go through a third-party travel agency, and you'll also get free Wi-Fi.
DB: So, in a sense, "Book official; you get the best."
LC:Exactly. But really our goal is to increase the user experience, no matter what platform. If it's easy to book a room, we're gonna book more rooms.
DB: Where are you on mobile's opportunity to build or deepen relationships and build loyalty?
LC: If you're on the way to the hotel in a car from the airport and you want to pre-check-in and make sure that there is extra water in your room and foam pillows instead of feather, mobile request will offer that in the future. But it's kind of a double-edged sword, because while we do want to evolve with technology and provide those services that you can get from mobile, we also want to see our guests; we want to smile; we want to shake hands. There is a balance.
Larry Cassenti joined Marriott International in 1989. His proudest accomplishment? The conceptualization and launch of his catering promotion "Cake From Buddy," with TLC's "Cake Boss" Buddy Valastro, for which Larry was recognized by HSMAI as one of the year's Top 25 Most Extraordinary Minds. Larry works on Long Island, representing select hotels under Marriott International's portfolio of brands across the Americas.
Calling all HuffPost superfans!
Sign up for membership to become a founding member and help shape HuffPost's next chapter