Next week, the new issue of MAD Magazine hits newsstands, which is okay, I guess. More important than that (and with a decidedly higher budget), next year sees the release of a new Star Wars film. Since the usual gang of idiots make their paltry salaries standing on the shoulders of other, more popular giants, they've set their sights on Star Wars once again.
I've written about the intersection of MAD and Star Wars before (for the official Star Wars website, no less) but it's nice (I suppose) to see them go back to that dried up mine for material.
For their new issue, MAD has given us an exclusive look at their new spread that answers a very important question: What has Luke Skywalker been up to for the last 30 years? If you follow the right path, it actually tells the story of the old Expanded Universe...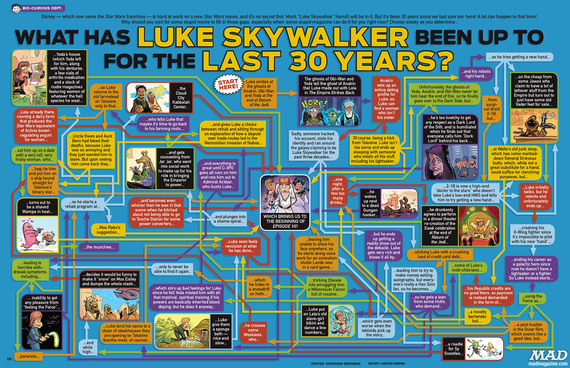 This issue of MAD Magazine comes out August 12th. For more information, visit the MAD website.
Popular in the Community