Mike Nolan has been the head coach for the San Francisco 49ers since 2005, a position his father, Dick Nolan, also held in the late '60s. With 26 years of coaching experience, Nolan is well-respected in the industry, but perhaps most known for being the NFL coach to bring the suit back to the sidelines. I asked Nolan about how the ensemble became his logo.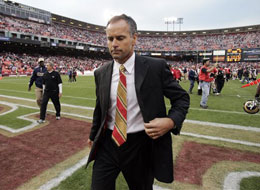 Mike Nolan (AP)
Your wardrobe choices are restricted by the NFL, so what were the challenges with wearing a suit?
Reebok bought the rights to sideline apparel from NFL, so they control it -- everything from what coaches to players to equipment staff to medical staff wear. They didn't want to change the heads coaches' clothing to anything other than Reebok apparel; they feel they sell a lot of merchandise off what the head coaches wear. In 2006, they came to me and said "You can wear [your suit] for two home games and we'll decide what those games are." They came out with a suit in spring -- it was their attempt to make a suit, but all they really did was make some kind of sporting wear jacket; it wasn't very appealing to the eye or to the fit. In the end, at the meeting they put the jacket on the table and said, "Make it work!" It had a red lining, which is the 49er color.
Next year, in 2007, they said that I could wear a suit to all home games. They asked all the other coaches if they were in favor of it, and Jack Del Rio of the Jacksonville Jaguars was the only other one. And then Joseph Abboud made me four custom-made suits; and my personal tailor, Joseph Wendt (who does a lot of suits for NFL players and coaches) makes the rest.
Why did you want to wear a suit on the sidelines?
We all have mentors, and this all started with my father, Dan Reeves and other people who wore suits on the sidelines, so as a youngster that's what I was exposed. And now as a coach, I like to wear suits out of respect -- not only to my mentors, but also to the league and team that I work for. I think a suit reflects respect and gains respect, which you can lose by how you act the fool on the sidelines sometimes.
It's a no-brainer. It doesn't restrict me from doing my job, and yet it sends the right message, both personally and professionally.
Do any of the other coaches wear suits now?
No. Joseph Abboud has taken care of me and Jack Del Rio with suits. This year, the group might raise their hands to get some free suits.
So they only wear clothes that are given to them for free?
You know the old saying, "If it's free, it's me!"
Is personal style a professional asset?
Yes, very much. For me, it sends the right message about who is in charge. The guys that did it before me really set the standard for the league, they were very respectful people and very well-respected in the profession.
Has anyone ever said anything negative about your suits?
Isaac Bruce from the St. Louis Rams once said, "You look like Johnny Cash!" It tickled me because I was wearing a black suit and a dark tie. But there are players who say that they appreciate me wearing a suit. It touches me the most when players recognize it in a positive way. It represents well; this is what I'm supposed to look like.
Whose style do you admire?
Pat Riley, who coaches the Miami Heat basketball team, has great style. He is extremely professional and successful.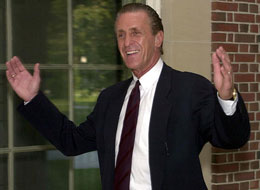 Pat Riley (AP)
What advice do you have for people creating their own visual brand identity?
For some, the motive is to draw attention to themselves, but dress should reflect who you are and what you stand for. If someone is an entertainer - who's the girl who saved her head?
Yeah, she's got a look. And that's the one she wants... a signature look communicates how you want to be perceived. What you wear says a lot about where you're at.

Popular in the Community