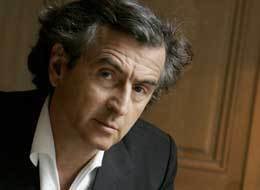 Bernard-Henri Lévy is one of France's leading philosophers and one of the most esteemed and best-selling writers in Europe. Lévy's thirty books, which include cultural commentary, novels and journalism, have continued to stir up such excitement that The Guardian recently noted he is "accorded the kind of adulation in France that most countries reserve for their rock stars." And, indeed, Lévy looks like something of a rock star with his signature dark suits and unbuttoned down-to-there white shirts. Lévy answered my questions about his logo with typical existential flair:
How long have you had your logo of a white unbuttoned shirt with a dark suit and no tie?
Always. Since Always.

How did it start?
Always, I say. Therefore no beginning. By definition, no beginning.
How has it evolved over time?
It has not evolved. I believe that time stands still.
What statement does your look make about you and your work?
This logo is the simplest it can be. Don't you think? I don't understand why it poses a problem. I do not even comprehend why it is being commented on. And I do not see what it says, at a profound level, about me.
Has anyone ever made a negative comment to you about your signature look?
Do you wear dark suits and white shirts when you are not working or making personal appearances?
Has your logo changed or altered with different jobs you have held?
Who are your style icons?
Jean-Paul Sartre, Ernest Hemingway, Fernando Pessoa.
Do you think personal style is a professional asset?
Besides creating a visual brand identity with your clothes, what are some of your signature style traits?
My signature is my style. Like all writers.