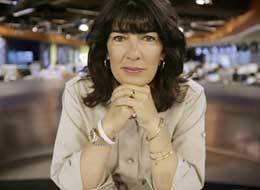 "What's My Logo?," a new bimonthly Q&A on the Huffington Post's Living section, will address the professional importance of personal style with prominent businesspeople, leaders and personalities.
Christiane Amanpour is CNN's award-winning chief international correspondent, covering news events in the most remote and dangerous parts of the world. From natural disasters to conflict in the Middle East and global terrorism, Amanpour has a distinctive reporting style that sheds light on the most significant issues of our time. Amanpour has also developed a distinct personal style by wearing her signature safari jacket in the field and on camera. I spoke with Amanpour to find out how and why she developed her logo:
Your logo is a tan safari jacket. How did that start?
There was no ulterior motive other than I liked the look. I was in Rome with my husband on vacation, walked into a shop that specializes in safari and hunting clothes and I bought two in different colors. I started wearing them on the road and for work; and found very quickly that these are the most practical, most efficient, and best-looking uniform that I could wear.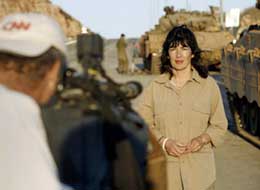 Amanpour and safari jacket on camera, From Time.com

How long has this been your logo?
I started wearing them about eight years ago and I kept it up because it was so practical when you are doing the kind of job I do. I don't have the time to think about multiple clothes and accessories - nor do I think its appropriate - and I don't want to waste my time when I'm working worrying about my clothes. So this safari jacket, and I wear jeans or trousers underneath, solves a multitude of problems for me. And it looks good, efficient, and is a uniform look.
About ten, mostly in the same color because they don't make them in multiple colors. They're in different shades of tan, I have two red ones which are really nice, and two in sandy gold colors.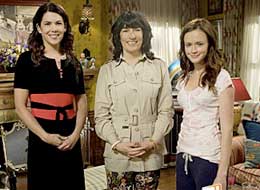 Amanpour and safari jacket on The Gilmore Girls

How has the look evolved?
I do wear a lot of scarves, especially in winter when my neck gets cold. In the summer I wear a cotton handkerchief around my neck when it gets very hot. Before I started wearing the safari jackets, when I was in Bosnia, I always wore a leopard print grey scarf and a green parka with fake fur around the hood - and I wore that for six years during the winters, and that's what I was identified with before the safari jackets.
But it was never a question of finding something to make a fashion statement or a brand mark. It was simply A) not very imaginative - I kept wearing the same thing - and B) it was practical.
Do you have anything you carry with you for luck?
In my wallet, I have a two dollar bill. The first one I received from somebody who wrote to me during my years in Bosnia, and sent it to me for good luck. And somehow, two or three years ago, I managed to lose it - and I'd had it for a good ten years or so. And then quite independently a friend sent me a two dollar bill as a fun thing on a birthday - and I was thrilled because I'd traveled with that for years. And it was good luck, or just something that I was used to carrying around - consciously or subconsciously.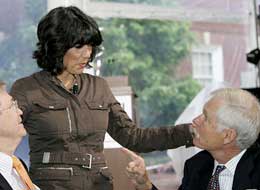 Amanpour and safari jacket with Ted Turner, From AP
Who are your style icons?
People whom I could never match. Jackie Kennedy and Audrey Hepburn for the ultimate in feminine and simple elegant beauty. And I suppose Katherine Hepburn in terms of a slightly more practical, worker day look.
Do you think personal style is a professional asset?
Yes. But it depends what you mean by personal style. Of course, because the way you present yourself is the way people see you - whether it's what you wear how you speak, how you organize your thoughts - all of that is style. How you present whatever issue you are presenting. How you communicate determines whether people see you as honest and with integrity, authority and credibility, and I think that's very important.


Related