 Chef Mario Batali started a culinary empire in 1998 with his Greenwich Village restaurant Babbo. He is the chef/owner of six celebrated restaurants in New York City, author of numerous cookbooks, and host of the upcoming PBS gastro-tour Spain...On The Road Again, co-hosted with Gwyneth Paltrow. Most recently Batali launched Carnevino in Las Vegas, but no matter where he hangs his hat, he always wears his signature orange shoes and shorts (even in the dead of winter). Batali, who was recently refused entry to a fellow chef's hip downtown birthday party due to his casual duds, dished on his quirky style: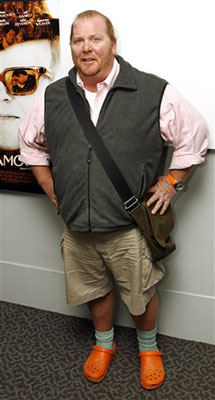 You are almost as famous for your orange shoes and perennial shorts as for your acclaimed cuisine and restaurants. How did your look start?
10 years ago my wife gave me the shoes and the kids wear orange all of the time because it's such a happy color. The first pair of orange shoes she gave me were Calzuro Italian operating room clogs. Now, I wear Crocs; and the company have created a pair called The Bistro, which are specifically designed for people in the food service industry, and which come in signature Mario Batali orange!
I like shorts because, by nature, I am always warm, and I like to be comfy.
Do you think personal style is a professional asset?
Definitely. It is important to create a recognizable brand.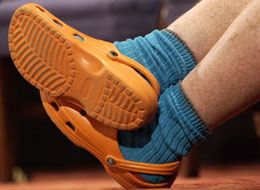 What are the benefits of making a statement with your wardrobe?
Instant recognition - which is sometimes good and sometimes bad; sometimes it's nice to fly under the radar.
Was it your intention to create such a strong visual brand identity?
No, it was accidental; but I have been dressing this way for the last 15 years.

Can you recall your biggest professional fashion disaster?
Has anyone ever made a negative comment to you about your signature look?
Yes, thousands of angry and anonymous bloggers!
What statement does your style make about you and your work?
The statement it makes is that I am comfortable in my own skin and do not need to dress up much.
Besides creating a visual brand identity with your clothes, what are some of your other signature style traits?
I ride a Vespa. I profess that life is a constant source of joy, and I smile a lot.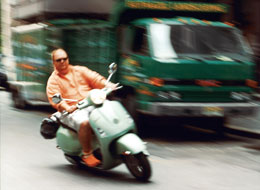 Whose look do you admire?
I think Jack White is very cool and I love Michel Stipe.
Who are your style icons, in the kitchen and out?
In the kitchen: Marco Pierre White, Jeremiah Tower, Gabrielle Hamilton. Out of the kitchen: Jack Nicholson, Jim Harrison and Gwyneth Paltrow.
What advice do you have for professionals just starting to create their own logos?
Choose something and stick with it until it bothers you.
"What's My Logo?," a biweekly Q&A on the Huffington Post's Living section, addresses the professional importance of personal style with prominent businesspeople, leaders and personalities.