Atlanta's reputation as being one of the South's best restaurant cities is increasingly challenged by smaller ones like Charleston and Nashville. Atlanta still holds sway by virtue of diversity of restaurants in every section of town, from Downtown to Buckhead, and by the ethnic offerings that are easily the most varied of any city south of Chicago. Whenever I visit, I'm delighted to see how the city's restaurant sector expands, largely on a deep field of innovative chefs for whom Atlanta has long been home.
Chef Ford Fry's The Optimist was my choice as Best New Restaurant of 2012, and, while his brand new place, King + Duke, didn't quite tag that honor in 2013, it's not a place you'd want to miss if you're going to Atlanta. Where The Optimist is all about great seafood, King + Duke (named after two grifters in The Adventures of Huckleberry Finn) is centered around wood-fire cooking from a 24-foot hearth in an open kitchen.
Chef de Cuisine Joseph Schafer seeks in every dish to "accentuate natural flavors through slower methods of cooking and the smoke of the wood fire" -- which will have you salivating when you get a platter of roasted bone marrow with smoked mushrooms salad, or the candied lamb belly with sheep's milk feta. Mississippi rabbit comes with a farro grain salad and rabbit liver on toast, and Maine lobster wood roast takes on smoky levels of flavor, along with bok choy, garlic and a chile kick. And you get popovers, too, hot and steamy from the hearth. Even desserts, by Chrysta Poulos, take advantage of that hearth in sweets like dulcey panna cotta with grilled peaches.
King + Duke is resolutely American, right down to beers on a 200-label list now made in the 13 original colonies, along with a slew of American ales.
If you want to find Atlantans of every stripe having a grand old time, check out King + Duke any night of the week from five o'clock till midnight.
Lunch Mon.-Fri.; dinner nightly; appetizers $6-$16, main courses $16-$49.
UMI
3050 Peachtree Rd NE
404-841-0040
http://umiatlanta.com
Some years ago a restaurant named MF Sushi garnered attention for Tokyo-born Chef Fuyuhiko Ito's dazzling Japanese cuisine, but, sadly, MF's publicity-loving owner took his eye off the ball, closing down and relocating to Houston.
Atlantans were excited, then, when Ito re-emerged as chef at the splashy new Umi in Buckhead, which caught on fast with a well-heeled crowd dying to dine in a new hot spot with highly hyped celebrity appearances. More than once on my visit was I told Elton John sat on the very banquette I occupied one evening.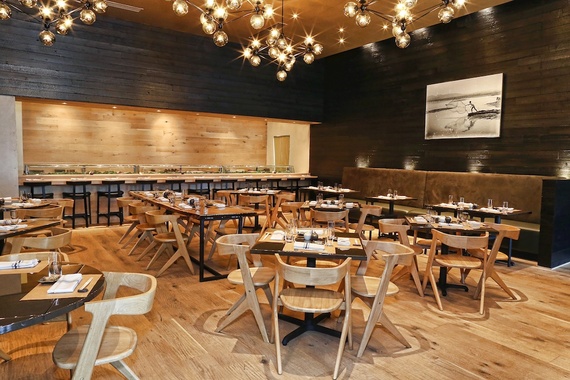 Owners Farshid Arshid and Charlie Hendon hired Atlanta artist and designer Todd Murphy to make this a snazzy room whose look was to be at least as important as the food. Unlike most sushi eateries, Umi has a very large dining room, with the sushi counter to the rear. Part of the intent was to create an environment where earsplitting noise is supposed to create excitement, when in fact it is simply off-putting, taking attention from much of the pleasure of Ito's exquisite cooking.
Our large party left the omekase menu it all up to Ito, beginning with appetizers of yellowtail with jalapeño and a ponzu; salmon yuzu; and tuna carpaccio, whose bright flavors and seasonings set the palate for the cool, unadorned purity of unstintingly fresh sashimi---yellowfin tuna, yellow jack, kinmedai (sea bream), otoro, madai (red snapper) and amaebi sweet shrimp.
Nigiri sushi followed, the flavor and temperature of the rice as important as the seafood, which included uni-aburi (sea urchin), otoro, zuke-maguro tuna, shime-saba (marinated mackerel), kinmedai (golden-eye red snapper), and mako-karei (halibut).
The presentation of the warm dishes was pretty without ostentation. It was unusual to see foie gras -- two ways -- nigiri-style with fresh wasabi and soy sauce and with teriyaki sauce and radish sprout. Black cod miso-yaki, Chilean sea bass Yu-an yaki and rock shrimp with creamy spicy sauce followed.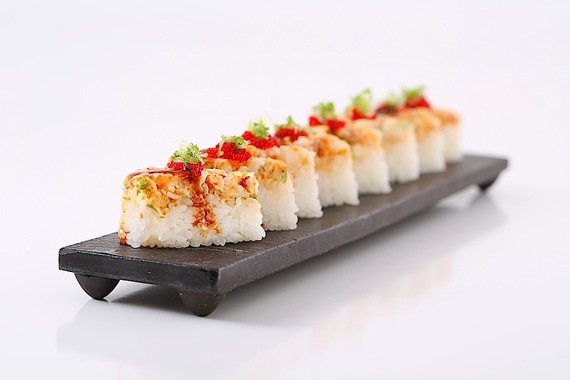 Still to come were irresistible scallops seared on the grill, as was lobster with soy butter, and, the piece de resistance, Kobe-beef toban-yaki in a dashi broth that ameliorated the decadent richness of the beef, which at $28 an ounce is sheer indulgence.
The translation of Japanese food culture into western desserts is rarely very successful, though I admired chef Lisa Ito's honorable marriage of items like green tea soufflé with Cointreau anglaise sauce.
Umi at its best, which is away from the noise at the sushi counter, brings back memories of the fine work Ito did at MK, only now it seems even more personalized and entirely his.
Open for dinner Mon.-Sat.; prices vary tremendously depending if you order a la carte or tasting menus, as do seafood prices of top quality.
DAVIO'S
Phipps Plaza
404-844-4810
http://davios.com/atl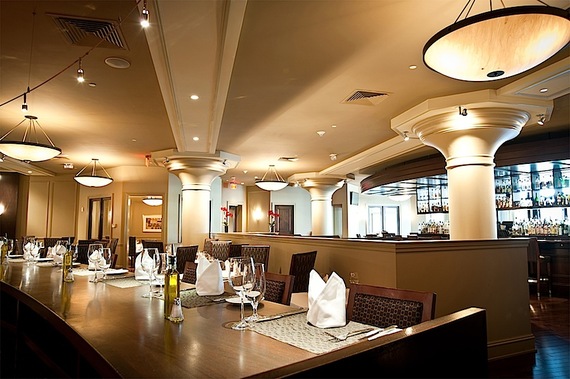 Atlanta has two top-tier indigenous steakhouses -- Bone's and Chops -- along with the usual national chains, so Davio's, itself a branch of the Boston original, had to go several steps further to distinguish itself among the cookie-cutter competitors.
First of all, the Atlanta design departs from the cliché-ed masculinity of his competitors, with lighter colors, good separation between tables, and a modern polish throughout. G-M Claude Guillaume knows how to build a steady clientele the old-fashioned way, through courtesy rather than the brash macho of so many other beef eateries.
Davio's is self-described as a "Northern Italian Steakhouse," with a far larger selection of appetizers, or antipasti, that include Kobe-style meatball with tomato sauce and caciocavallo cheese; crispy calamari with chickpeas, oregano and a spicy tomato sauce; and Davio's signature spring rolls done up with chicken parm, Buffalo chicken, and shrimp.
All pastas are available in appetizer portions, from fresh, light potato gnocchi with organic mushrooms and a fragrant basil truffle oil to lobster risotto with asparagus and lobster cream. The tagliatelle bolognese has a fine, lusty meat-and-tomato sauce, though it would hardly pass muster for authenticity in Bologna.
You could, therefore, easily go to Davio's even if you had no particular interest in steaks, for the menu also lists a massive grilled porterhouse of veal with creamy potatoes, asparagus and a Port wine sauce, as well as slowly braised beef short ribs are gilded with Gorgonzola mashed potatoes, Swiss chard and a Port wine glaze.
If, however, you do come to see how the beef stacks up next to Atlanta's other steakhouses, you will be very happy with the USDA Prime offerings here, especially the terrific New York sirloin and the ribeye, and the Colorado lamb chop of real succulence and rich mineral flavors. Throw in some onion rings or macaroni and cheese with white truffle oil, and you're going to be impressed.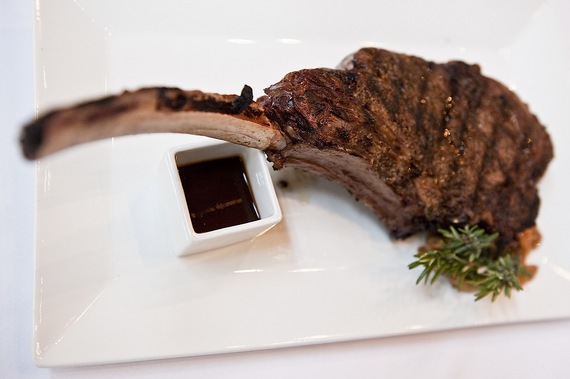 And while Davio's main course prices are competitive with those of its competitors, Davio's candidly lists theirs on their website while most of the others do not. So, in trying to distinguish Davio's from the rest, they are trying hard to win you over and win you away. And a little pasta doesn't hurt that idea either.
Open daily for lunch and dinner. Appetizers $9-$16; pastas $18-$32; main courses $26-$45.