Gustavo Dudamel will conduct his first ever complete Beethoven symphonies cycle, July 8-12, 2015, in Bogotá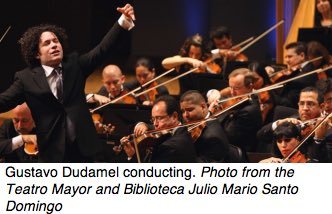 I was recently in Bogotá, Colombia, for the press launch of the classical music season at the Teatro Mayor and Biblioteca Julio Mario Santo Domingo. Since its opening five years ago, this vast arts complex has fulfilled the mission of the Santo Domingo family who imagined and built it, and the vision of Ramiro Osorio who directs it. The Teatro juts out into a flat urban landscape in a series of rectangular concrete shells. Inside the space is open and welcoming, a gracious mix between a cultural palace and a convention center, with two splendid concert halls and a warren of modest offices, media, green and storage rooms.
Two events of international importance highlight the new season.
First, Gustavo Dudamel, youthful conductor of the Los Angeles Philharmonic, will conduct his first ever complete Beethoven symphonies cycle at the Teatro in five concerts July 8-12, 2015. His orchestra will be the Orquesta Sinfónica Simón Bolívar de Venezuela.
The Beethoven celebration will kick off two days earlier on July 6 with a "Concierto Binacional: Colombia, Venezuela" gala at which Dudamel will conduct both his Venezuelan Orquesta and the Orquesta Filarmónica de Bogotá in even more Beethoven: the Emperor Piano Concerto and the Choral Fantasy.
The other big news was the announcement of the Second International Music Festival of Bogotá. It will be called Bogotá es Mozart and will consist of 63 concerts of music more than 99 percent by Mozart spread over the first four days of April, 2015, performed at at the Teatro and 13 community venues.
The Teatro's first International Music Festival of Bogotá in 2013 was called Bogotá es Beethoven and consisted of 55 concerts of music by Beethoven. The tickets were 93% subsidized. The concerts were 90% sold out.
Many of the musicians, who ranged from rarely spotted legends like Boris Berezovsky to the Ysaye Quartet making some of their last appearances on stage, said the audiences, consisting of families with kids, teenagers dating, young power couples, singles and classical music's usual demographics in U.S. Concert halls, were among the most openly, intuitively and generously responsive they had ever played for.
It was some of the finest Beethoven I have ever heard. I attended 25, and 5 were easily once in a lifetime performances, and another 10 were absolutely sublime, illuminating the unique relationships musicians and audiences have with Beethoven.
Gustavo Dudamel's choice to perform his first ever Beethoven symphonies cycle in Bogotá is a statement of belief. More than just a convenient stop on the tour to try out his first complete Beethoven symphonies cycle, the fact that Dudamel is conducting his first Beethoven cycle in Bogotá with his Venezuelan Simon Bolivar Orchestra is a statement of belief in the two neighboring countries, an implicit acknowledgment that each has many lessons to learn and teach. In fact, the special place Bogotá holds in Dudamel's heart stems in part from the fact that Colombia modeled its own, now five-year old and broadly successful youth orchestra program on the Venezuelan el sistema model from which Dudamel arose.
When I asked about his affection for Bogotá, Dudamel explained,
Both my orchestra and I have a long history with Bogotá and with Colombia. Firstly, we are neighbors and brothers, sharing a common, extraordinary history and culture. We feel like we are in our home-away-from-home when we are performing in Bogotá which is why we probably give more concerts there than anywhere else on tour in South America!"
Since the mutual affection that exists between Dudamel and Bogotá mirrors the relationship Dudamel has with Los Angeles, perhaps the Los Angeles Philharmonic could invite one of Colombia's national youth orchestras to play alongside it in summer concerts, as the Houston Symphony is doing next summer. And since the Bogotá connection in Houston is the Houston Symphony's new music director, Andrés Orozco-Estrada, who is Colombian, perhaps Bogotá-Los Angeles-Houston represents the hub of a new classical music empire.
More realistically, it would be a great opportunity for three music loving, educationally challenged communities to share their experience as classical music presenters and, more crucially, as educators whose major initiatives bravely cross both multiethnic and multidisciplinary lines.
.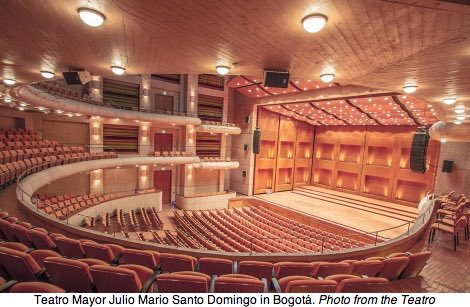 Related
Popular in the Community