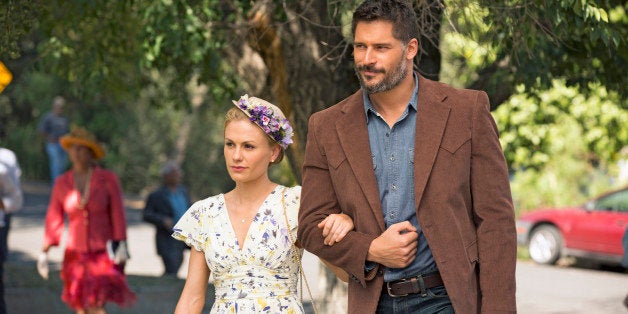 "Well, I did not confirm that he's alive. Not that I want to create more conversation, because I don't, but to be clear, we're not saying how we're going to use him, we're simply saying that we are using him," Buckner told EW. "I will say that I do long for the days when television audiences could stand to wait and enjoy the tease. But I understand we're living in a different time. I don't want to watch a show without him either."
And for all those fans worrying about missing Sookie and Alcide's first romp in the sheets because of the time jump, don't worry. "On a show that so seldom skips things, I find it truthfully refreshing to be able to reset and not let the audience see every micro-move. Some people feel cheated. They won't next year. I think people are like, 'I wanted to see their first sex' but Sookie and Alcide are very attractive and their 15th sex is pretty good too," Buckner told The Hollywood Reporter.
Buckner, who took over the job of showrunner for Season 6 of "True Blood," has been stressing getting back to the basics. Relationships between vampires and humans will take center stage once again thanks to the pairing of non-Hep V carrier humans and healthy vampires.
"It was my absolute goal and objective was to narrow the number of separate stories we're telling," Buckner told The Hollywood Reporter. "That's why we're doing for every human, a vampire, for every vampire a human, because now we get to focus on the characters and the relationships. The original promise of the show was, if vampires exist, what do the relationships between humans and vampires look like? And that was Sookie and Bill. And now we have this whole town of characters we're invested in, and we get to look at how the pairings, and what those pairing will do to the relationships people are already in. All of it is about trying to get back to the more entangled romances and soapy-ness that the first season had."
"True Blood" Season 7 premieres summer 2014.
Calling all HuffPost superfans!
Sign up for membership to become a founding member and help shape HuffPost's next chapter
BEFORE YOU GO
PHOTO GALLERY
"True Blood"