In January 2012 chef Keith Kalmanowicz ended up feeding a vegan dinner to his neighbors because of some broken bicycles.
He recently had returned from a volunteer trip to a farm in Costa Rica to move to Earth-N-Us Farm in Miami. He wanted to use the skills he learned on vacation to continue working and cooking close to the land. He also landed a full-time job preparing and wrangling fresh, local ingredients for a well-regarded locavore restaurant.
When Kalmanowicz was at the farm, he'd often see Matrice Jackson, the unofficial director of Earth-N-Us, teaching young people how to repair their bikes. Sometimes they'd come around to soak up nature and escape the violence and poverty in Little Haiti, the low-income-but-gentrifying neighborhood surrounding the farm.
Living on the farm opened up Kalmanowicz to what he calls a "message of altruism" that he wanted to help spread. It became clear how he might do that early one weekend morning.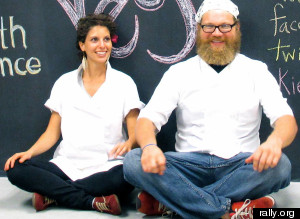 Avril Johnnidis and Keith Kalmanowicz, Love & Vegetables
"I went out at 6:30 on a Saturday morning and saw this kid with a broken bike, waiting for Matrice," said Kalmanowicz. "I watched the kid--he sat there for many hours before Matrice showed up.
"Matrice saw bike scraps and created a whole community of kids and bikes. That was the start: watching somebody help someone else and saying, 'how can I help them?' I don't know bikes, and I'm not great with kids. So we'll do a dinner and raise money."
That dinner was the first Love & Vegetables event. Guests were asked to contribute new or used children's bikes and components. The Love & Vegetables team hit the pavement, knocking on doors and chatting with passersby to invite them to the dinner. Kalmanowicz and his staff served 20 guests a Haitian-themed vegan feast (he figured his carnivore neighbors would feel more comfortable eating vegan food that looked and tasted familiar).
They received nine bikes, scrap parts, bike frames, and more than $200 in gifts, elements that Jackson to create a permanent bike co-op, at Earth-N-Us, where kids learn how to piece bikes together.
Besides collecting donations to benefit their immediate neighbors, Love & Vegetables began as a way "to feed everyone as much healthy, organic, local food as possible whenever it's possible, at affordable prices," said Avril Johnnidis, the co-chef and director of operations.
A community cafe headquartered at Earth-N-Us, Love & Vegetables operates on a pay-what-you-can-model using guidelines from the One World Everybody Eats Foundation. That's the parent organization of voluntary-payment community restaurants across the U.S. and several other countries. Kalmanowicz and Johnnidis live in a treehouse on the property and hold monthly dinners on-site and at "pop-ups," or temporary borrowed locations, around Miami, serving creatively crafted meals of legumes and other plant foods.
The pop-ups attract Miami's curious foodies with money to burn on what Kalmanowicz dubs "high-end peasant food with a twist," such as the cafe's occasional six-course tasting menus. Yet he and Johnnidis have discovered their dinners inspire the most appreciative response from the food-insecure. These are the working poor: college students, low-income families in the neighborhood, people in between jobs who can't afford regular healthy meals.
"If you don't have money to pay for the dinner, we offer a volunteer option to help us serve food, set up the cafe," or clean up after guests have gone, explained Johnnidis. "You can get a meal cooked with love without having to pay money."
Love & Vegetables partners with social-service organizations to reach people that don't always have enough to eat, healthy food or not. But in order to get an increasing amount of those hearty greens to the dinner table, Kalmanowicz and Johnnidis need to build and get a license for a commercial kitchen. (They'll eventually outgrow the indoor and outdoor kitchens on the farm.)
And they need a truck. They've relied on the generosity (and cars) of friends to transport them and their produce to the farm or to the site of a pop-up dinner. When they can't secure a ride, they've taken their "granny handcarts loaded up with 50 pounds of food" and carried them on public buses.
"It's gonna make a for a good movie one day, but [running the business this way] is also really tough," said Johnnidis.
The new season of Love & Vegetables dinners begins on Sept. 23. Boldface names in fine Miami dining, including two-time James Beard Awards nominee Sam Gorenstein, will lend their skills in the cafe's kitchen, get out the word about meals and fundraisers, and help cover some of the event costs.
"There's 20, 30 people in the background working to feed 40 or 50 people," said Kalmanowicz. "It's the community who's supported us. How can I not ask the community to help us?"
You can learn more about Love & Vegetables here.
Related
Popular in the Community