Last week, I had the privilege of hanging out with Paralympic Rowing hopefuls Lorah (Laura) Goodkind and Helman Roman in West Windsor, New Jersey and watching them qualify as the top Mixed Pair Trunk & Arms (TA) boat in the United States.
These two have faced debilitating medical conditions, homelessness and near-death experiences. But they haven't let any of this stop them from finding ways to show their bodies love through movement.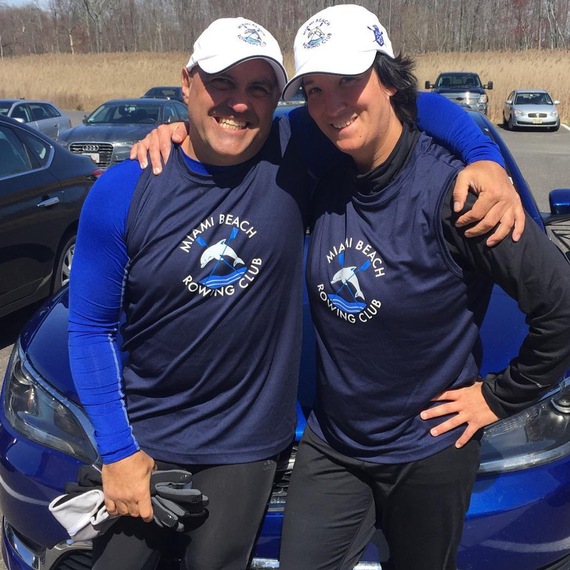 Lorah and Helman at their race in West Windsor, wearing Miami Beach Rowing Club (MBRC) colors.
As TA rowers, Lorah and Helman use only their trunk and arm muscles, and their seats are fixed, as opposed to the traditional rowing stroke which uses the legs, trunk and arms and is done on a sliding seat.
Lorah was born with cerebral palsy. She has been diagnosed with narcolepsy, along with a host of other conditions that have made navigating her relationship with her body a challenge. In 2014, she was hospitalized due to health complications, in critical condition.
"Two years ago, I was in hospital, uncertain if I'd make it through the night. In large part, thanks to a dietician wanting me to become involved with people enduring similar challenges, and as my act of rebellion, I became involved in adaptive sports," says Lorah.
Her doctors cautioned her that she wasn't strong enough to train competitively in rowing. But Lorah didn't let that dissuade her from challenging herself and utilizing her body's full potential. She started with a 30-minute instructional session, gradually working her way up to five 90-minute rowing practices per week, the maximum advisable for someone with her medical history.
"When I'm rowing, it's the only time I feel like my body is fully engaged. It teaches me how to adapt to my circumstances, both on and off the water, and gives me the drive that I need to overcome whatever life throws my way," says Lorah.
Lorah has been in and out of temporary and transitional housing for the past several years, at times living in her car because it provided a more stable, controlled environment than a shelter. Because of her choice to train for the Paralympic Games, she may lose her spot in transitional housing and is not sure she will have a home to come back to after the competition has ended.
"I've been told I can't do things my entire life," she says. "I am not going to let any of that stop me from trying to do a good thing and represent my country in these games."
Lorah's partner in the mixed pair, Helman Roman, came to the United States from Colombia in 1986. He joined the U.S. Army in 2003. On September 11, 2009, Helman and his unit were in a patrol vehicle in Afghanistan that rode over an IED. The ordnance exploded right under his feet.
Helman's lower legs essentially had to be rebuilt, and he spent two years in the hospital recuperating. Since being discharged in 2012, he has excelled in adaptive "trunk and arms" rowing as a way to move his body and continue to challenge himself. His motto in life is, "Whatever happens, life goes on."
"I want to continue to use my body to serve my country, as I did as a service member and now as an athlete. And I want other people who have experienced situations like mine to see that life does not end when you are injured. As long as we can draw breath, we have the ability to persevere, to work hard every day, and to accomplish great things," says Helman.
Before he began rowing, Helman excelled in competitive hand cycling as part of the Paralyzed Veterans Racing Team and the Achilles International Wounded Warriors. He picked up adaptive rowing in November 2014. After narrowly missing the chance to compete in the 2015 World Rowing Championships, Helman made adaptive rowing his primary pursuit.
"Rowing is much more challenging, especially rowing in a pair, because we have to work together" says Helman. "We have had to learn how to communicate and work as a unit. I like the sense of community we have, in supporting one another through this process."
Lorah and Helman teamed up after their first individual time trials at the Sarasota Invitational Regatta in Sarasota, FL on February 28th, 2016. They have been training together consistently for less than a month. They currently train twice a day, six days a week with the MBRC Adaptive Rowing Program , lead by my sister, Stephanie Parrish. On April 12, they will travel to Gavirate, Italy to participate in a training camp, followed by the qualification regatta from April 21 - 23.
Both of these athletes have had to overcome tremendous obstacles in order to use their bodies to compete at an elite international level. It would have been totally understandable if they chose to resign all physical pursuits and focus on other things. But instead, they wanted to challenge themselves and show their bodies love through movement.
They are living proof that our bodies are incredible instruments, capable of so much more than we often give them credit for. When we put our minds to transforming how we feel about ourselves, and find ways to show our bodies love through movement, amazing things happen. It really is that simple.
Show your support for Lorah and Helman as they head to Gavirate, Italy to represent Team USA by posting to social media using the hashtag #rowtorio! To see updates on their journey, follow the MBRC Adaptive Rowing program on Instagram at @mbrcpararowing.
You have the power to inspire and empower these athletes as they represent Team USA in international competition! And be sure to let them know if their stories have inspired you to move your body as well.
Don't let anything stop you from showing your body love through movement! Check out the #healthyatanysize community for more inspirational content like this and to connect with like-minded women.
Calling all HuffPost superfans!
Sign up for membership to become a founding member and help shape HuffPost's next chapter