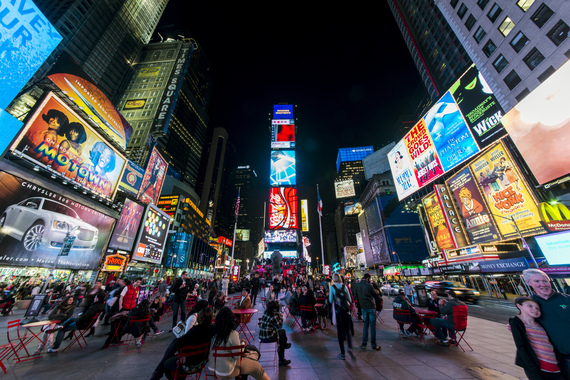 What's the best Broadway can be? That's the driving question asked at the fourth annual TEDxBroadway conference taking place in NYC in just two short weeks. As a co-organizer of the event, I've been on the front lines and have received amazing answers from a variety of sources on that enormous central question. From diversity of those on Broadway stages to pricing models that diversify our Broadway audiences to investment in original content development, the passion and ideas that are swirling are simply inspiring.
But "Broadway" isn't simply an industry. It's part of a far greater ecosystem with stakeholders beyond just the art form and its financial success. This underlying truth is exactly why TEDxBroadway assembles voices from what on a first, superficial glance may seem like irrelevant professions (i.e., climate scientists, cognitive psychologists, computer scientists) in addition to more traditional theatrical voices (i.e., Tony Award-winning directors, Pulitzer Prize-winning playwrights). Our success - and the voices represented - rely heavily not only on the Times Square ecosystem but on all of the forces that affect that ecosystem. And with the help of my co-organizer, Jim McCarthy of Goldstar, it is our challenge to identify and stock the TEDxBroadway stage with these voices.
Let's take a look at the Broadway industry today - business is booming and there is no shortage of opportunity. The box office continues to prove that there is an enormous appetite for the Broadway experience with both revenue and attendance hitting all time highs last year. Patrons visiting Broadway today have a range of storytelling choices. They can take in a moving story about true friendship in the blockbuster Wicked; they can dance in the aisles with the global hit Mamma Mia!; they can take in a story of love, courage and justice in Les Misèrables; they can rock out in the raucously entertaining Hedwig and the Angry Inch; they can sit in awe at Roundabout Theatre Company's Cabaret or reminisce to the soundtrack of their youth while taking in the amazing Carole King musical, Beautiful.
Equally as exciting, look at what's on the horizon: new works that have amazing potential to bring in a much wider and more global audience than Broadway has ever seen. From the inspiring story of Emilio and Gloria Estefan's rise to fame in On Your Feet to George Takei's childhood story of Japanese internment camps in Allegiance to the critically acclaimed West End transfer of the unforgettable story of overcoming adversity in The Color Purple starring Jennifer Hudson to the return of legend, Chita Rivera, in The Visit proving that age is only a number. In addition, we have the highly anticipated productions of School of Rock and Finding Neverland who are rolling out the red carpet for audiences of 8-80. These are powerful stories with significant cultural relevance that collectively will attract new audiences in numbers Broadway has never seen.
This is all great news. However, there is an enormous red flag I'd like to raise high and loud now. It's a simple concern - good times make people lazy (especially when they are good financial times). "Hey, things are great. We will get to that change stuff later." And, though things are currently continuing to slope up, we cannot complacently believe that trend line will continue over time without the industry putting in the work to evolve with the times - ignoring this truth is a dangerous proposition.
No one can argue we have a long-term arts education issue. With the arts the first to be cut in school budgets, we're stunting the growth of future Broadway audiences. No one can argue that the average demographic of a Broadway ticket buyer looks nothing like the "average" American consumer. Like any industry, there is a laundry list of looming threats we ultimately need to address. My hope is that we can address them with the groundswell of passionate people in and around the industry who truly care about the long-term success of the business but are currently struggling to find a visible outlet to share them.
To me, our success as an industry directly correlates with the number of smart people who are truly invested in the question, "What's the best Broadway can be?" We should be proactive in everything we do as an industry in growing that number.
Times are great for the Broadway industry today, and I want to keep it that way. And if you ask me how we do that? I believe that a focus on diversifying our workplace, our audience and our belief systems is the best insurance policy we can possibly get.
Popular in the Community