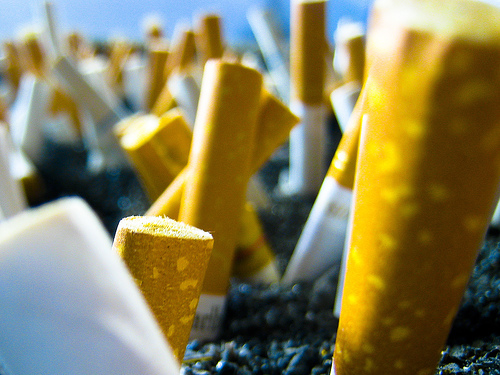 Photo by Mason Bryant
What's the best way to stop smoking? Cold turkey, or slow turkey?
A group of primary care clinics in England decided to find out, and the results were published in this week's Annals of Internal Medicine. Researchers recruited a group of 700 "committed" smokers--people who smoked at least three-quarters of a pack (15 cigarettes) a day--and asked them to set a quit date. Half of the group was randomly assigned to a Cold Turkey approach, where they could smoke right up to their quit date; the other half was assigned to ease into things over a two-week period.
The Slow Turkey group was asked to cut their cigarette consumption by half in the first week, and by half again in the second week, so that they would be smoking 25 percent of baseline when they reached their quit date. They spoke with cessation counselors and were given nicotine patches to apply daily (providing continuous nicotine replacement) as well as short-acting nicotine forms (gum, lozenges etc.) to be taken as needed for cravings.
The abrupt cessation Cold Turkey group was given just nicotine patches prior to their quit date. Thereafter, both groups received identical treatment: behavioral counseling, nicotine patches, and nicotine gum etc. for sudden urges. Researchers validated quit rates by measuring blood levels of carbon monoxide, which rise with smoking.
One month later, about 50 percent of the Cold Turkey group had successfully quit, compared to about 40 percent of the Slow Turkeyians, which supports what I've seen in my medical practice. I collect smoking cessation stories (I know, stories aren't data), and it's interesting to hear how many former smokers experienced a moment where a cognitive switch seemed to flip, and they were done with it. A mechanic described working under a car one day and looking up at the smoldering white paper tube between his fingers and saying, "What is that?" And it was over--both his smoking addiction and the obvious occupational fire hazard.
Going Cold Turkey means you have your mind made up, and you'll need it when your nicotine receptors start clamoring for their favorite drug.
The study provides some additional data to support this "resolve" idea. Although the participants in this study were randomly assigned to either the abrupt or gradual cessation groups, during enrollment they were asked what their preference would be. Half said they would prefer to be in the Slow Turkey group; a third preferred Cold Turkey, and the rest didn't care.
The group who made what I'll call a tacit profession of not being really ready to quit--"I'd prefer to take this slow"--didn't do so well. They were able to cut their smoking in half in the first week of the run up, but fell short of the 75 percent reduction goal for the second week, and they were less likely to make their Quit Day visit. Participants with a Slow Turkey preference were also significantly less likely to be smoke-free at 4 weeks than those who said they preferred abrupt cessation (38 percent vs 52 percent), and that held even if they got their wish and ended up being randomized to the Slow Turkey group.
Ah, but maybe the Slow Turkey approach wasn't slow enough? Why not go even slower? According to the paper, evidence suggests that smokers lose their focus during more prolonged tapers.
Big picture, it's always worth quitting smoking, and how many times you try might be more important than how you try. Smoking is a powerful addiction, and kicking it is chemical warfare waged on the battleground of the brain, where resolve means something. This study suggests you'll do better if you take your turkey flash-frozen rather than slow-roasted.