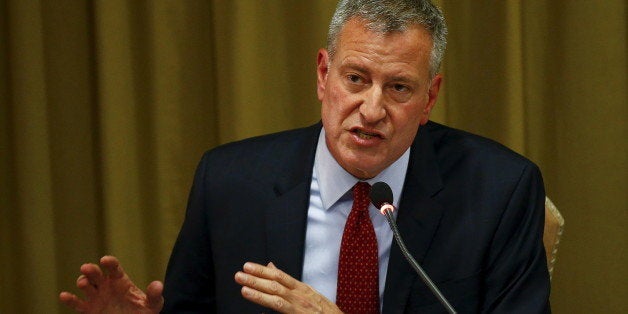 Two weeks after Bill de Blasio jubilantly marked the start of his campaign for re-election -- with "a boisterous rally in Foley Square to celebrate the passage of key elements of his affordable housing plan" -- New York City's notionally "liberal" mayor is taking endless flak, "peppered with uncomfortable questions at news conferences and on national television, at a time when he hoped to be acting as a liberal standard-bearer for Hillary Clinton ahead of New York's presidential primary on Tuesday."
Thus, the NYTimes portrays the mayor's faux-tragic situation in "Inquiries Upend de Blasio's Bid to Reboot for '17," Saturday's front-pager on the clutch of scandals suddenly bedeviling him, "as four separate investigative agencies pursue inquiries into possible wrongdoing on the part of his administration."
That's very sad, for him; but not for any of the countless pressed New Yorkers who have watched as he's maintained Michael Bloomberg's quasi-totalitarian tradition of enabling the annihilation of their city -- lot by lot, block by block, neighborhood by neighborhood -- by the almighty real estate cartel.
Under Bloomberg, as Jeremiah Moss wrote in Vanishing New York at the end of 2013, "we lost approximately 6,926 years of New York City history in only a dozen years" -- a suicidal process that our "liberal" mayor has never questioned, and continues to abet, thus making New York City ever less affordable and (therefore) less diverse (despite his much-hyped plan to solve that problem), as well as darker, uglier, less green, and way less interesting.
How many beloved sites have disappeared since his inauguration? We think of F.A.O. Schwarz, Cafe Edison, Roseland Ballroom and Famous Oyster Bar in Midtown; Rizzolli's Bookstore on the Upper West Side, and Subway Inn on the Upper East Side; Yaffa Cafe, Bowlmor Lanes and Kim's Video & Music in the East Village; Avignone Chemists, Gray's Papaya and Bonnie Slotnick Cookbooks in the West Village; Glasslands, 285 Kent, Death by Audio and the Domino sugar factory in Williamsburg; Pearl Paint in Chinatown; Shakespeare & Co. in NoHo; Milady's and Hair Box Barber Shop in SoHo; Galapagos Art Space in DUMBO; and Barnes & Noble's flagship store in Flatiron -- just to name a few.
Such high-profile closings and/or demolitions have been variously noted by the press, in elegiac reportage that's all too common nowadays. Meanwhile, Mayor de Blasio has also been complicit in the shuttering of countless other businesses less famous, yet even more essential to the working people of this city -- businesses whose vanishing the press does not lament so often, or at all: supermarkets, grocery stores, bodegas, laundromats, dry cleaners, barber shops, and all the other necessary places that have been replaced by the exclusive lobbies of more luxury apartment buildings, and/or more banks, chain drugstores, nail salons and boutique outfits for the tourists. Nor has our "liberal" mayor made any effort whatsoever to preserve those vital non-commercial spaces -- parks, libraries, public hospitals, playgrounds, community gardens -- that New York's working people need at least as much as we need shoe repair and hardware stores.
That's why Mayor de Blasio is so unpopular; although you wouldn't know it from the press, because they also serve the Lords of Real Estate. We therefore have to read between the lines to glimpse the public outrage over his complicity -- as in the (proper) scandal over his team's (evident) collusion with Allure Group in its plan for "flipping a nonprofit Lower East Side nursing home to a luxury condo developer." *(to quote the New York Post).
Sparks of that same outrage also glitter through another article in Saturday's Times -- on p. A15, far removed from that front-pager on the mayor's predicament: "With Gas Station's Closing, a Fuel Desert Expands in Manhattan," a long piece, vividly illustrated, on the shutting down of the long-bustling gas station in SoHo, at the corner of Lafayette and East Houston, "to be replaced by a glass-and-steel luxury office building" ("a seven-story, $200 million project of zigzagging glass designed by the architect Rick Cook").
It's first-rate journalism, nicely catching the complexity of this particular erasure. "For many, the closing is a nonissue," writes Sarah Masin Nir, noting that it doesn't bother "those who rely on the subway system or believe New York is still too car-oriented." (It was an outlet for BP.) "Many neighbors are happy to see the station, which they see as an eyesore, go, including members of Community Board 2, which approved the new building."
While duly noting that complacent view (down in the 14th paragraph), Nir subtly devastates it through careful placement of this closing in its proper context, which she lays out with rare bluntness:
As New York City's molten property values have made selling off a parcel of land often more profitable than operating the grocery, hardware store or gas station sitting on it, the gas station's passing appears to be the latest example of a common trope. And while Amazon and FreshDirect may fill the hole when the corner store goes condo, there is no doubt it is getting harder in Manhattan to get many of the basics that make life livable.
This latest disappearance, Nir suggests, will only add to New York's traffic woes and air pollution, as more cars and trucks drive ever further to converge, in ever longer lines, on ever fewer gas stations citywide:
Today there is not a single operating gas station left on the city's East Side from the southern tip of the island to 23rd Street, a chunk of Manhattan that includes some of the most highly trafficked portions of the city, like the truck-packed transverses between the bridges to the east and Holland Tunnel to the west, and the taxi-filled corridors of Wall Street and NoHo. With the exception of a small station in the West Village, the West Side is similarly parched.
And while "[Community] Board members did not respond to requests for an interview," Nir got strong quotes from some of those who will be hurt, or even ruined, by the closing: people like "Maqsood Ahmad, 49, a former cabdriver who owns Little Lahore, a restaurant on Crosby Street next to the gas station that has sold Pakistani cuisine to a mostly cabby clientele for two decades" -- a restaurant Ahmad will have to close, "when the cabs no longer have [that] pit stop." (His monthly rent, which was $1,100 twenty years ago, is now $10,000.)
Ahmad "believes gas stations have evaporated unchecked in part because their most loyal clients are working-class immigrants who often feel voiceless. The city, he said, needs 'the lower people, middle-class people and upper-class people."
"They need all the mix," he added. "But right now they are running on the path that they need only money."
Such New Yorkers have no ally in the would-be "liberal standard-bearer for Hillary Clinton" -- and they know it: "The mood at the gas station a few days before its closing was bitter," Nir concludes:
"I worry about my mayor: Where is his driver going to fill up the gas?" Janusz Krawczynski, 65, said as he sat in his cab in the station's lot, his voice loaded with sarcasm. "Right now, any place he goes, he's late," he said, referring to the mayor's well-documented history of tardiness. "The driver is going to have to go to fill up the gas in New Jersey, Brooklyn, the Bronx," he said. "He'll never go to a meeting!"
Although the press observes it only now and then, that anger at our mayor is evident all over New York City, where scores of groups have mobilized to save their neighborhoods, libraries, parks, playgrounds, hospitals and other precious places from the players supporting him (and all too many other useful "liberals").
Popular in the Community