For such a small article of clothing, men's underwear can certainly be overwhelming with the number of styles and options out on the market -- especially if you're not sure what's what (or available). Being skivvies enthusiasts, however, we at The Underwear Expert believe the more choices you have, the better. Here we'll break down the various types of pouches there are, and our top picks for each. Read on!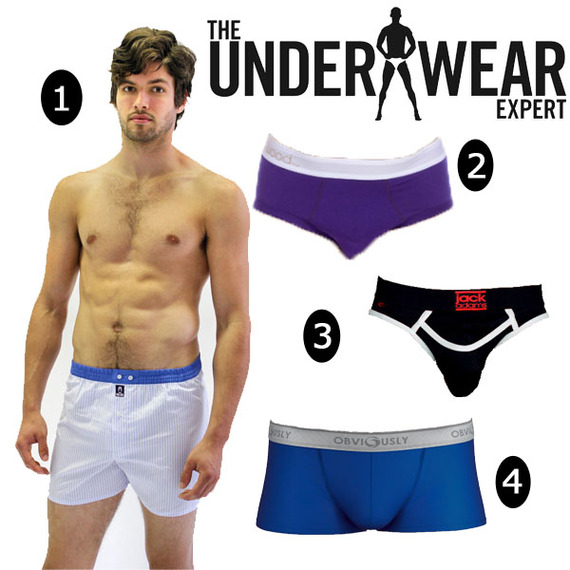 1. Fly Opening
The most common front, this style features a vertical opening on the center or off the side of the pouch. Most boxer shorts have fly openings; and, while they're super convenient when you have to use the little boy's room, slippage does happen. Our recommendation is a pair of Charles van der Pear Boxer Shorts, which are made with an inner liner for extra support and protection.
2. No Opening
A closed front pouch means there's no risk of slippage, and everything stays exactly where it needs to be. This style may not entirely be the roomiest, nor does it allow for a lot of movement, but it's secure. Our go-to is from Wood Underwear, who make some of the softest and most comfortable closed front pouch undies around.
3. Horizontal Opening
This opening runs -- exactly as it sounds -- horizontally across the top of the pouch. We suggest these for active guys because they'll support your package even when you're on the go. Jack Adams is a particular favorite of ours, particularly their Army Fly Jock Brief.
4. Contoured Pouch
Underwear with contoured pouches feature a seam that runs down the middle of the crotch. Sounds pretty basic, right? You'd be surprised what a difference that little seam makes. The contour not only allows for a roomier pouch, but also helps support, define, and lift your package. We urge you try Obviously's Comfort Trunk, which has a center seam and side seams as well. You'll thank us for it.
The Underwear Expert is the ultimate resource for 200+ men's underwear brands. Visit us for the latest men's underwear trends and more. Like us on Facebook.
Popular in the Community