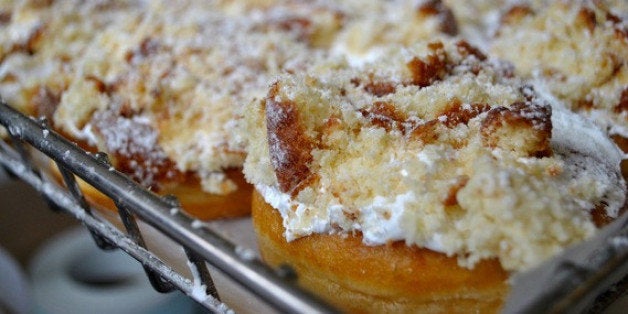 This week on The Sporkful a cross-country donut quest takes us from wacky Voodoo Doughnut and artisanal Blue Star Donuts in Portland to old school Peter Pan Donuts in Brooklyn. Along the way, I talk to donut eaters and bakers in hopes of answering one question: What's the difference between a good donut and a GREAT one?
We start in Portland at Voodoo Doughnuts, where the bacon craze hit early on. They put bacon on a maple glazed donut a decade ago. Tourists are still lining up to get their donuts, which are topped with everything from cookies and candy bars to Fruit Loops and bubble gum (shown below).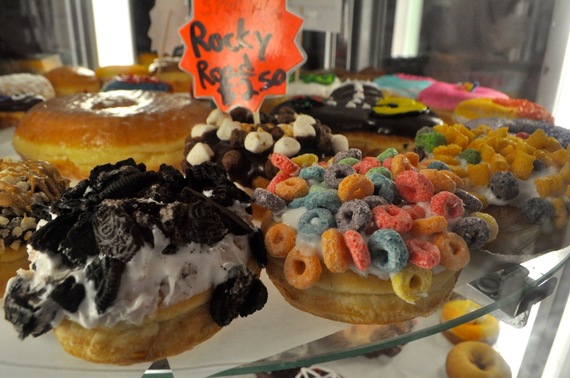 Next stop: Blue Star Donuts, a newer addition to Portland's thriving donut scene. The artisan shop prides itself on quality over quantity -- with flavors like Blueberry Bourbon Basil, Chocolate Ganache, and vegan Pistachio Cake with Raspberry Hibiscus (shown below).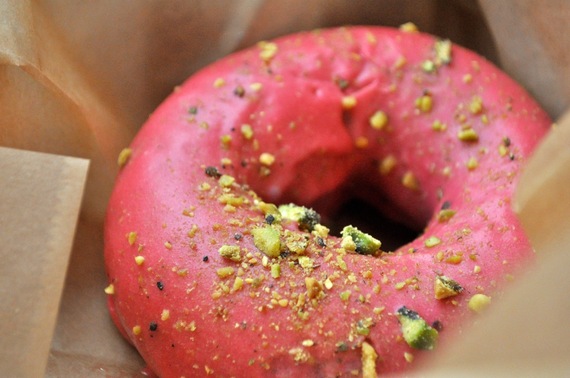 Head pastry chef Stephanie Thornton uses a classic French brioche recipe to make the dough for Blue Star's donuts.
"Our dough tastes fantastic all on its own -- with none of the bells and whistles," Chef Thornton says. "And then I have cookie cutters, and we cut them all by hand."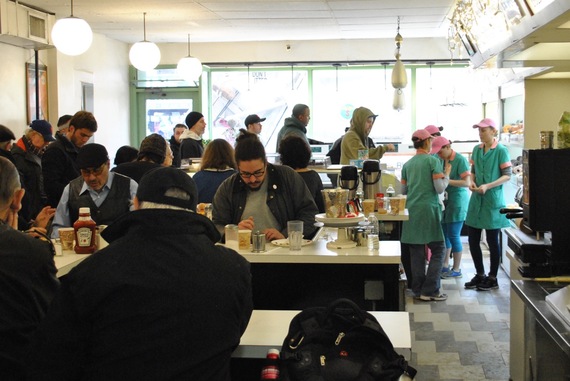 Our last stop brings us to Brooklyn in search of old school "comfort" at Peter Pan Donuts. This beloved neighborhood shop has been a fixture on New York's donut scene for more than 70 years.
It's also one of the few places in rapidly gentrifying Greenpoint where you see older folks sitting next to bearded 20-somethings. But how do their donuts stack up against the West Coast contenders?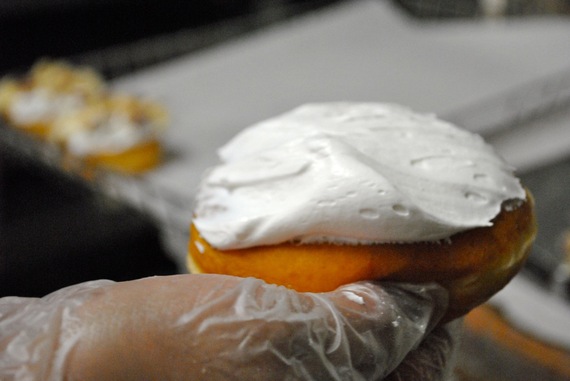 I pull back the curtain and watch co-owner Donna Siafakas and her son Peter work their magic in the kitchen.
"A good donut is made the right way...you let the dough relax, you let it rise properly...you really put good care into every little detail," Peter says. "But a great donut is you give the extra love to it."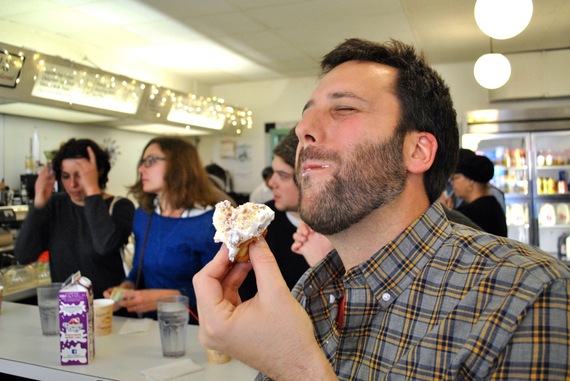 And man do I feel that love when I try their cream crumb donut -- fresh from the fryer. It's topped with sweetened cream and a crumb topping made from OTHER DONUTS.
My verdict: The Bard rightly noted that some donuts are born great, some achieve greatness, and others have cream and donut crumbs thrust upon them.
Listen to The Sporkful podcast through the player and subscribe in iTunes.