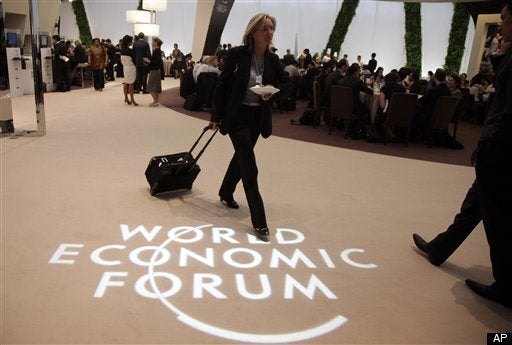 Kudos to the World Economic Forum (WEF). Big changes usually begin with small steps and the WEF continues to step forward. A new WEF policy this year required the Forum's 100 Strategic Partners to select at least one female executive among the five delegates they sent to Davos. This simple action more than doubled the participation of women executives among the Strategic Partners. Women were still few and far between in Davos, but it was both symbolic and an important step forward.
I have been a WEF delegate for my organization, Ernst & Young, for five years. It was gratifying to participate with friendly faces that brought different perspectives to this important annual gathering. My initial impression when I saw the participant list -- wow, I knew nearly all of the women! These are highly regarded, high-level women leaders. Why hadn't they been at Davos before?
I guess it shouldn't be too surprising. There is a paucity of women CEOs, board members and policymakers. Progress around women's advancement has been moving at a glacial pace in all countries. The White House Project Report: Benchmarking Women's Leadership shows that women hold a static 18% in the leadership ranks across ten sectors of the US economy, despite their record participation in the US workforce. Another example: The latest statistics from Catalyst on the percentage of women on boards and in leadership concur that the numbers have been virtually stagnant over the last five years. Women are still less than 3% of Fortune 500 CEOs, 15% of boards, and only 20% of WEF attendees.
WEF has been trying. They formed a gender parity group with 50 men and 50 women. They issue the annual Global Gender Gap Report. They are shooting for 40% women in their Young Global Leaders program. After all these steps failed to produce the desired results, WEF took this next step with the policy this year.
Without a little nudge, it's easy to gravitate towards colleagues and leaders who think, look, and act like we do. Unconscious bias on the part of those in power is undoubtedly behind the glacial pace of change. (In fact, I've found this same dynamic to be true in discussions of women's advancement initiatives -- it's too often women only talking to other women about what needs to change.) With WEF's new policy, suddenly, women who arguably should have already been a part of the Davos scene were actually there this year. And there was no doubt in my mind that having access to the incredible network of corporate, political and civil society global leaders -- these women would make the most of it. They contributed positively and differently to the dialogue, to the benefit of the companies they represent and to the broader public interest. Having said that, there were still far too few women on the dais and on the panels debating the serious issues facing our global economy.
The fundamental question for each of us when it comes to women's advancement -- and more inclusive leadership in general -- is whether we believe there is still a reason to "push." Is there really a benefit? Is there something to be gained by aggressively engaging diverse perspectives?
I believe the answer is yes -- we still need to push -- for two reasons. First, there is undeniable proof that performance and outcomes will be better. Second, I have personally experienced the benefits of diversity in action.
There is a tremendous volume of research, conducted by both the private and public sector that having more diversity on corporate boards, for example, results in better financial performance and corporate governance. Research has also proven that well-led diverse groups are better at problem solving and homogenous teams run the risk of "groupthink."
Today, there is an even more compelling reason to involve more women leaders. Women, according to a study by Booz & Company, are an "emerging market" as they become economically empowered around the world. They are "the third billion", consumers, employees, leaders, or entrepreneurs, only behind China and India. Who would ignore that size of emerging market? Who would exclude India or China from Davos or fail to evaluate investments in women as they consider investments in other emerging markets? Having access to and leveraging the potential of half of the global talent pool is vital to economic progress around the world - individuals, families, corporations, and whole societies benefit. The potential ROI is undeniable.
Putting the research aside, I have countless examples throughout my more than 30 year career of meetings in which I've been the lone female voice. Often, my voice was dismissed, and I know I speak for all women leaders when I say that. On the flip side, I've been in meetings where there was a critical mass of diverse perspectives, and the conversations changed: tough decisions were made, but only after incorporating multiple and varying viewpoints and perspectives. After many years of experience, I can vouch for the fact that a healthy dose of difference, even dissent, produces better conversations and results.
At a time when the global problems we face are more complex than ever, we can no longer stay in the comfort zone of the status quo -- we must proactively seek to include diverse perspectives by setting goals and taking action. We need to go beyond mentoring to sponsor and appoint leaders who don't think, look, or act like we do. In short, we need to push.
This year, having more women in Davos was important but not a tipping point; the numbers are still too few. But things changed. I spoke with many leaders who found the different conversations and the new networking refreshing. They found, like I have often found, that when there is a lot of "different" going on -- good things happen. So thanks to the WEF for using your platform to make a difference. Keep pushing.
Related
Popular in the Community