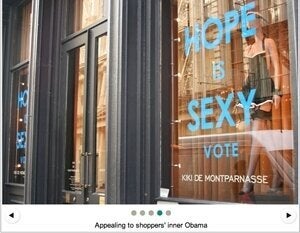 This presidential election is unprecedented. Gazillions of dollars are being spent on advertising, campaign materials, volunteer efforts, rallies, and - in the case of the McCain campaign - clothing and makeup. Hundreds of thousands of people - if not millions - are donating time and energy.
So, what does the presidential election really look like in your community?
We need you to do a photoessay about the election in your town. Take 10 photos of the small and grand that show HuffPost's OffTheBus readers what the election looks like where you live. Maybe there's a street corner where the signs block views of oncoming traffic. Maybe your local convenience store now sells McCain and Obama coffee cups. Maybe canvassers outnumber shoppers in your local mall on the weekend.
We took a brisk walk around our SoHo neighborhood and found shops getting in on the debate with some fancy window dressing.
* Crop and resize your photos to 300x230.
* Write captions for each photo. Make sure that your captions make sense of the photos for someone who does not live in your town or state.
* Send your photos to campaigntrail AT huffingtonpost.com. Put PHOTO ESSAY in the subject line. Include a headshot and brief bio if you have not been published at OffTheBus before.
DEADLINE: Wednesday, October 29
Related
Popular in the Community