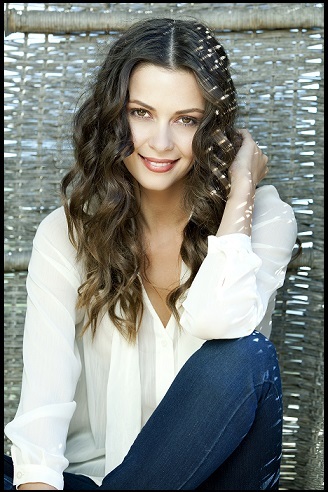 Olga Fonda stars as 'Olga Petrovka,' a mysterious and fearless Russian spy on TNT's Agent X.Olga's Twitter, Olga's Instagram: @OlgaFonda
Photo by Dorit Thies.
You know how we tend to follow actors we enjoy? That's what happened with Olga Fonda.
You'll recognize her as Nadia, daughter of Katherine (played by Nina Dobrev), in The Vampire Diaries. Olga was just so damn good. It's no wonder TNT scooped her up!
What was a typical day like on the set of Agent X?
The first thing I did on set was eat! One of my favorite things about shooting this show was the BREAKFAST!!! We had the best catering in town. The breakfast was so good that it really helped jumpstart my day.
Most of the episodes were filmed at Fox studios. We shot a few scenes around Los Angeles. When we shot on location, the schedule would be all over the place. I often found myself driving on an empty freeway because everyone was still asleep!
The Agent X set was never boring. During the first few days, I had to adjust to the loud noise on set which included gun shots and explosions. After we finished filming the season, I realized I missed hearing all the noise and driving on empty freeways. Haha!
How far in advance do you get your script? Do you get it on paper or electronically? Which do you prefer?
Since I wasn't a series regular, I would often get my scenes pretty late. Usually five days in advance or sometimes less! That's one of the fun parts of being on a TV show. You always need to be ready for a last minute script change. I usually received my script electronically, but to be honest, I always printed it out. I am a little old fashioned and I love to have my scripts printed out. There is something magical about feeling the paper, making notes and page marks.
Did you ever watch The Vampire Diaries prior to becoming a part of it? What was your audition like? Was that real makeup or were the veins in your dying face CGI?
First of all, I loved acting alongside Nina. She is a great woman. I heard a lot about this show, but didn't start watching until I learned that I was auditioning for it. It's a very addicting show. I struggled with the sides all the way until I read in the room. Even when I left the audition, I wasn't satisfied. Little did I know that I would be traveling to Atlanta a few hours later! That's the beauty of this business, you just never know.
One of the most fascinating parts about that show was the special effects. My dying scene was a combination of make-up and CGI. The veins on my face took at least an hour. The show has a really amazing make-up team. They are all very talented. I was so impressed with their work that I couldn't help but take a lot of selfies!
At age 14 you were an exchange student in the United States for a year. Tell us about that experience.
A boy that I was dating at the time spent a year as an exchange student in the U.S. He told me so many great stories and it really sparked my interest in the exchange program. I had to take a few tests and write an essay on why I would like to travel to the U.S. When I learned that I had passed the tests, I was beyond excited. I was placed with the Auclair family in East Winthrop, Maine. I will always be grateful to them for introducing me to American culture and for all their support and love throughout the years. They became my second family.
When I arrived in the U.S., I knew little English and didn't have any friends. The neighborhood and school kids were so welcoming. They made me feel at home very quickly. I will always cherish my memories as an exchange student in Maine!
What type of breed is your dog, Luna? How'd you come up with her name?
The story is really funny! Luna is a Shiloh Shepard. My manager and dear friend, Brianne, adopted a puppy and when she introduced me to her puppy, I secretly wanted to steal her. She was so cute! Brianne told me that another puppy from the litter may still be available. She sent me photos of the puppy and I immediately fell in love. I quickly called my fiancé (now husband) Liam and told him that I REALLY REALLY wanted that puppy. Haha! Since he was out of town he wasn't sure if he was ready for a dog, but I introduced his kids to the puppy and they fell in love. When Liam returned home, he had no choice, but to keep her and laugh it off. Now, the two are inseparable. They have become best pals! Liam's eldest son, Tristan, named her Luna (Goddess of the moon). His youngest son, Asher, likes to call her Bear. So her name around the house is, Luna Bear!
Was your Agent X character name, "Olga", named after you?
I wish! I like to joke that the creator of the show (Blake Herron) secretly had me in mind when he was creating this role, but he didn't know me back then. However, it was really convenient on set... It made it easier to find my trailer!
Is Olga Fonda your stage name?
It started as my stage name. Then so many of my colleagues and friends only knew me by that name that it became my real name.
Love Sharon Stone. Ever hang out with her after or before work?
It was really hard to find time to hang out with castmates before and after work. We had the privilege of spending time with Sharon while promoting the show. She's such a strong, beautiful, intelligent, and really funny woman! Hopefully, we can spend more time together in the future. I really enjoyed her company.
Do you plan your free days off or you just sleep until you wake up and then make a decision about your day?
Sleep is very important to me... I love my beauty sleep! I like to be spontaneous, so usually when I wake up I make a decision about the day and just go with the flow.
What's your favorite sport and why?
I love all sports! I'm always impressed by athletes. I also love watching the Olympic Games. In high school, I played co-ed soccer and basketball. I really enjoyed both of those sports, but I have to admit basketball wasn't my calling. Haha!
Anything else you'd like to say?
Shout out to Music Gives to St. Jude Kids and The Heroes Project!
My friend, Jason Thomas Gordon, introduced me to his grandfather's foundation, St. Jude Children's Research Hospital. Since Jason is a musician, he started a campaign for the hospital called, Music Gives to St. Jude Kids. I love supporting them.
I was introduced by my friend and founder Tim Medvetz to the Heroes Project. Tim works with wounded soldiers and gives them a new outlook on their new challenges in life. It's a great way to give back to those who have helped protect our freedom and have given their lives for the rest of us to live our dreams.
Calling all HuffPost superfans!
Sign up for membership to become a founding member and help shape HuffPost's next chapter