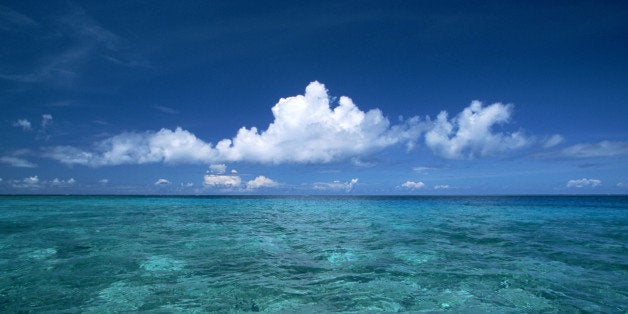 Like tiles in a mosaic, the coastline of my home country Greece is braided by and scattered between thousands of islands and some of the brightest blue and aquamarine seas. I love these waters, and I'm not alone in my enthusiasm. Around the world, oceans breathe life into coastal communities, and their health is vital to the future of our planet.
But today's ocean conservation efforts face an array of mounting environmental issues, raising the question: What will the future of ocean conservation look like?
For almost 30 years, The Nature Conservancy has worked with other environmental organizations, scientists and partners to protect the world's oceans and coasts. Looking ahead over the next 30 years, three emerging trends stand out in my mind.

Bringing Science and Technology to the Sea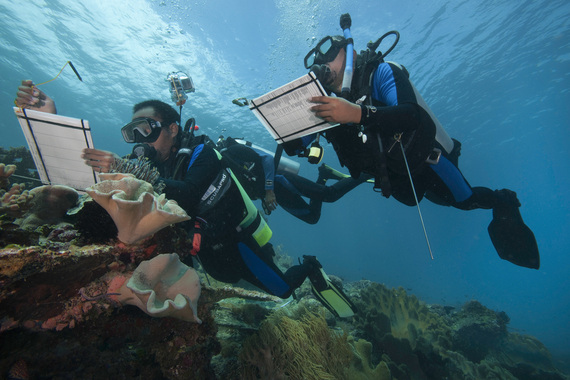 Divers from The Nature Conservancy monitoring coral reefs in ocean waters off Kofiau island, part of the Raja Ampat Islands of Indonesia. © Jeff Yonover
The massive size and inhospitality of ocean ecosystems remains a longstanding challenge for marine data collection. Only 350 of the world's 10,000 fisheries have full stock assessments, while the remaining 90 percent are what scientists call "data-poor."
But we have a real opportunity for change: Emerging technologies can help bridge our information gaps, and, with continuous advancements and innovations, there is enormous potential for science to further guide conservation.
On the supply side, technology is being explored to improve the traceability of seafood - helping prevent seafood fraud and assure sustainability. We are working closely with WWF, MSC and others in this direction.
In the U.S., fishermen are bringing iPads aboard their vessels to use apps like eCatch, which shares real-time catch information with other fishermen and fishery managers. The immediacy, accuracy and upsurge in data from eCatch has already helped fisheries in California adjust practices for efficiency and sustainability.
Cutting edge tools such as The Nature Conservancy's Mapping Ocean Wealth data visualization software are also helping improve and increase the amount of information available to managers and decision makers regarding ocean use. They provide data on a wide variety of marine ecosystem services--such as fishery production, tourism value, and carbon storage--helping decision makers understand the full value of ocean habitats, and empowering them to make informed decisions for our seas.
As technology increasingly turns its sights to the sea, marine conservation efforts stand to become better equipped to face the large-scale issues we're seeing today.

Crosscutting Collaborations

Conservationists are often good collaborators, sharing ideas and working with each other toward a common goal.
The environmental challenges facing our planet today, however, are as complex and vast as the ocean itself, involving more stakeholders than ever before. We are increasingly seeing some of the best solutions arising from collaborations that bring together scientists, conservationists, community leaders, and expertise from an array of industries.
For example, sea level rise and increased storm intensity driven by climate change pose an immediate threat to coastal communities around the world. Florida's Miami-Dade County is one of the most economically vulnerable locations to climate change on the planet, and as a result it has become a hotspot for crosscutting collaboration. Engineers, economists and conservationists are coming together with The Nature Conservancy to incorporate natural features such as mangroves and reefs--which reduce wave height and intensity--into storm risk reduction projects and calculations.
Collaborations like this bring exciting solutions across the board.
We see nature being valued for its services, leading to stronger coastal protection and habitat expansion. We see engineers working in tandem with the natural seascape to create storm protection projects that are often cheaper than gray wall projects alone. And we see economists incorporating nature into their calculations, meaning sectors like the insurance industry can create the right incentives for decisions involving natural areas.
These types of triple-win situations are impossible without collaboration. As more industries begin to understand the value of nature for their own processes, I expect we will see much more crosscutting collaborations ahead.
The ocean connects us--tying our planet together both directly and indirectly. As we become more globalized, ocean governance is helping lead the way for international environmental cooperation.
This week the U.N. Port State Measures Agreement (PMSA) entered into force, becoming the world's first binding international accord specifically targeting illegal fishing. Together, over 25 nations have agreed to stop the international transportation and selling of illegally caught fish.
In March, the U.S. and Canada announced a new partnership to protect the Arctic through marine protection areas. Conservation efforts surrounding migratory bluefin tuna--one of the ocean's most prized fish--are focusing on international collaboration to shape new policies. The recent signing of the Paris Agreement and world cooperation on climate has brought increased hope for global ocean governance.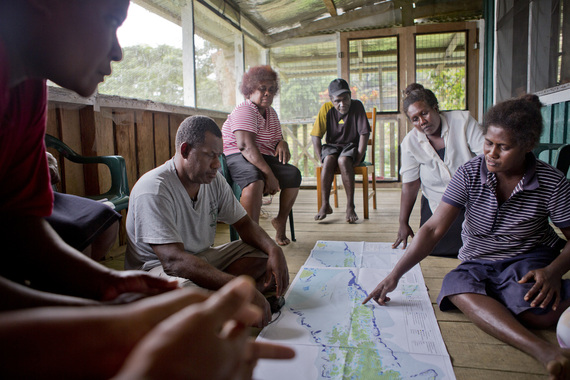 Willie Atu (on left), Project Manager for The Nature Conservancy's Solomon Islands program showing a map of the conserved and threatened areas of the Solomons to the Mothers Union (the Mothers Union is a group of Kia women who have worked with the Conservancy to raise conservation awarness). © Bridget Besaw
But we need more: We need to make strong and scientifically guided decisions for deep seas and ocean biodiversity; we need to unite against rogue fishing; and we need to face ocean pollution and climate change impacts in an effective way.
We can make conservation a loud and steady voice in future ocean use and development. This is my Blue Growth by Design agenda at The Nature Conservancy. But cooperation is critical to moving forward. Governments, communities, conservationists, engineers, and the private sector all have a role to play in our ocean's future.
The ocean is big. Too big for anybody to face it alone. So to answer my original question: What is the future of ocean conservation? Working together is our future.
This post is part of a series produced by The Huffington Post in partnership with Ocean Unite, an initiative to unite and activate powerful voices for ocean-conservation action. The series is being produced to coincide with World Ocean Day (June 8), as part of HuffPost's "What's Working" initiative, putting a spotlight on initiatives around the world that are solutions oriented. To read all the posts in the series, read here. Follow the conversation on Twitter with the hashtag #MakeASplash.
Calling all HuffPost superfans!
Sign up for membership to become a founding member and help shape HuffPost's next chapter