I love weddings. What is there not to love about elaborate parties? Or adorable hors d'oeuvres? Or dancing all night after two people you may or may not know exchanged teary vows professing their undying love? There is, however, one part in particular that I am drawn to the most. It's what author Anne Kingston calls a "frothy white bridal tsunami." It's all about the wedding dress.
For years now, I've allowed my brain to go off the deep end with its analysis of just about everything clothing related. I even went to grad school to satisfy my brain's craving to just get fashion. I wouldn't call my focus on wedding dresses an obsession, but my therapist might. Over the past four years I've incessantly researched historical and contemporary wedding gowns. This past year, I did something that I thought would elicit faces strewn with horror and make all the men run away. I turned into a faux bride.
I likened my research to the phrase "walk a mile in their shoes." I needed to understand what about these dresses mesmerized women. So, I made a plan covering every detail. There was an engagement ring with an accompanying fake engagement story with a fake fiance. I even used pictures of me and a friend looking adorable as my home and lock screen backgrounds on my phone. My mother even flew in from California. (Full disclosure: She was already planning to be in New York when we made one of the shopping appointments.) My friends willingly volunteered to be my bridal party. With that, I was off to do what few sane single women do: I went wedding dress shopping.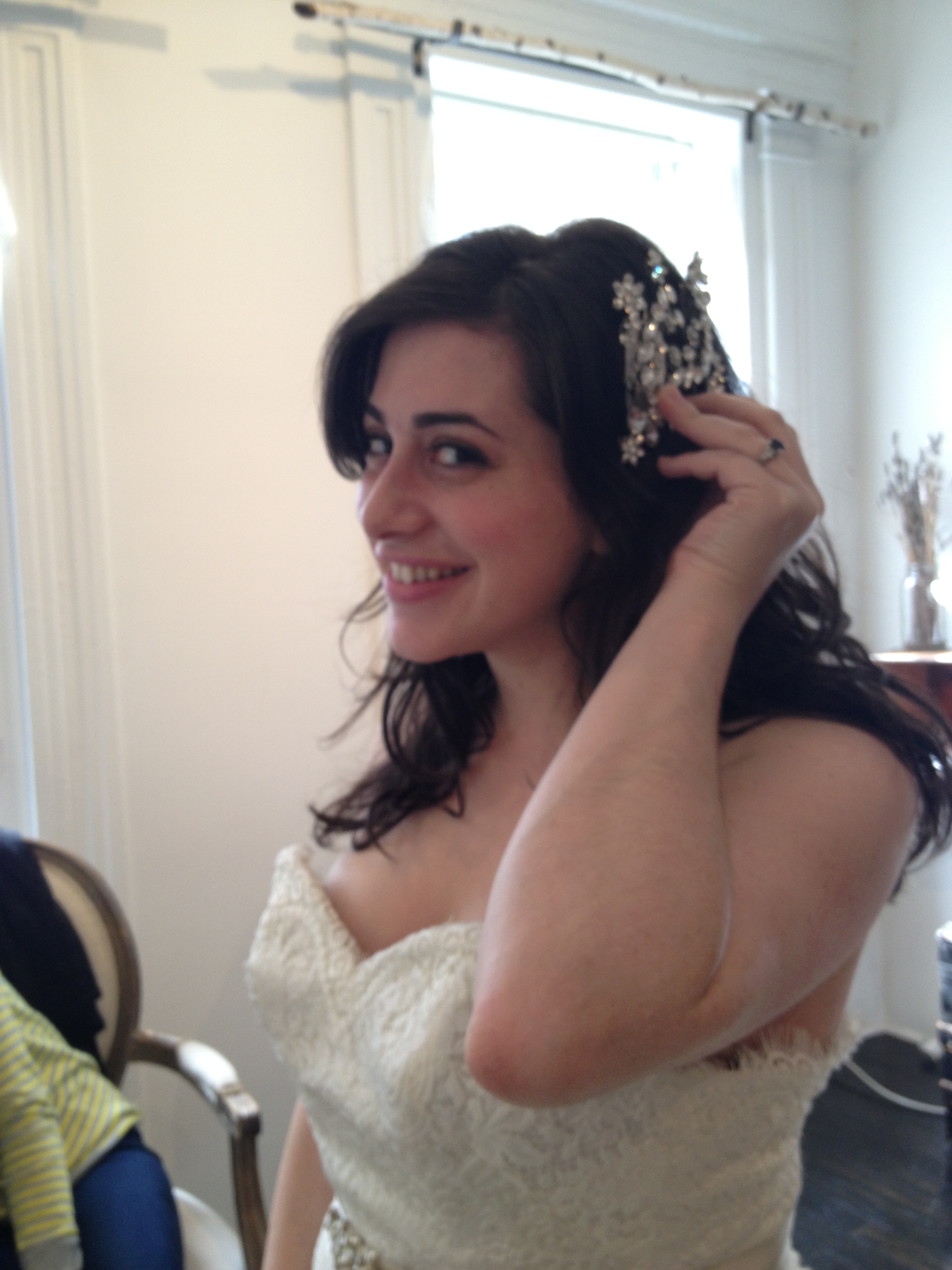 [Me as a faux bride, "engagement" ring and all.]
What you must know is that I believe myself to be practical. Sure, I'll buy a random pair of shoes here or a spend a bit extra on dinner there. However, my thoughts regarding spending money on a dress you wear once usually veers in the direction of "Why on EARTH would I spend enough money on a dress that could buy me a [insert expensive object] or to put me through [insert number of years] in school or fly me to [insert exotic location]?" I've heard stories of women who save money for years for a dress, or buy their dresses without even being in a relationship. Had you brought this up to me six months ago, I'd rant about how absurd that is. Now? Well, read on.
I went to Kleinfeld's. You know, from Say Yes to the Dress. It's big. It's flashy. There's a lot of tulle. My goodness is there tulle... and lace, chiffon, taffeta, beading. You name it, they have it. I had been skeptical solely because of the show. I live in Williamsburg. Some call me a hipster. Kleinfeld's isn't what I'd expect to be my scene. But man, do they have some gorgeous dresses.
The stylist was fantastic. I felt like I was hanging out with my bestie. Her help alone made going to the store worthwhile. I tried on a dress with the most amazing deco-inspired beading that cost almost $10,000. One dress in particular, costing about $6,000, made me feel like a Grecian glamorous goddess with intricate pleating and blinged out cap sleeves -- a stunning work of art. I liked but didn't love the feel of the nine or so dresses, but the service made it mind-blowing. They customize every moment of the experience to your tastes. My "bridal party" loved seeing people from TV, and the spectacle of me coming out of the dressing room to model glamorous dresses. Due to their no-photographs policy, I have no images to share.
I also went to a small boutique called Lovely Bride in the heart of Greenwich Village. They had an well-curated collection of dresses on rolling racks free to be browsed. On one rack you could find a golden gown with intricately woven patterns, a simple cream sheath with a few pleats, and a poofy, white frock with a skirt bigger than the island of Manhattan. They had both diversity and great taste.
I tried on six dresses. Two out of six were amazing. What made them so awesome? Honestly, there was the weirdest transformation. While staring in the mirror, I literally went from thinking, "I'm having a good hair day," to "Holy moly, I want to look this way forever." Nothing changed about my appearance except what I was wearing. These dresses have magic powers. Breaking down the dresses, the four I didn't like were all beautiful on the rack, and some looked great on, but ultimately none made me feel comfortable or lovely. The two I loved, though, were all that and more. I felt so comfortable in the boning that supported my, ahem, assets. They both were made with fabric so soft that I wanted bed sheets made from them. One had pockets. The other had lace. (Both wins in my mind.)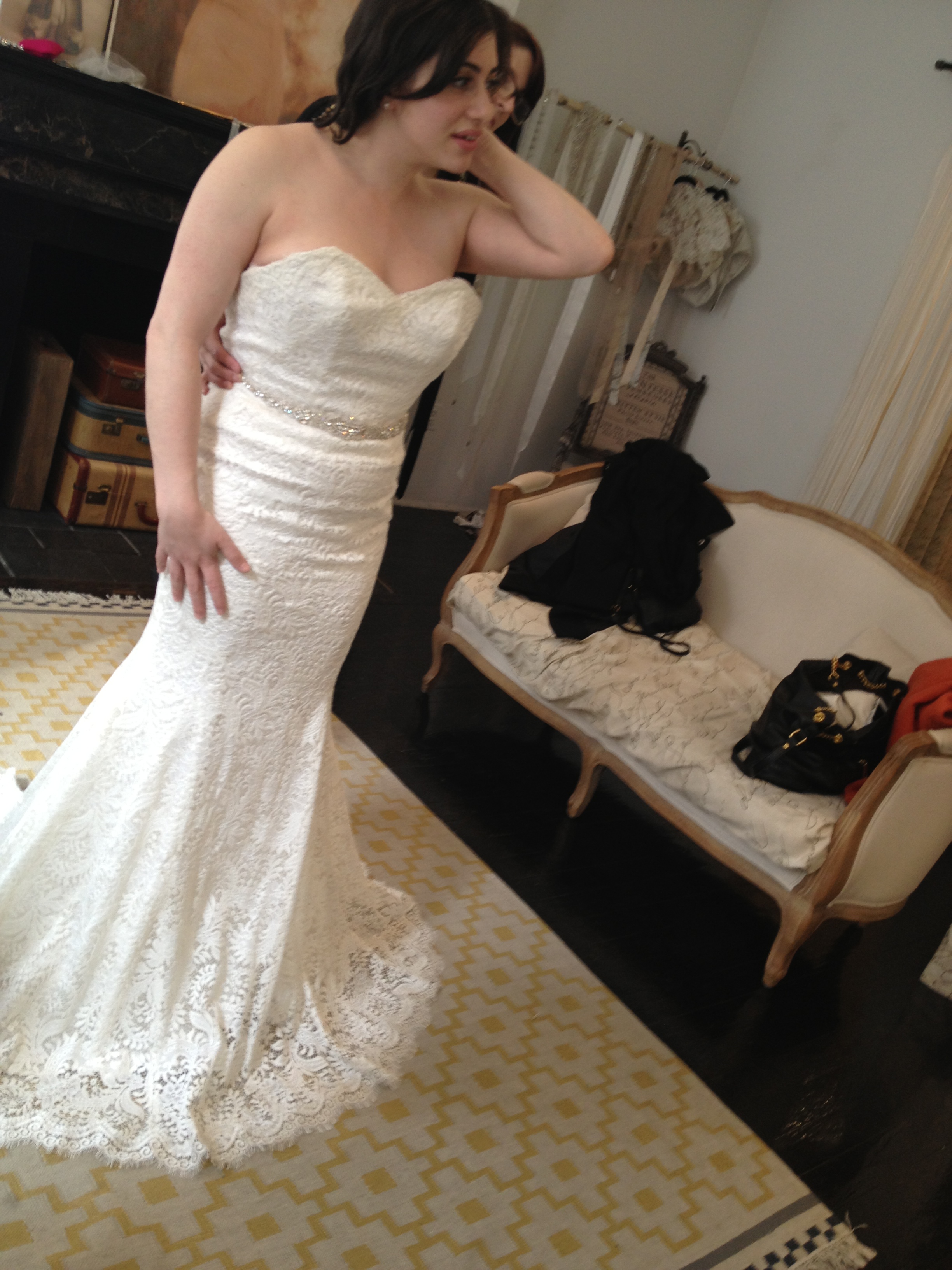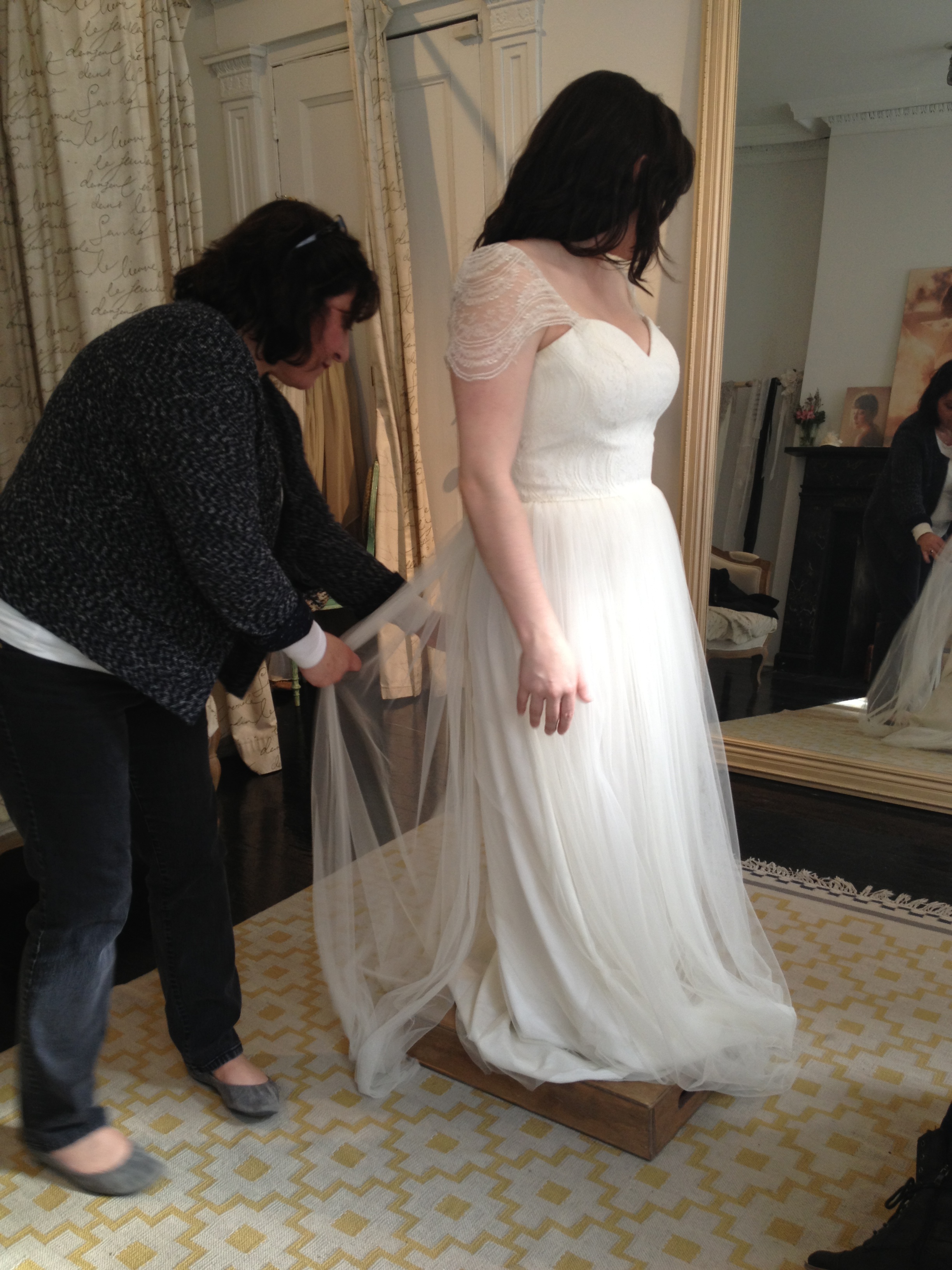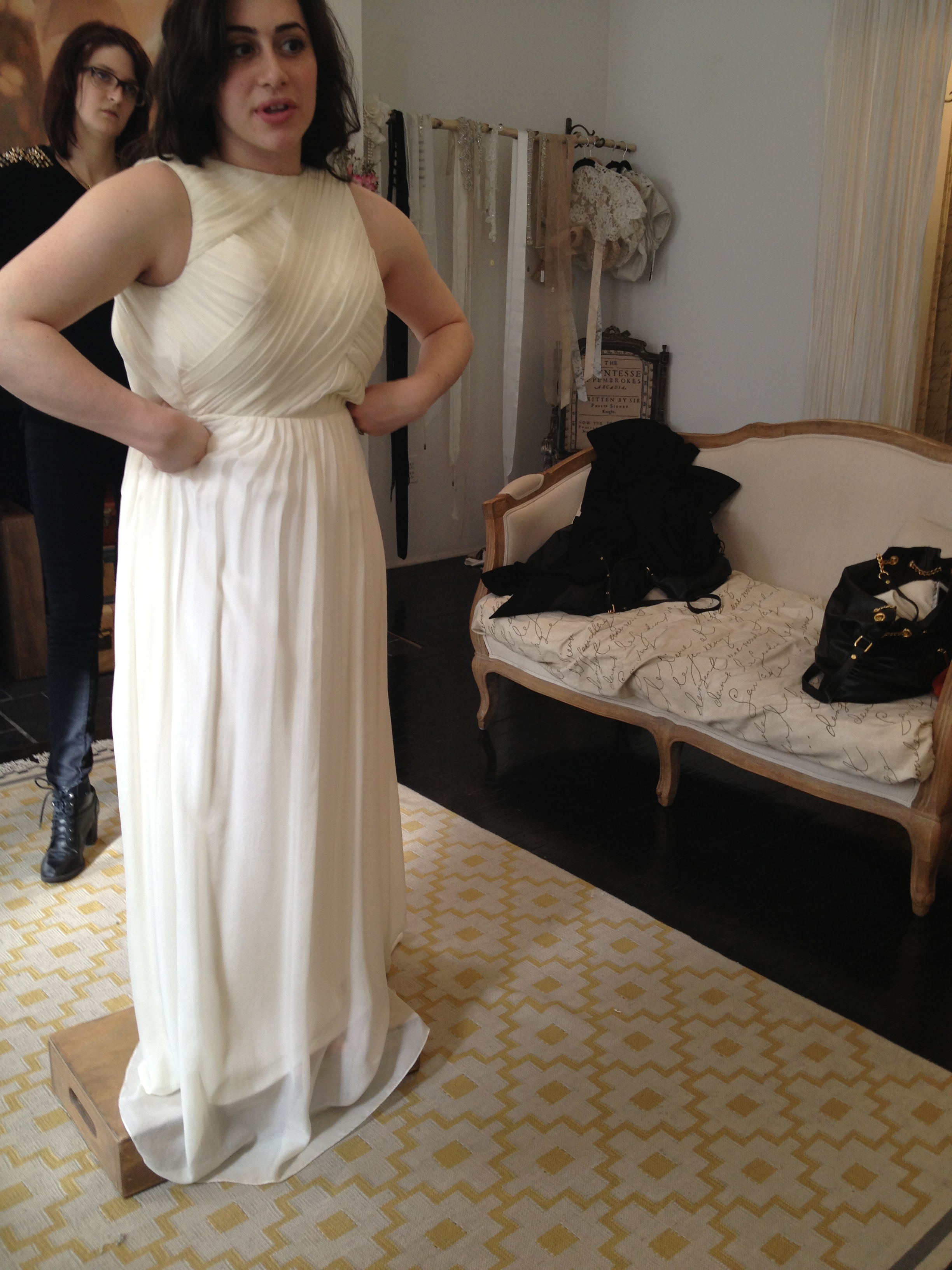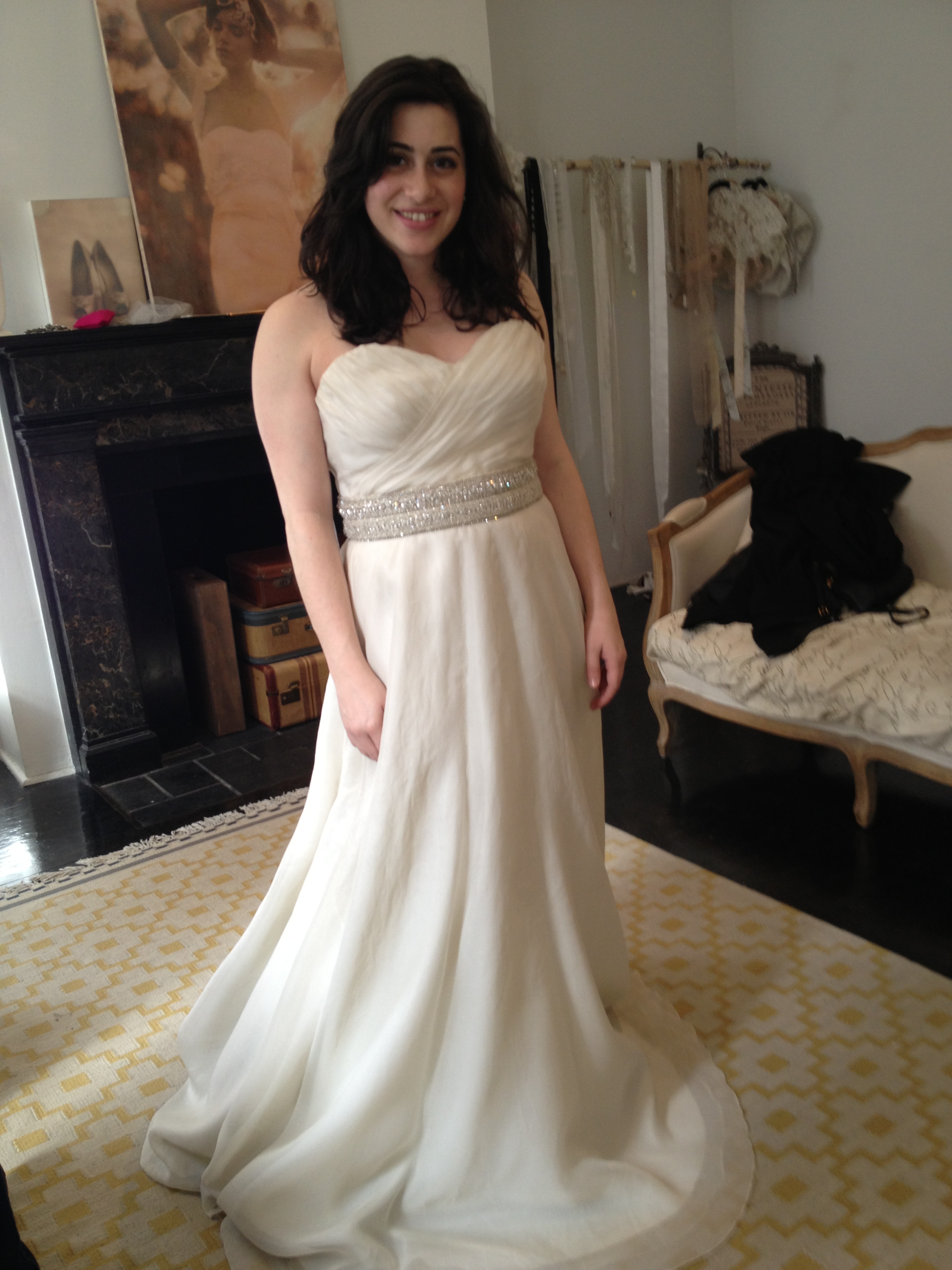 [The four dresses that just weren't right.]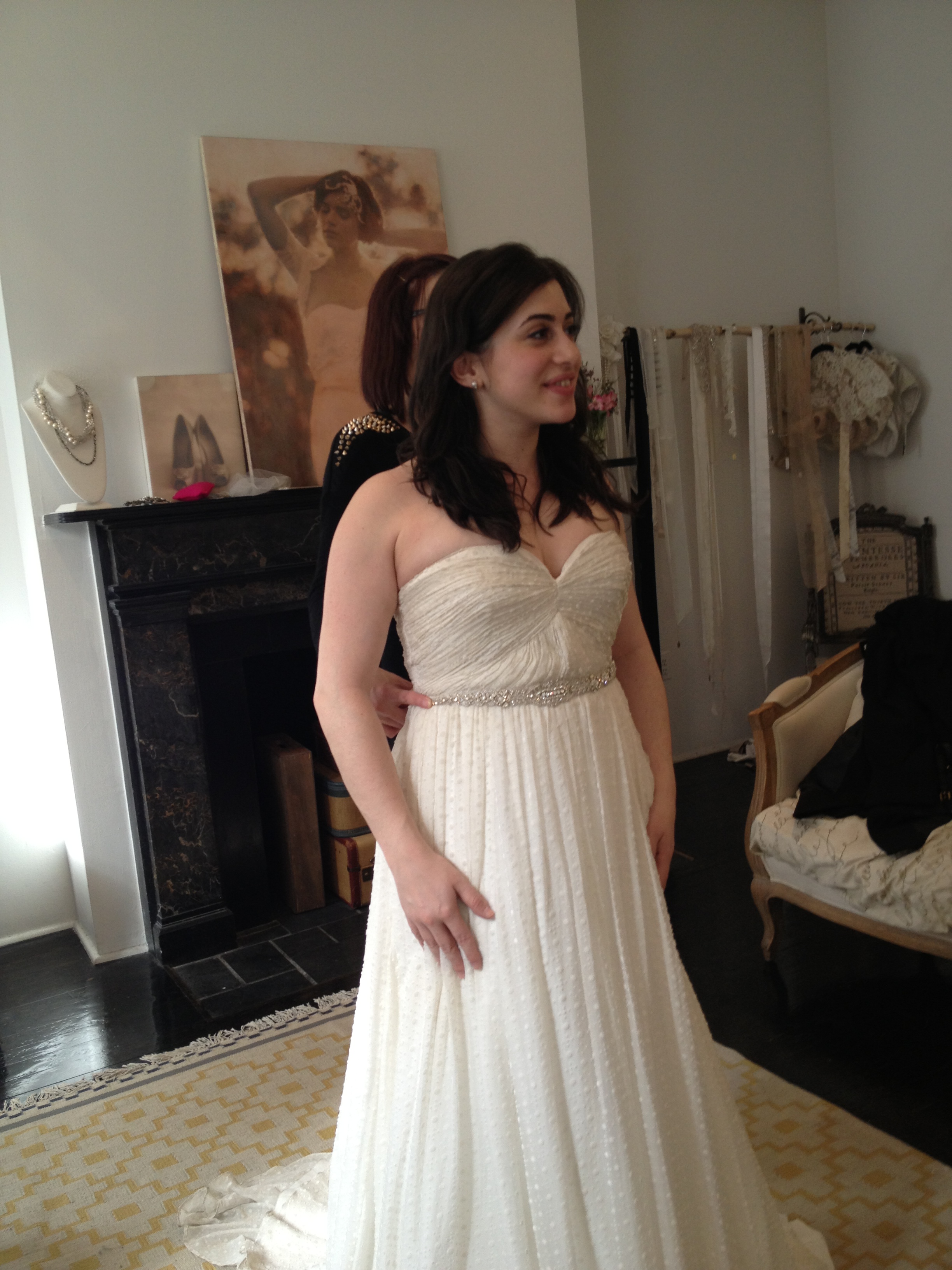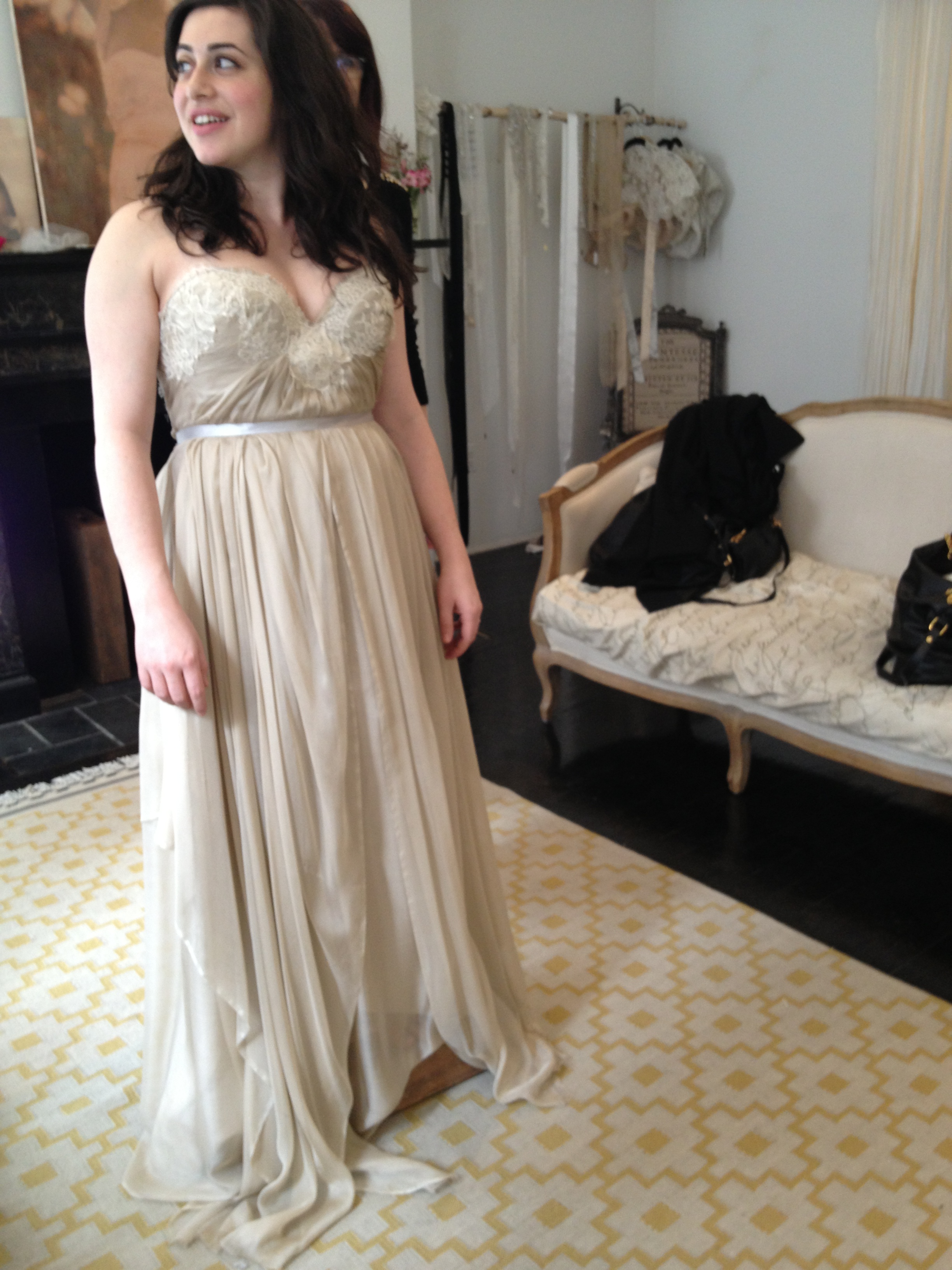 [My two favorite dresses.]
They were between $1,800-$2,000 -- far less expensive than Kleinfeld's. Ultimately, they both made me feel like I was seeing my ideal self in the mirror, and that I embodied a form of perfection I'd never recognized within myself. It was seeing myself in these dresses, and my mother crying (yes, she cried obviously knowing the falsity of my engagement) that helped me realize why women spend enough money to buy a few computers on one single dress that typically has a day-long shelf life.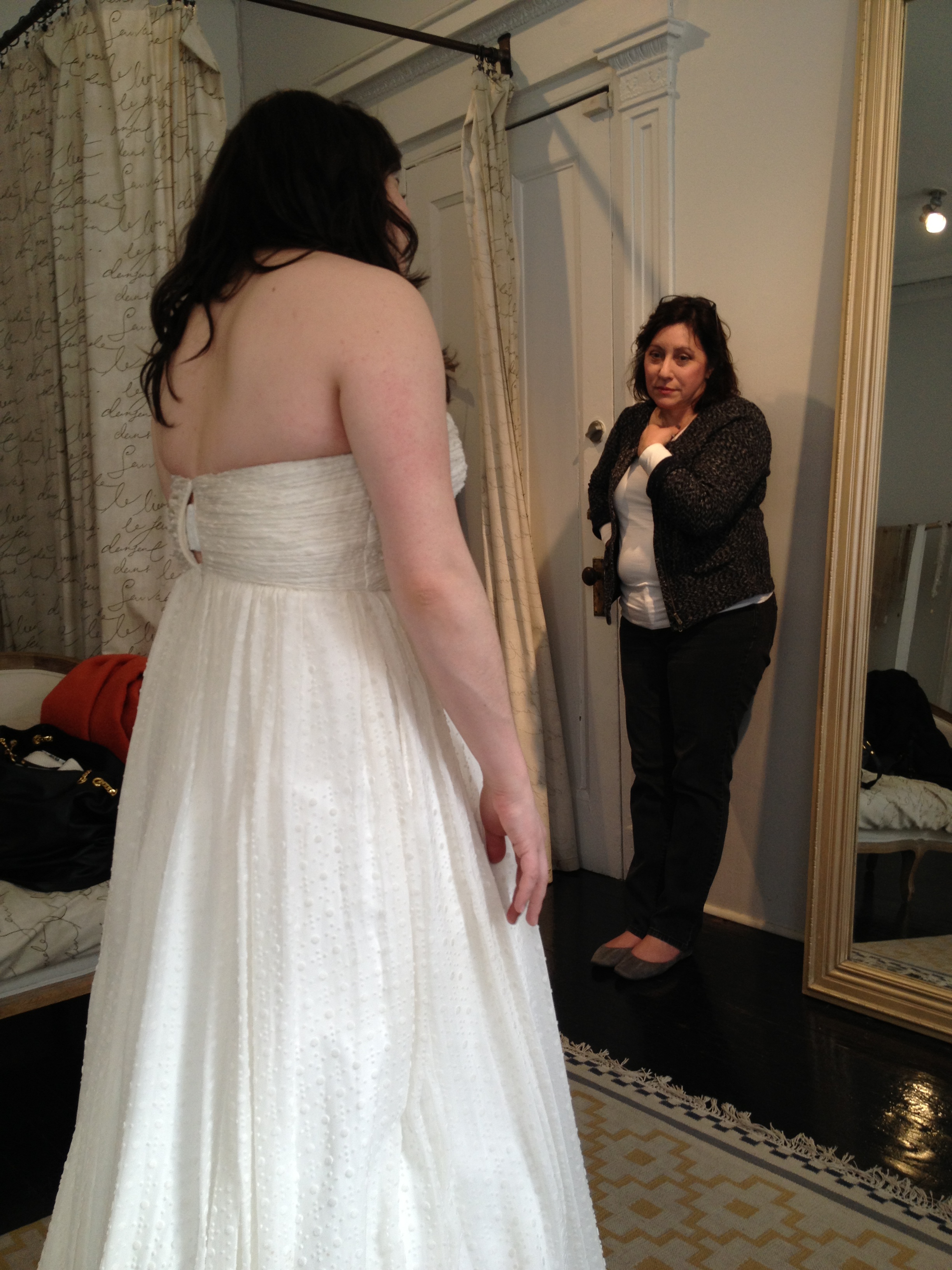 [My mother's real tears for a fake wedding caught on camera.]
Here's what I learned: Wedding dresses have transformative powers. Seriously. I'm not even in a relationship, and still my appearance seemed to drastically change before my eyes all because of a beautiful white dress. While there is something to be said for the symbolism of its role within the actual ceremony, the physical dress itself has the ability to make you -- the wearer -- feel like the prettiest version of yourself, command everyone's attention, and honestly feel awesome. The lesson here? Don't judge a woman by how much she spends on her wedding dress.