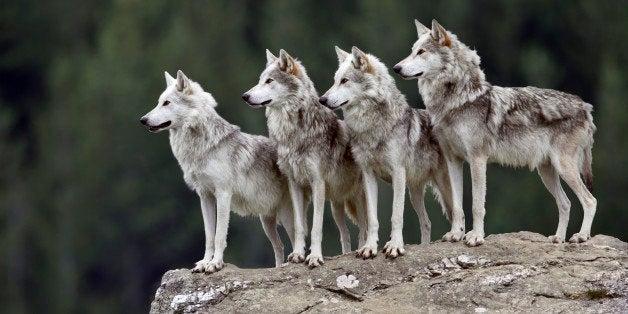 Idaho's hateful treatment of wolves has reached disturbing new lows in recent weeks.
Late last month the sadly misnamed "Idaho for Wildlife" held a two-day "predator derby" out of Salmon, Idaho, offering prizes for the most coyotes and wolves killed and the biggest wolf taken.
Fortunately, no wolves were killed. But roughly 21 coyotes were gunned down in the event which was pitched as a family friendly opportunity to teach kids about responsible hunting.
How killing as many animals as you can, none for food, qualifies as responsible hunting defies reason -- but not Idaho law.
Also last month the Idaho Department of Fish and Game -- with approval from the U.S. Forest Service -- hired a bounty hunter to trek into the largest wilderness in the lower 48 states, the Frank Church-River of No Return Wilderness, and kill two entire wolf packs.
Idaho's Department of Fish and Game says the extermination of these two packs in a wilderness area is needed to increase elk numbers for hunters, yet acknowledges that elk numbers in Idaho are at an all-time high. Although elk numbers have declined some in recent years in the Frank Church, they remain healthy and are expected to increase with recent habitat created by fires.
Killing of these wolves thus isn't just heartless -- it's also a boondoggle. It has nothing to do with science-based wildlife management and everything to do with the anti-wolf attitudes of some hunters and the Department of Fish and Game.
The organization I work for, the Center for Biological Diversity, has gone to court to try and stop this wasteful killing, but as of this writing, the bounty hunter has already killed seven wolves from the Golden and Monumental Packs.
Idaho is not the only state where wolves are being mercilessly persecuted. All of the states where wolves have lost federal protections have enacted aggressive hunting and trapping seasons that are designed to drastically reduce populations. In Wyoming wolves are now considered a predatory animal that can be killed at anytime, by any means, in over 80 percent of the state. Montana has upped its quota on hunting and trapping, and Wisconsin's management plan calls for culling the state's population by more than half.
The unchecked state-sanctioned slaughter of wolves highlights exactly why federal Endangered Species Act protections continue to be needed for wolves. States like Idaho simply can't be trusted to humanely and rationally manage wolves. Yet, the U.S. Fish and Wildlife Service is moving in the exact opposite direction and has proposed to remove protections for wolves across the lower 48 states, except a small area in Arizona and New Mexico, where the Mexican gray wolf is struggling for survival.
With wolf populations in the northern Rockies and Midwest under threat and declining, this proposal will stop wolf recovery in its tracks and ensure that wolves moving into extensive areas of habitat in places like the southern Rockies of Colorado and Utah, the Northeast and elsewhere will have little chance of survival.
During the comment period on the proposed removal of protections, over a million Americans spoke up in opposition -- the most comments ever submitted related to endangered species protections. Polling consistently shows a strong majority of Americans support continued protections for wolves. Yet, our politicians are continuing to listen to only the small minority of wolf haters.
For the wolf to survive and thrive on the American landscape, we must make our voices even louder and demand continued protection and open hearts for these beautiful and beneficial animals.
CORRECTION: This post previously stated that 200 coyotes were killed in the "predator derby." Only 21 coyotes were killed.
Popular in the Community