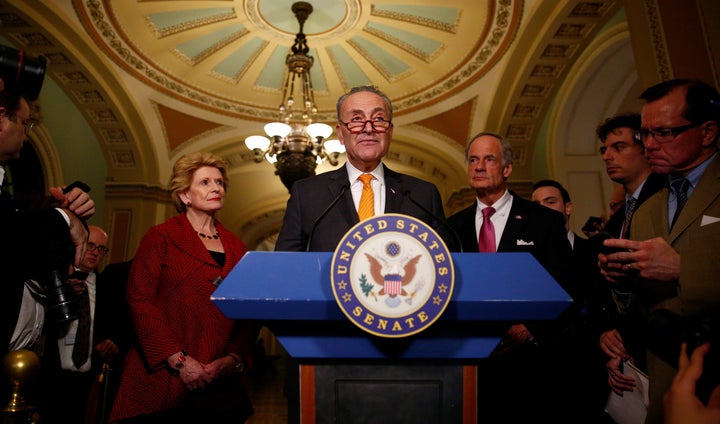 The party in power often overreaches. House Republicans did just that when they voted to repeal the Affordable Care Act and replace it with a flawed alternative that threatens the health coverage of millions of Americans.
The Republicans' replacement would make insurance more expensive for most seniors, limit federal assistance to those middle-income families who struggle the most to pay for coverage and give states the ability to cover fewer people under Medicaid.
Instead of threatening coverage for those Americans who need to most help securing health insurance, Republicans would have been smarter to fix some of the obvious flaws in the Affordable Care Act. And Democrats would have been just as wise to join them.
First, eliminate the Independent Payment Advisory Board. IPAB was established to slow the growth of Medicare. The Affordable Care Act gives the panel broad discretion to reduce Medicare spending once the program eclipses a certain threshold. IPAB is unnecessarily bureaucratic and should be scrapped. Arbitrary price-setting is rarely successful.
Republicans and Democrats oppose IPAB because it threatens to limit what Medicare covers. Texas Sen. John Cornyn, the number two Senate Republican, and Oregon Sen. Ron Wyden, the top Democrat on the Finance Committee, introduced separate bills this year to block the board from forming. Sen. Wyden warned "it would be a huge mistake" to allow the panel to push "harmful cuts to Medicare with minimal input from Congress."
Now, time is running out for Congress to correct this mistake because Medicare spending is soon expected to blow past the target that will force the president to set this process in motion.
Second, the Affordable Care Act created an imperfect formula to achieve those savings, essentially pegging reimbursement rates to much broader measures of inflation. But health care spending is climbing much faster than the rest of the economy, driven by unique demographic and financial variables.
Congress too often relies on arbitrary targets to slow the growth of federal programs, particularly Medicare. In 1997, former President Bill Clinton and congressional Republicans agreed to use the Sustainable Growth Rate to control Medicare costs.
In total, Congress voted 17 times to shield doctors from these cuts and ensure seniors continued access to their physicians. The annual ritual even earned a nickname, "The Doc Fix." Republicans and Democrats finally abandoned that routine in 2015, saving doctors from a 21 percent pay cut under Medicare.
The bill also changed how doctors are reimbursed under the program. Instead of tying reimbursement rates to arbitrary targets, the new law transitions Medicare to a payment system that rewards doctors for the quality of their care, not the quantity of procedures they perform or patients they see. But these are not enough.
To control health care costs, we must eliminate fee-for-service medicine. Buying health care is not like buying a car. The free market cannot work in a field where consumers cannot control costs or make informed choices without the assistance of those who benefit financially from their choices. The only way to have predictable budgets for consumers and payers, both private and public, is to replace fee-for-service with an all-inclusive fee that covers all health care services.  We know this works, and it is the only cost-containment approach that does.
We have to move away from a model that has fueled the dramatic rise in health care costs for more than 30 years.  The Affordable Care Act established the seeds of this approach, which is one of reason I oppose efforts to repeal it. As Democrats, we should highlight the best parts of this law to show why it should be fixed, not eliminated.
Repealing President Barack Obama's signature health law has become a crusade for Republicans. But yanking health insurance from millions of Americans is not the best way for President Donald Trump to help people who depend on it, including many who voted for him. Trump has many failings, but he is not ideological. So, it doesn't make sense for him to govern that way.
Democrats should do everything in their power to prevent the president and his Republican allies in Congress from repealing the Affordable Care Act – even if that means agreeing to changes that will strengthen the program for Americans who depend on government health care programs.
Howard Dean is the former Governor of Vermont and an advisor to Dentons. The views expressed are his own and do not necessarily reflect the firm or its clients.
Calling all HuffPost superfans!
Sign up for membership to become a founding member and help shape HuffPost's next chapter
BEFORE YOU GO