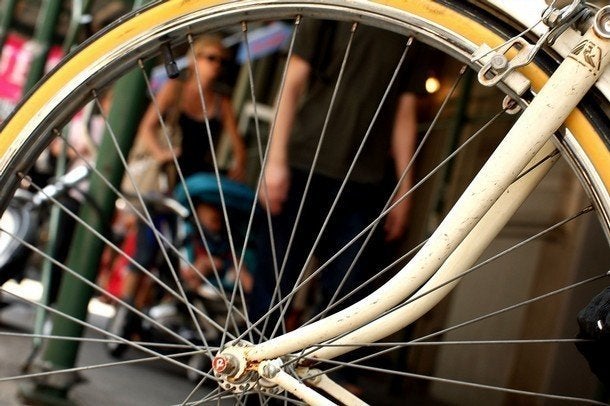 I know it sounds crazy, but consider this:
New York City has 670 miles of bike lanes. There are 230 miles more on the drawing board,
You can ride in bike lanes over the Manhattan, Brooklyn, Williamsburg, Queensboro, Washington and some 9 minor bridges, and that is just from Manhattan.
Except for rush hours you can take your bike on the subways, the PATH Train, the MTA the Long Island Railroad and anyone of at least 5 ferries.
You can take your bike on a Tramway from Manhattan to Roosevelt Island.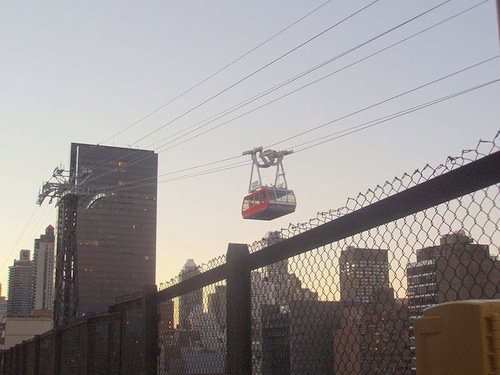 Creative Commons
On the MS Ride in October, depending on the route you choose, you can ride through the Holland or Brooklyn Battery Tunnel, as well as the Eastside or the Westside Highway. All traffic free.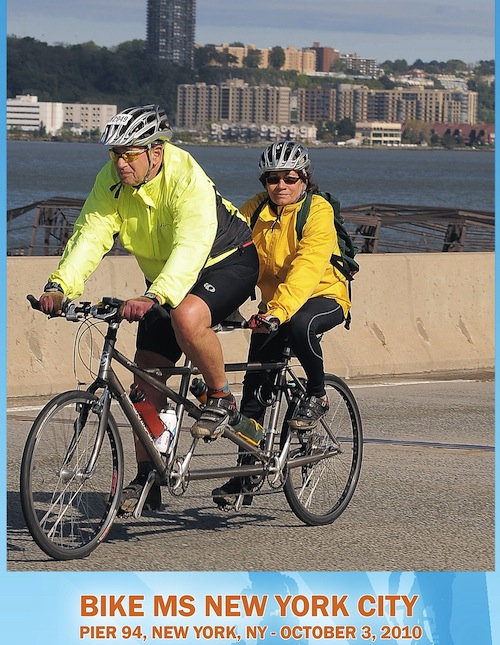 Friday, Saturday and Sunday from late May until late September you can take your bike on a free ferry to traffic free Governors Island. That's two "frees" for the price of one.
The Best Bike Month in the World
On Sunday, May 1st, more than 30,000 cyclists will start at the Southern tip of Manhattan and pedal (when it is not so congested that they have to walk) up 6th Avenue, through Central Park, into Harlem and the Bronx, back to Manhattan for a short ride before continuing through Queens and Brooklyn, and then finally ride over the Verrazano Narrows Bridge to Staten Island.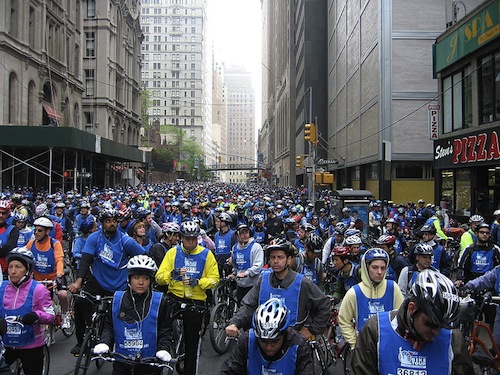 Ride Start May 2008, Jesper Rautell Balle, Wikimedia Commons
In all they will have covered 42 miles of city streets, bridges and the Brooklyn Queens Expressway, all of which New York's Finest will have cleared of traffic.
My wife, Yolanda and I did the Five Boro Bike Tour in 2002 and decided that it was so satisfying that it would last a lifetime. If you have not already figured out why we would never do it again, take another look at the photo above.
The over-crowded and overrated Five Boro Bike Tour kicks off Bike Month in NYC, which is not over crowded and vastly underrated. The first extraordinary thing about Bike Month is that it has 37 days. Bike Month's website explains that Bike Month runs from April 30 until June 5th. The second extraordinary thing is that during that time there are over 200 rides and bike related events. How about International Compost Week! Bike Tour to "...compost sites in the East Village and Lower East Side?"
The Best Bicycle Clubs and Club Rides in the World.
My favorite club name is Dykes-on-Bike-Cycles.

My favorite clubs to ride with are The Five Borough Bicycle Club (5BBC) and The Weekday Cyclists (TWC). These Clubs sponsor rides to such garden spots as Coney Island, and (try to picture this) "the crown jewel of Newark."
Rides with both clubs are free; 5BBC charges $20 a year for individual membership and $25 for two members living in the same household. You can't even join TWC. Just email them at "TWCinNYC @ aol.com." Write "Add to TWC email list" in the subject line and give your full name and telephone number in the body of your email, and you'll get weekly emails announcing their rides.
TWC leaders, Trudy Hutter and Ann Shorter, are terrific, but quite strict about group riding rules. If you are willing to do it their way, you'll have a great time. If you are not, you should pass.
Our favorite 5BBC leaders are Ed Defreitas, Jesse Brown, and Richard Sanford. All three are encyclopedic about NYC. If you want to learn about NYC and its history go on their rides.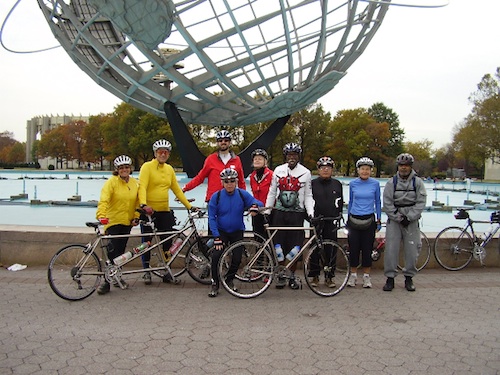 Photo 5BBC.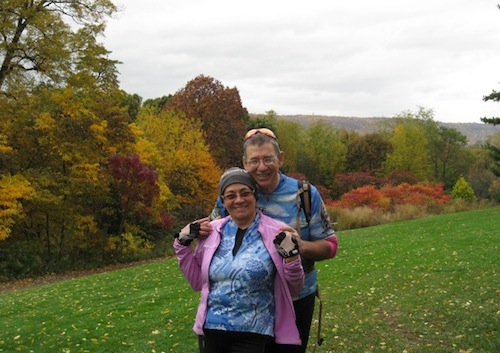 Guess where in the New York Area this photo from a 5BBC ride was taken. Hint: The ride started in Manhattan. If that is too hard for you guess what time of year it was. I'll give the answers at the bottom of this post.
But that's not all!!!! As they say in the late night TV slice 'em and dice 'em commercials...
The Best Bicycle Brouhahas in The World
Take the "The Great Hasid vs. Hipster War," of 2009. The New York City Department of Transportation accidentally started the war when they installed a bike lane on a 14-block stretch of Bedford Avenue, one of the main Brooklyn approaches to the Williamsburg Bridge. The bike lane runs through the heart of Brooklyn's Orthodox Jewish Hasidic Community.
The Hasids reacted with an all out concerted two-prong attack aimed at having the lane removed.
Prong Number 1: Claim that the immodest dress of female cyclist made it hard for Hasid men to heed the prohibition against looking at women who are not fully clothed.
Prong Number 2: Claim that the bike lane endangered pedestrians.
Tactics included political pressure on City Hall and yelling insults at cyclists in Yiddish.
Finally in December 2009 the city caved and, having spent $11,000 to install the bike lane, spent an additional $15,000 to remove it.
Then the hipster forces went into action: Watch.
The City arrested two of the perpetrators and removed the bike lane.
Hipster leader Heather Loop, a 27-year-old bike messenger, retaliated a with planned naked bike ride (her not the bike) on Bedford Avenue. Foiled by one of the coldest days of the winter, Ms. Loop retreated and rode clothed with rubber breasts pinned to her jacket.
It is not clear whether the Hasids claimed divine intervention.
If I have not convinced you by now that New York City is world's the best bicycle destination, here's the clincher: New York City is the only place in the whole world where you can ride in the Tour de Bronx.
The photo was taken at Wave Hill in the Bronx in the Fall of 2009.

Click here to read more about Yolanda's and my biking and other adventures in NYC.

Calling all HuffPost superfans!
Sign up for membership to become a founding member and help shape HuffPost's next chapter