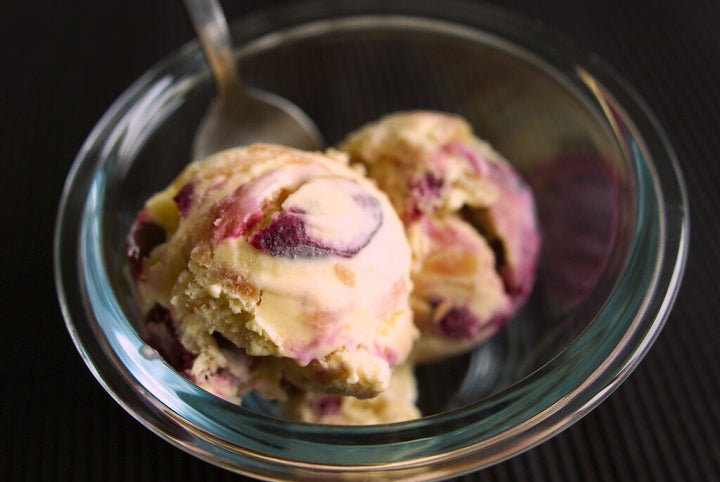 Ice cream is a blank slate. Like its old pal cake, ice cream is fine plain but can be adapted endlessly with every flavor and texture you can think of -- and some you can't.
Liberated from Western loyalties regarding what "goes with" what, Japan is the weird-ice-cream capital of the world. Japanese ice-cream companies produce:
Not wanting to be outweirded, artisanal ice creameries in the United States now offer jalapeño-pepper and salted-pretzel ice creams. Humphry Slocombe in San Francisco offers ice creams flavored with curry, foie gras, fungus and prosciutto.
But is "weird" really the word? Do these ice-cream flavors exist because anyone actually wants to eat them -- or for more ethereal, aesthetical, and/or theoretical reasons? Given ice cream's blank-slate nature, merging its cold smooth sweetness with, say, the ashy bitterness of charcoal, the savory richness of liver or the salty tang of ham is conceivably a form of art.
Last week I interviewed pastry chef Danyelle Forte, who conceptualizes and creates adventurous ice creams at Chocolatier Blue Parlor in Berkeley, CA. Think lemon-basil-eucalyptus, lemon thyme, mole (the Mexican sauce, not the rodent) and pink peppercorn.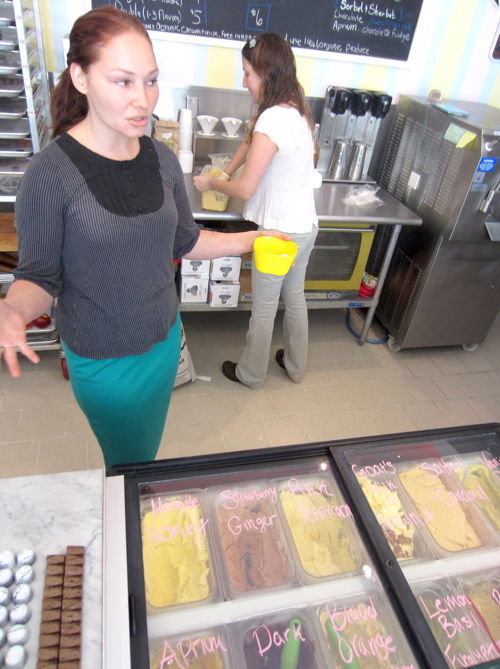 Forte trained with top-echelon chefs including Alain Ducasse, Daniel Boulud and Joël Robuchon at some of New York City's restaurants. With her fine-dining background, she seeks to elevate ice cream in the public's mind to fine-dining status by using Straus organic cream, free-range eggs, organic seasonal local produce and other high-end components in such creations as a cereal-themed sundae in which strawberry-ginger ice cream is topped with puffed brown rice, puffed farro, colorful house-made meringue O's and a lime-milk jam.
"I first got this idea because Froot Loops kind of taste like lemongrass to me," Forte mused.
Her blood-orange-rose-geranium sherbet is flavored with pure essential oil. Her pink peppercorn ice cream is surprisingly mild -- and strangely soothing.
"Pink peppercorns have a sweetness that reminds me of honey," Forte said.
Her lemon-basil-eucalyptus ice cream was inspired by a roasted-guinea-hen recipe that one of her famous mentors used in one of those New York restaurants.
"He added a couple of eucalyptus leaves to the butter, which scented the hens when he basted them. Sometimes you have to be unafraid to use flavors that could go wrong."
This courage is demonstrated in one of Forte's favorite pairings: dark-chocolate sorbet topped with lashings of extra-virgin olive oil, straight from the bottle.
"Once the sorbet starts getting a little soft, it really works," she promised.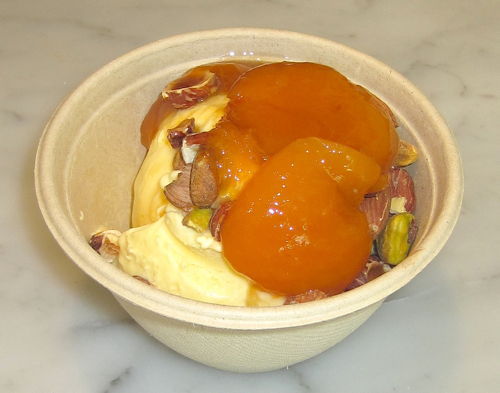 Right -- so I ordered a nougat-honey ice-cream sundae topped with smoked almonds Sauvignon Blanc-stewed apricots instead. Not weird at all. More like the wild end of normal. Sumptuously soft-salty-sunshiny-sweet.
Back home the next day, inspired by my talk with Forte, I assessed my Donvier mini-ice-cream maker and wondered which flavor to make. Looking around my kitchen, I realized that I could do anything. Into that cold smooth sweetness could easily go ... Parmesan cheese. (Assertive. Smoky. Sharp. Why not?) Or Biscoff spread. (Spicy. Smooth-upon-smooth.) Or baked beans. (Not so different, texturewise, from nuts.) Or ketchup. (Sweet!)
But then I thought: Life is so short. Were I to die tomorrow, would I rather know that my last ice cream was a wacky novelty that I had eaten almost as a dare, like skydiving -- or would I want my last ice cream to truly comfort me?
I made coffee-cashew ice cream. Life is so very short.
Images courtesy of Kristan Lawson.