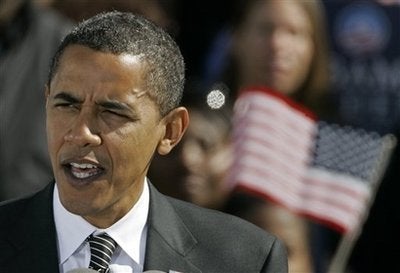 Friday at noon is when I check on NewsLadder and see what the top story is. Over the past month, we've had a remarkably successful run with the John McCain NewsLadder and since all signs point to this particular ladder not being so useful after next Tuesday, I thought today not only would I thank everyone at The Media Consortium who has helped make this ladder so successful, but also see what the top story is right now.
I know the story of Ohio all too well. Four years ago, the night before the election, I was in Ohio with John Kerry, Larry David and Bruce Springsteen and many others, there was an incredible rally right downtown and it felt amazing.
Late the next night, I was up all night as, first, we realized Ohio was a problem and then we realized, we were going to lose.
This article is a bit more encouraging.
Oct. 31, 2008 | COLUMBUS, Ohio -- The Buckeye stops here. Ohio is where Democratic dreams died four years ago as John Kerry came up 120,000 votes short of winning the state's 20 electoral votes and the White House.

But this year all the signs and portents are pointing in the opposite direction. Barack Obama has led in the last 11 published statewide polls, breaking the 50 percent threshold in the most recent survey released Thursday. Unlike 2004, the Democrats control the levers of state government, with Secretary of State Jennifer Brunner now portrayed by the Republicans as being as overtly partisan as her notorious GOP predecessor Ken Blackwell.
It's always interesting to me to see how NewsLadder really does work, and how the top story is almost always a truly great piece.

Read the rest of the story here. And let's hope that Ohio turns out far differently this time around.