Mom and Dad want to expose the kids to Culture with a Capital C—composers like Wagner, Rossini, Tchaikovsky, Franz Liszt, Smetana, Donizetti, Strauss. Those guys.
But the kids want no part of it. They just want to curl up on Saturday morning with some Bugs Bunny cartoons.
Good news, Boston—now the parents and the kids all can have what they want.
That's because Maestro George Daugherty will be performing "Bugs Bunny at the Symphony II" with the Boston Pops at Symphony Hall on December 29 and December 30; three shows only.
In other words, they're going to drop that huge screen from above the stage and project more than a dozen classic Looney Tunes featuring Bugs Bunny, Daffy Duck, Wile E. Coyote and the Roadrunner, and the gang, while the Boston Pops plays the original Carl Stalling scores "live."
And music by all of the above named composers will be part of the show.
"When we started this project back in 1990," Daugherty recalls, "we were one of the only projected film and orchestra concerts out there. Symphony orchestras weren't used to keeping 'in synch' with projected movies during a live concert. Today, they get it . . . there are many more "film concerts" touring. But it's still a two-hour roller coaster for all of us!"
It's a roller coaster ride Daugherty has taken thousands of times now, having lead Bugs Bunny in concert at the New York Philharmonic, the Hollywood Bowl, London's Royal Festival Hall, the Sydney Opera House, and even the Kremlin over the course of 27 years, with over 200 orchestras.
Two-and-a-half million people worldwide have seen the show, which offers "highbrow and lowbrow together," Daugherty says. "We've been so lucky to perform this concert in many dozens of countries around the world. And everybody knows – and loves -- Bugs Bunny."
According to Daugherty, the music isn't subordinate to the action on screen—it's an equal partner, often providing just as many laughs as the visuals.
"The music is so brilliant," Daugherty says, "so perfectly composed and orchestrated. Carl Stalling was an exceptionally innovative composer who happened to be working in Hollywood, and devoted his entire career to animation. In fact, many film historians credit him with inventing the art of scoring for cartoons.
"And Chuck Jones, who directed most of the cartoons featured in our concert, was equally spectacular. He was truly a world-class filmmaker, as were all of the Looney Tunes directors."
Many of the cartoons that Daugherty and the Pops will screen feature, appropriately enough, classical music "borrowed" from the great masters by Stalling and his orchestrator and musical collaborator, Milt Franklyn.
One of the most beloved is What's Opera, Doc?, in which Chuck Jones summarizes not just all four operas from Wagner's Ring Cycle, but four more Wagnerian operas as well—all in seven minutes.
You'll also see the Rabbit of Seville, Bugs' take on the Barber of Seville, in which Bugs gives the notably bald-headed Elmer Fudd a haircut.
And there's Baton Bunny, in which we see Bugs conducting at the Hollywood Bowl . . . one of five cartoons in the concert that take place in an animated recreation of the iconic Bowl.
"We've done the show over 25 times at the Hollywood Bowl," Daugherty says. "It's less than a mile from Warner Bros., and the two have always been indelibly connected with each other. The audiences there go crazy every time they see the Bowl on the screen. Art imitating life imitating art!"
The show also features Zoom and Bored, starring Wile E. Coyote and Road Runner, which Daugherty feels is one of Stalling's most brilliant scores, and Jones' most brilliant cartoons.
In addition, the performances will screen two of the six new 3D Warner Bros. cartoons featuring the Looney Tunes favorites—these are Coyote Falls and Rabid Rider.
"There's nothing so much fun," Daugherty promises, "as Road Runner and Coyote falling off Painted Desert precipices in 3D. Even though they are newly-created using CGI technology, these cartoons are true to the original Looney Tunes style and audiences love them."
So how does a conductor end up conducting for Bugs Bunny?
"When I was a little kid," Daugherty recalls, "I loved these cartoons. I would plop down on Saturday mornings with a big bowl of gluten-y, sugary cereal and would be glued to the television screen. But at the same time, I also had an instantaneous attraction to the music.
"At that young age, I couldn't define why it grabbed me so completely – but it did. There definitely was a 'Looney Tunes sound,' and I knew it when I heard it!" .
"And then, decades later, as an adult, I saw—and now as a classically-trained conductor, heard—the cartoons again. I was just blown away by how extraordinary they were, not only in cinematic and comedic terms, but especially as musical works. This was some really serious film scoring. Stalling may have been composing for cartoons, but there was nothing 'cartoony' about his masterful abilities. And right then and there, I knew I wanted to bring this music to audiences in the concert hall. And that's exactly what I've been able to do for almost three decades."
This is the first time that the Boston Pops and Daugherty have teamed up to present Bugs Bunny. Since it's the perfect thing to do over New Year's weekend, tickets are going fast, so you better get yours before the box office says… couldn't resist… "That's all, folks!"
For further information, https://www.bso.org/brands/pops/features/bugs-bunny-at-the-symphony-ii.aspx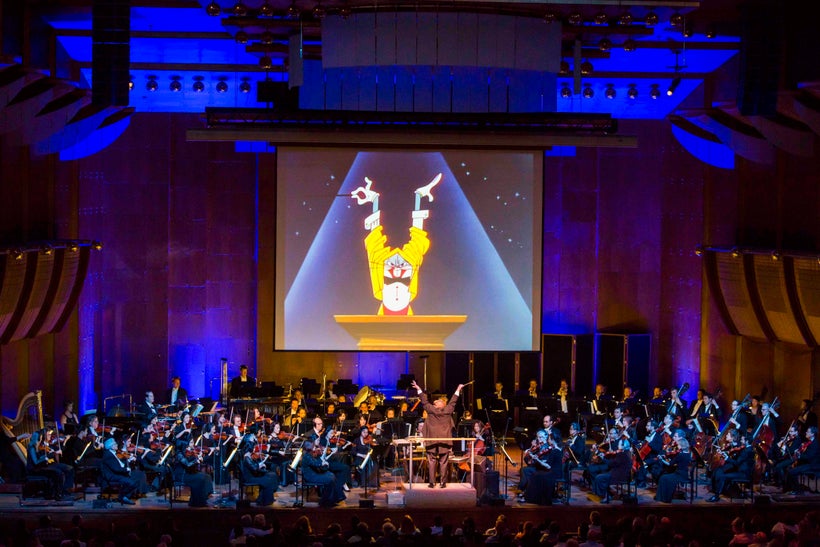 Calling all HuffPost superfans!
Sign up for membership to become a founding member and help shape HuffPost's next chapter
This post was published on the now-closed HuffPost Contributor platform. Contributors control their own work and posted freely to our site. If you need to flag this entry as abusive,
send us an email
.