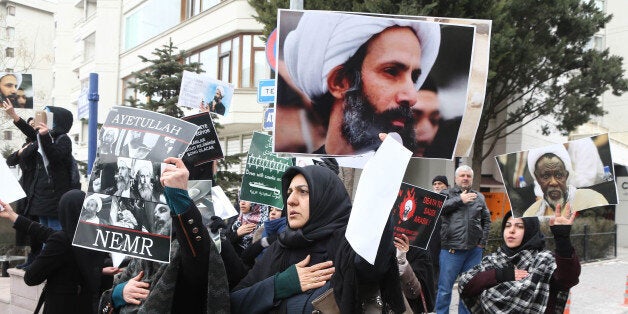 Rumors have swirled for some weeks that Saudi Arabia was preparing to execute about 50 people, possibly including leading Shia cleric Nimr al Nimr and his 21 year-old nephew Ali Mohamed Al Nimr.
Today 47 prisoners, including Sheikh Nimr, were executed. Most were killed by beheading, and the rest by firing squad. It's the killing of Shiekh Nimr that has triggered protests and threatened violence across the region. He was an important voice during the 2011 demonstrations against repressive regimes in the region. He notably criticized Sunni autocracies such as Bahrain, as well as the Syrian dictatorship of Alawite Bashar al-Assad, who is supported by the Shia hierarchy in Iran.
Nimr's execution is a dangerous move by the Saudi authorities, but not a surprising one. Although some western politicians and UN Secretary General Ban Ki-moon had called for his release, the United States government has been predictably and disappointingly muted about criticizing its rich Gulf ally.
When asked about Nimr's imminent execution on September 23 2015, the White House response was typically platitudinous "...the United States, under the leadership of this president, regularly raises our concerns about the human rights situation inside of Saudi Arabia." In fact, there's little to suggest that President Obama uses his meetings with senior members of Saudi's ruling family to press for human rights.
Even worse, a few months ago the State Department gave an enthusiastic welcome to news that Saudi had managed to secure a leading position on a UN human rights body.
Washington's muted response to mounting Saudi violations -- 2015 saw at least 157 executions after unfair trials, the most for two decades, and a continuing clamp down on non-violent critics of the government -- only enables the repression.
Like ISIS, Saudi and the neighboring ruling family in Bahrain are keen to suppress this grey zone of open discussion and debate that questions the legitimacy of dictatorships without resorting to sectarianism.
There are plenty of other peaceful dissidents who, like Nimr, were sentenced after a sham trial. These include economist and human rights defender Mohammed al-Qahtani, who has a doctorate from Indiana University, serving a 10 year sentence for complaining about human rights abuses. Given what seems to be the current mood of the Saudi authorities, their situation looks very bleak.
Saudi and Bahraini prisons are already bulging with peaceful activists. There may about to be more, as within hours of Nimr's execution, Bahrain's security forces (trained and armed by the United States) issued a statement warning legal action against anyone criticizing the executions.
By executing a leading cleric, the Saudi authorities have sent a clear warning to anyone thinking about criticizing the ruling family. The killing also immediately stoked sectarian tension across the region, giving Iran's own repressive regime a golden excuse to inflame and exploit the mistake. The coming days are likely to see more protests, arrests, and killings as a direct result.
For reasons of pure self-interest, quite apart from its moral obligations, Washington should quickly and publicly condemn Saudi's executions, its judicial system, and the government that enabled such a travesty to occur. For its own credibility the U.S. should show Saudi that there will be bilateral consequences for continuing human rights violations, including the jailing of human rights activists.
President Obama was right to describe the beheading of ISIS captives as "an assault on all humanity." He should publicly say the same about the latest beheadings carried out by his allies in Saudi Arabia and spell out what his administration intends to do to deter its Saudi ally from acting this way again.
Related
Popular in the Community