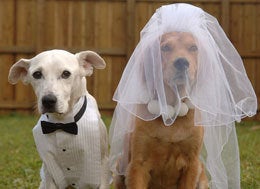 I have never been a dog person. Though my Match.com profile lists "loves dogs" as one of my attributes, that's only so that I don't get passed over by men in their allegiance to their best friends. I smile when the Match Gods email candidates to me pointing out, "You both love dogs!" Truth is, I'm awkward around dogs, they're on to me. They smell my fear of commitment.
To live in Venice, it's a pre-requisite to be a dog person. On my block I'm introduced to the eligible men with their partners who happen to walk on all fours. I've learned all of their names: Nina, Hannah, Pace, Gatsby, Sonja, Wickie, and those are just the pups I can see from my front window. In town on Abbot Kinney I've met the mutt groomed to look like a lion and his "grandson" who is a mix of something like Shepherd and Chihuahua. I watch the faithful walk their dogs twice a day from my window. I hear about dog weddings and hotels and sitters. My yoga teacher asks that we place our hands in angali mudra to "offer it up, be a better person, a better parent, a better dog owner." I work in my bungalow and one of the neighbors wanders in, and then his owner calls him back outside.
I went to a psychic once while on a business trip in L.A. She predicted my move here. When I asked her if I was going to have children, she paused, looked away, and then suggested I look for a "soul connection in a dog." I haven't found it yet. I have resisted becoming one of the single women who substitute a puppy for a baby.
Why is it so crucial to have a dog here? And cruel not to?
In Venice, dog-less is a fate worse than child-less. Dogs outnumber babies twenty to one, it seems. Even my friends look at me like there's a significant other missing. I wonder, in their eyes, can I even be human without a dog? Here in Venice, my dog-less stature insures my outsider status.
Then my friend Rebecca calls to say she has found a Chihuahua and can she take her to dinner with us? Sure, I say, trying to be open-minded and hold on to my last few friends who love me despite my pet resistance. When she arrives with the rescued Chihuahua, I am smitten. After dinner I convince Rebecca to leave her overnight. So for 24 hours, Lulu and I bond. Worried about the pee and poop, I barely sleep. I carry Lulu in my bag to the Farmer's Market; I get kicked out of GJelina with her (who knew you couldn't bring a dog to a patio lunch? They seem to be everywhere else.)
Suddenly the omnipresent poop on my front lawn isn't bugging me so much; my neighbors bring their pooches to sniff out Lulu. They're eyeing me differently with Lulu on my lap. They circle around my front porch stoop; I am close to being accepted.
Not so fast. I have to give Lulu back. I'm sad and relieved. I can tell in my neighbors' eyes, I'm once again the inhuman dog-less, child-less single lady who for an instant came close to being one of them, but didn't make it. The Animal Kingdom is cruel indeed.

Now they're having a dog party on my front lawn, and I'm not invited. There is a dog cake in the shape of a bone my neighbor paid $30 for. They're talking about the birth dates and love affairs and families... of their dogs. I may be dog-less, child-less and even fear the commitment, but I like the dogs, when they're not barking and I'm not terrified of them. And sometimes they like me. It just seems that the key to this town is at the other end of a leash.