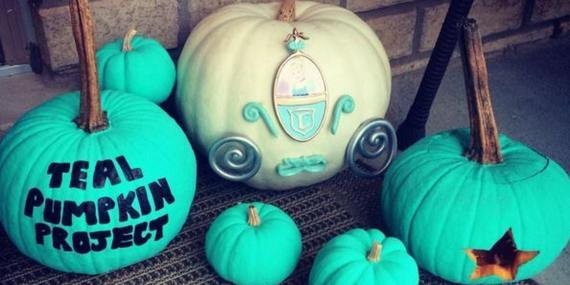 (Image: Teal pumpkins, credit Huffington Post Canada)
What is that, you ask? Well, the Teal Pumpkin Project is an initiative started by FARE (Food Allergy Research & Education) to provide children with food allergies a trick-or-treating experience that is safe for them.
A teal pumpkin outside a door indicates that this house is participating in this project and handing out non-food treats (such as stickers, pencils, bouncy balls, etc.) that will be safe (relatively, I suppose in this day and age everything has some sort of liability danger) for all children regardless of food allergies. A cool side effect of this is that this means cool treats that aren't sugar-filled candies for all kids.
It's simple to do, and doesn't mean you cannot also hand out candy or other food treats if you prefer. Participating just means that you are offering a non-food treat option, which is healthier for all kids, but also could potentially allow a child with life-threatening food allergies to participate in the joyful tradition of trick-or-treating.
My children don't have food allergies, and I'm not particularly sugar-withholding (though I should be), but I am definitely putting out a teal pumpkin this year and providing a non-food treat option for kids who venture to our spooky doorstep.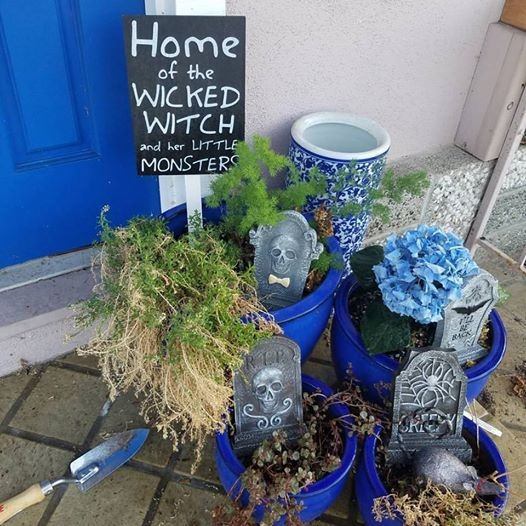 (Image: some dead plants, tombstones, and a 'Home of the Wicked Witch and her Little Monsters' sign)
This question originally appeared on Quora - the knowledge sharing network where compelling questions are answered by people with unique insights. You can follow Quora on Twitter, Facebook, and Google+.
More questions:
Related