"A lot of big schools, they act like you're just lucky to be there and they don't really care if you graduate or not. Here, they really do care what happens to you. They set things up to help you be successful."
That's how senior and first-generation college student Alex deCurnou described his experience at the University of Central Florida (UCF). Alex is among the students, faculty, and administrators whom I met with during a visit to UCF last month. I was there to see and hear first-hand how UCF grew into one of the most innovative schools in the country.
Over the past 20 years, UCF has expanded to serve more than 64,000 students and is now one of the largest universities in the country. Digital learning has been a key driver of UCF's growth and the university has expanded while simultaneously serving an increasingly diverse undergraduate population, keeping tuition affordable, and increasing graduation rates.
At a time when the United States is on track to produce 11 million fewer postsecondary credentials by 2025 than the economy will demand, UCF is building a success story that could be a blueprint for many other universities across the nation.
So how did UCF do it? During my visit, I was impressed by three elements of the university's culture and approach that students, faculty, and administrators believe have been critical to UCF's success.
Putting student needs and success at the center of decision-making
This story started when university leaders looked at the data. The numbers showed that too many UCF students were struggling to obtain the last credits needed for graduation. UCF President John C. Hitt, interested in addressing this bottleneck and also finding ways to increase access for students, prioritized online instruction to give students more flexibility and to open more paths to graduation.
The move paid off for UCF's students. Today, UCF's six-year graduation rate of 70 percent is about ten points higher than the national average.
Nationwide, more than 60 percent of students work while attending college and more than one-quarter of students work full-time. Students who work need flexible courses and programs that help them learn at their own pace and study anytime, anywhere. UCF structured its programs to give students options, including traditional on-campus classes, night classes, fully online classes, and blended classes. Today, nearly 78 percent of UCF students take online or hybrid courses, and 38 percent of all credits are earned online.
"Our aim is to find ways to work school into students' lives," says A. Dale Whittaker, UCF's provost and executive vice president. UCF is committed to tailoring each student's education to the individual while also facilitating meaningful interactions between students.
And UCF's online learning doesn't just offer students flexibility and options - it also opens up possibilities for their faculty.
Supporting faculty as instructors and course designers
Online learning at UCF means more than just posting course content online for students. They see it as an opportunity to think deeply about what you can do in online instruction that you can't or don't need to do face-to-face. Over time, UCF developed a collaborative process that maintains consistent quality and that leverages each faculty members' unique experiences, content, and teaching style.
Faculty receive training in online course design, including how to design lessons and modules that incorporate video, interactive quizzes, and social media. Faculty are also paired with instructional designers who help them think through which tools offer the best fit for specific courses.
One faculty member I spoke with, digital journalism professor Richard Brunson, told me that developing online content sparked creativity in his teaching. "I can do more than just talk about what we're learning," said Brunson. "I can actually show my students. I can create a video in a sports locker room, a hospital, or a police station and put the students right in the environment where they'd report on the story."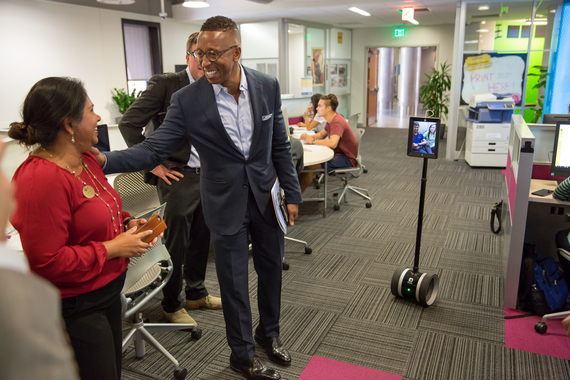 Creating a culture of continuous improvement
During my visit to UCF, the word "culture" came up in virtually every interaction I had with UCF's leadership, deans, and faculty. They each described the UCF community as a place where they constantly assess how they work, what the data are telling them, and where they can make improvements. Far from resting on what they've accomplished, they are energized by the new possibilities their work has opened up.
Dr. Joel Hartman, UCF's vice president for information technologies and resources and chief information officer, gave a great example. "Since forever, we've used grades as a proxy for learning," said Hartman. "For the first time, we're truly learning about student learning. We can see where students struggle in a course, what interventions help them get on track, and how we can adapt to students' individual strengths and needs."
Technology allows faculty to do what they do best - focus on the needs of each student, while bringing the richness of their experiences and expertise into the classroom. That is part of what makes UCF's approach to digital learning so powerful. To help ensure more schools can learn from UCF's success, the Bill & Melinda Gates Foundation helps fund the work of partners like the University Innovation Alliance (UIA). UIA is a coalition of 11 public research universities, including UCF, that serve large numbers of first-generation and low-income students.
UIA works with their university members to identify proven innovations and to help spread them nationally so other universities don't have to reinvent the wheel or experiment with unproven strategies.
Think of how many more students like Alex we'll be able to empower if we focus on innovation and scale what's working at places like UCF to more colleges and universities.
Popular in the Community