I wasn't always the best behaved student in elementary school, and it got me into some trouble early in my academic career. Fortunately, I had parents who made it their personal mission to build relationships with my teachers and my principal, so instead of the issue getting worse, they worked together to get me back on track and focused.
This early teamwork between people who cared about my success and well-being put me on a positive path toward graduation, college, and where I am today at the Gates Foundation. As I look back, having people invested in me made a huge difference, and if that support had not been in place I don't know how my future would have unfolded.
My story isn't unique, either.
Research is increasingly confirming that connection to the community is one of the most critical factors in a school succeeding. In addition to things like great curriculum, excellent teaching, and strong leadership, when you look at schools that are doing well or improving, they prioritize parent and community engagement.
This is particularly important to consider at a time when the Every Student Succeeds Act (ESSA) has given states more power and flexibility to figure out how to increase educational opportunity and renewed their focus on engaging communities and parents as essential partners.
But what does authentic community engagement look like? How do we know that a school is connecting with parents in a meaningful and relevant way, and that parents and community members are actually participating? I didn't have to look much further than my own backyard in Seattle for one example.
The Southeast Seattle Education Coalition (SESEC) consists of roughly 70 community-based organizations, schools, and allies and supporters who are all focused on supporting Southeast Seattle—an area that has higher poverty rates and lower educational outcomes than neighboring communities in Seattle. The Gates Foundation was an early funder and continues to rely on the expertise and leadership of this coalition, which formed five years ago so that community members could push for a seat at the table to advocate for their kids.
A few years after launching, SESEC held a summit that asked members which issues they'd like to address. Family engagement to change school systems was identified as one of the top priorities. SESEC then partnered with the University of Washington to launch a parent survey of the region, not just at the individual school level.
More than 600 parents filled out the in-depth survey, and "out of that has come some of the powerful changes we are starting to see in our region," SESEC Executive Director Erin Okuno said before sharing one example.
After attending a presentation on the survey findings, an assistant principal heard loud and clear the message that "local relationships matter" and changed the way they do Jumpstart, a free, weeklong kindergarten transition program offered by Seattle Public Schools. This school year, they prioritized hiring facilitators that came from the same communities as the kids attending the school. As a result, they saw a 50 percent increase in students attending.
That's one example of how getting authentic input can lead to better results in a short amount of time. SESEC's work also focuses on changing behaviors—shifting how schools engage families long-term. Now, instead of saying to families, "We have something you need," schools are starting to ask, "What do you need from us?" We have all heard the phrase "it takes a village" and education is no exception – for students to succeed, parents, educators, and the community need to work together.
SESEC is still a young coalition, but these early signs of progress are promising. So, too, are the results from an organization that has been bringing parents and schools together for three decades.
PIQE (Parent Institute for Quality Education) is on a mission to empower parents and educators to transform every child's educational environment, both at home and in school. PIQE, which launched in California in 1987, was built on the belief that parents are a child's first teacher, and schools can't do it alone.
That's why the Gates Foundation partnered with PIQE in their work to connect more low-income parents with their local schools to serve as advocates for their kids. Many of these families don't speak English, or didn't graduate from high school themselves, and as a result don't know how to best engage with their school. PIQE provides in-depth parent trainings that help raise awareness about what is happening in their child's school, and gives tips—like how to request a translator or be effective at teacher meetings—that help move parents from awareness to active supporter for their child's learning.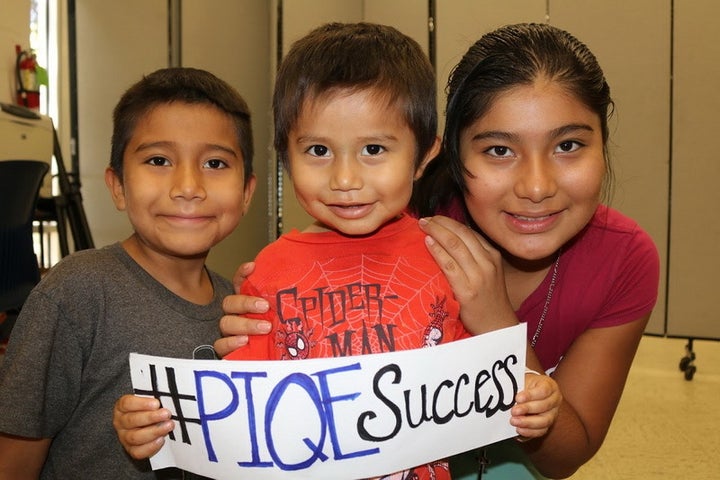 "We have learned that once the parents understand how to be engaged, how to ask questions, how to advocate for their children's rights to high-quality education, they move into action," said David Valladolid from PIQE.
In the last 30 years, PIQE has graduated more than 600,000 low-income parents through their program in California and has expanded to serve 13 states. PIQE is helping parents see themselves as leaders in their children's education, with a stronger understanding of how their power can influence change in schools.
It is a word that consistently comes up in conversations about parent and family engagement. For too long, communities felt they had little to no power when it came to their local schools. The Every Student Succeeds Act has put a new spotlight on the importance of community participation, and there are organizations and tools available to help parents across the country engage locally. For example, the Learning Heroes Readiness Roadmap can help parents understand the learning goals students have at each grade level, identify their student's strengths, and also offers tips for having a productive parent-teacher conference. It's a new era in education – one where parents are taking back power and helping to build a better future for their children.
Popular in the Community